---

Photocell optical sensor & Camera combination systems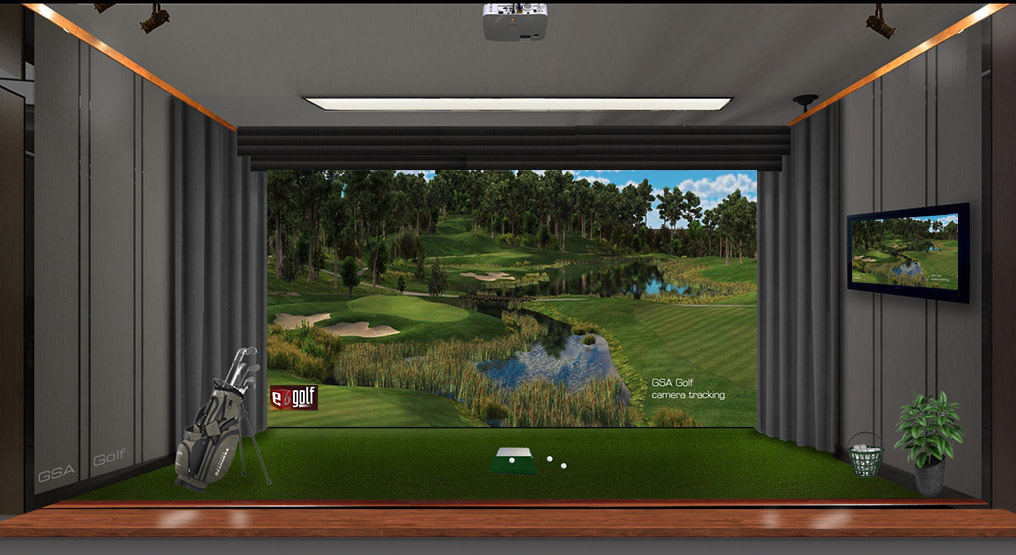 Prices of complete PX systems from just $10,995

PX Product Overview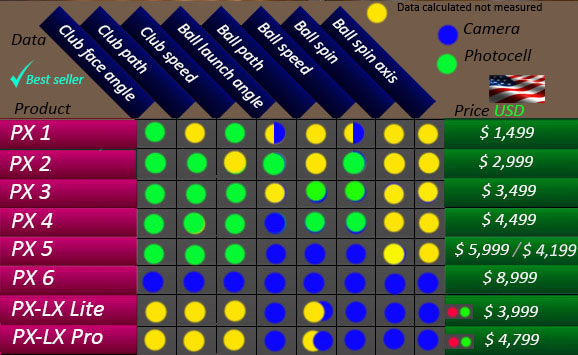 PX tracking systems start from just $ 1,299 - all supplied with TGC and RedChain software


You'll be up and running and playing the supplied E6 and RedChain golf within 30 minutes with our PX1 or PX2 systems.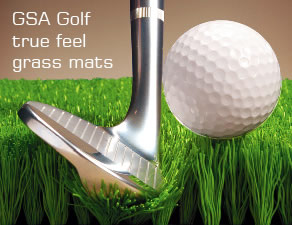 All PX sytems use true feel grass mats

All PX systems run with E6, TGC, RC and PP game software
All systems are supplied with TGC "The Golf Club" 15 course base package software
Add TGC 100,000 course package for just $750 extra
---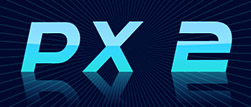 Optical Sensor Club tracking Mat with FiberBuilt synthetic fairway grass top panels
Tracking system: Photocell optical sensors
Data captured: Club speed, club face angle - PX2 club path
Pros: Easiest setup and lowest cost. No cameras to install. No markings on clubs required. Most accurate photocell club tracking sensor mat on the market.
Very precise club speed detection, club path and face angle.
Trig out connector to add LX Lite vertical launch. Any other cameras can be added. Plays with all E6 and TGC game software.
Cons: System detects club data only (path, speed and face angle).
Ball data is only calculated from club data. When putting, your head must be either held up or slightly to the side if not using our floor LED lamp.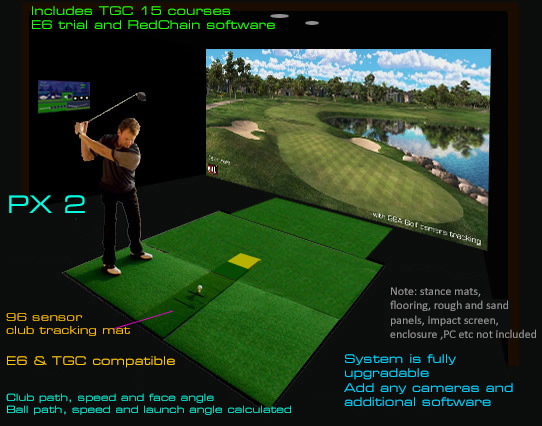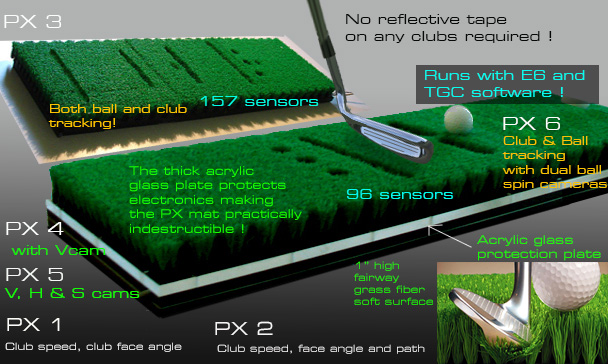 Mat dimensions: H = 5.5cm - 2 1/4" W = 30 cm - 12" L 61 cm - 24" Weight 7 lbs
Our manufacturing and assembly time for the PX2 sensor mat exceeds 8 hours per unit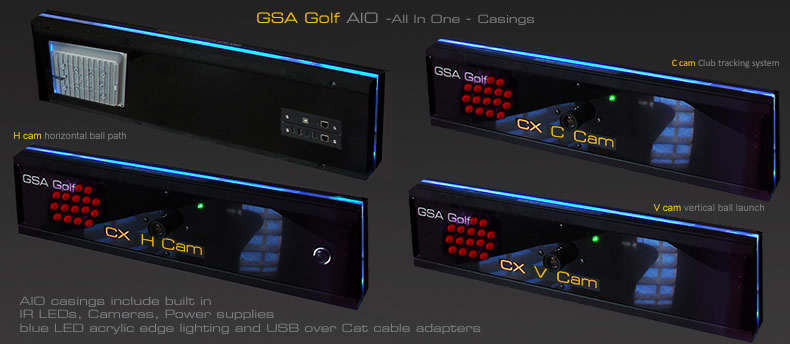 PX systems function with all GSA Golf software
PX systems are compatible with any of our ball tracking cameras so you can add these on later if required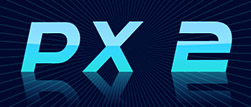 with single course software (RedChain and E6 trial)
PX2 price from $ 2,299.00


System includes TGC 15 course software plus Redchain 18 hole course

The PX2 can be added to any camera system we offer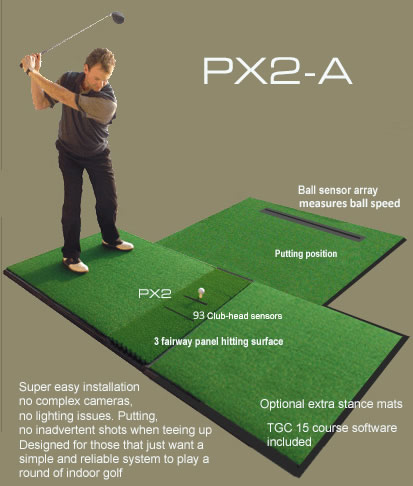 The PX2-A features a dual array of sensors placed 3 or 4 ft ahead of the PX2 mat that measures ball speed and detects a valid shot.
An issue with using just the PX2 alone is that inadvertent shots can be launched whenever a shadow is generated over the mat.
i.e. when teeing up or placing the ball on the mat. The sensor array prevents this.
In addition, the PX2-A allows the user to putt away from the PX2 club tracking mat.
Without the ball sensor arrays, players must hold their heads to one side or up during putting as when bending down over the ball the player will block the
light from the overhead with his head. The PX2-A solves this issue.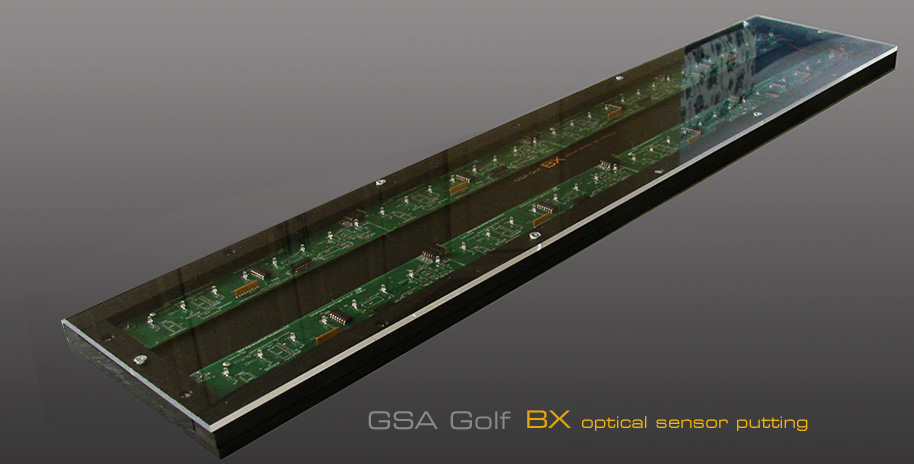 PX2-A price $ 3,499.00

The PX2-A is intended for customers that want an easy and reliable system without all the complexities of a camera system
and without any lighting issues. i.e. it can be used in well lit showrooms and sports bars/
It is used in our FSR system that is intended for show rooms and sports bars.
---


Easy installation and play system.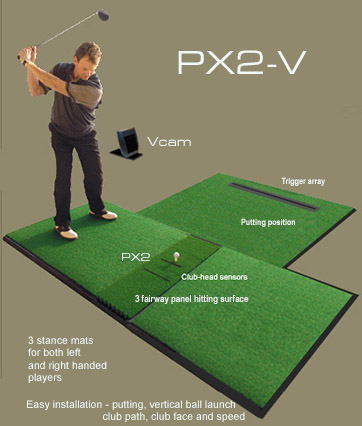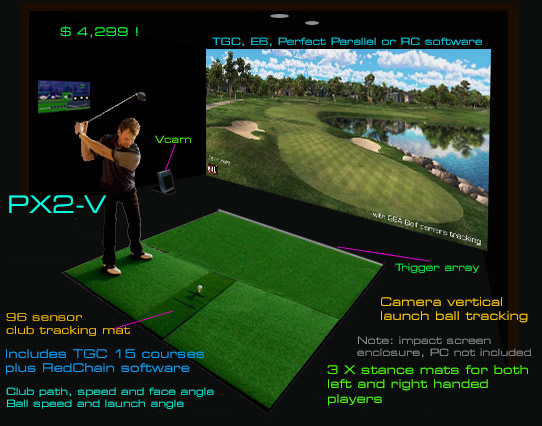 The PX2-V captures all shots from 200 mph drives to 2 inch putt ins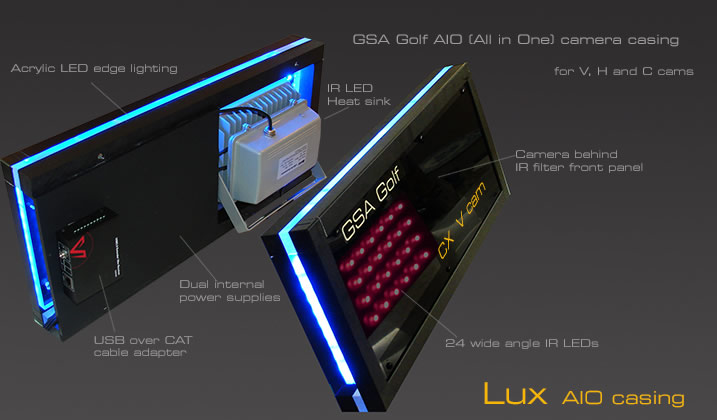 PX2 + Vcam + Trigger array + Stance mats

System includes TGC 15 course software
Over 120,000 Game Software courses available
$ 4,299.00

---


PX5 systems combine PX2 club tracking mats with CX2 ball tracking cameras

PX 5 is a professional golf simulator system with full club tracking and 3D dual camera ball tracking
The PX 5 can be used with both left and right handed players and allows the ball to be played from fairway, rough, sand and green surfaces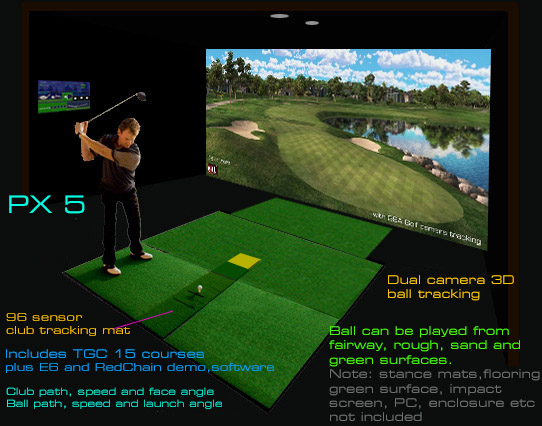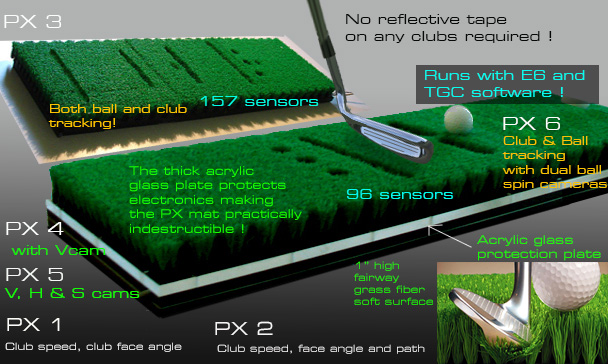 Tracking system: Photocell optical club tracking sensors with dual 3D camera ball tracking
Data captured: Club speed, club face angle, club path, ball path, ball launch angle and speed
Pros: Relatively easy setup and lowest cost for a full feature tracking system.
No markings or tape required to be adhered to clubs.
Cons: Ball spin rate calculated from captured data rather than being measured with cameras
When playiing the ball from either rough, sand or green surfaces, club tracking is not detected.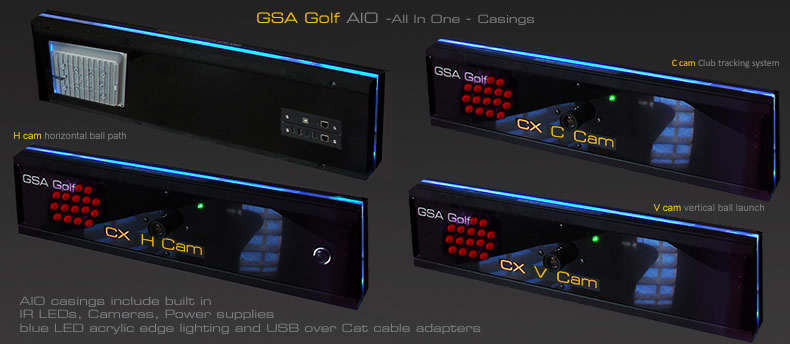 System includes:
1. Vcam Vertical launch angle and ball speed camera
2. Hcam Ball path camera
3. SX 3000 fps line scan camera
4. PX2 club tracking sensor mat
5. GSA single course software (RedChain and E6 30 day demo)
6. TGC 15 course golf software
7. Halogen and LED lighting system
System detects fades, draws, hooks and slices!
PX5
$ 5,999 / $3,999 kit price
PX2 with CX2 and single course software (RedChain )

System includes TGC course software
System detects putting with the cameras. No need to purchase an extra putting mat !

Kit price $ 3,999
read more about kits at the bottom of this page
All PX systems function with all GSA Golf software
Click above images for more golf courses
Important advantages with this system compared to others on the market in this price segment:
System does not confine you to hit the ball from the same spot so you can play from other simulated surfaces such as rough, sand and greens.
Especially putting and chipping is a pleasure.
Unlike other systems, our cameras detect all shots including putts and so does not require extra putting sensors.
---
More PX systems are also avaiable
Click on any of the below images to read about these
---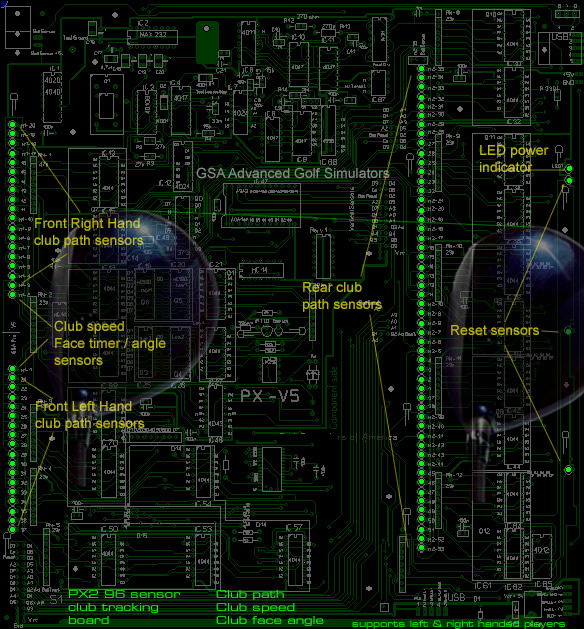 Click the above image to read more about GSA Golf's PX system technology
---
Warranty and Support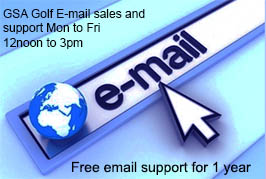 One year full warranty plus life time free e-mail support
Life time free GSA Golf software updates
No maintenance costs. No subscription fees.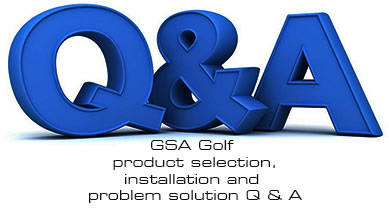 -

-


-

-



Check out our bargain basement for possible lower prices

GSA Golf CX golf simulator kits and components
CX components can be used to build the complete GSA Golf golf simulator camera tracking system at a far lower price than the ready made system price

Click above to read more about GSA Golf components and kits



---
Please read our legal notice via the link below regarding warranty periods, sales terms and return policy
-