Padded grass turf flooring by the roll


Padded grass turf. Color: OliveGreen 3/8" to 1/2" thick
15ft * 20ft Price $1,599 + $269 shipping
12ft * 20ft Price $1,299 + $269 shipping
12ft * 15ft Price $999 + $269 shipping
12ft * 12ft Price $899 + $269 shipping
Any other custom size also available
Note ! Max turf roll width is 15ft for regular padded turf carpeting.
If using our camera systems then the special (low reflective) turf carpet we use has a roll width of only 12ft.
This means that if you want a greater width than this (e.g. 16ft x 16ft ) then extra pieces will be shipped to make up the full width and there will be joins.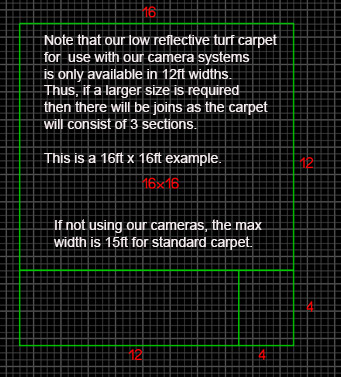 16ft * 16ft Price $1,599 + $300 freight shipping
Warning! International customers!
Please note: The products on this page are only available for this prices listed for US resident customers only.
Contact us if you are outside the US for a shipping quote for this product.
If you're an international customer and ignore this warning and still click the "Buy Now" button to process the transaction
then the product will not be shipped and a 10% refund charge will be applied.
---
Stance mats 1 1/4" thick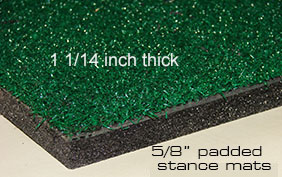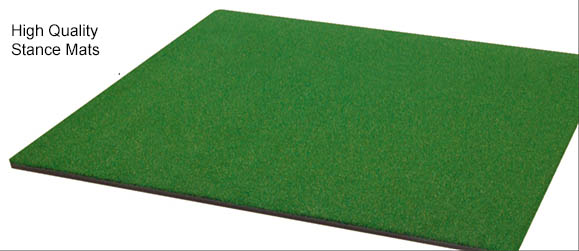 ">

4ft * 4ft - $300 - free shipping 1 1/4" thick
4ft * 5ft - $340 - free shipping 1 1/4" thick
5ft * 5ft - $360- free shipping 1 1/4" thick
---
Fiberbuilt Golf mat systems
with interlocking foundations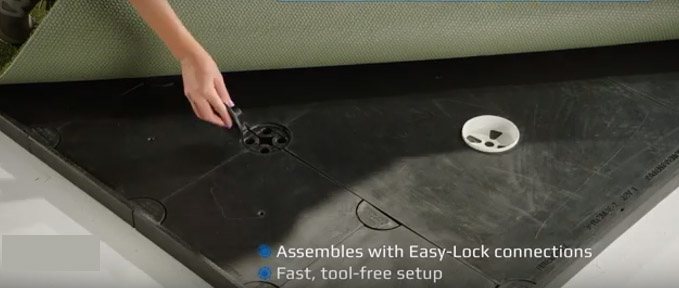 Studio dual 4' x 4' stance mat and fairway grass panels with interlocking foundation
$ 1,199.99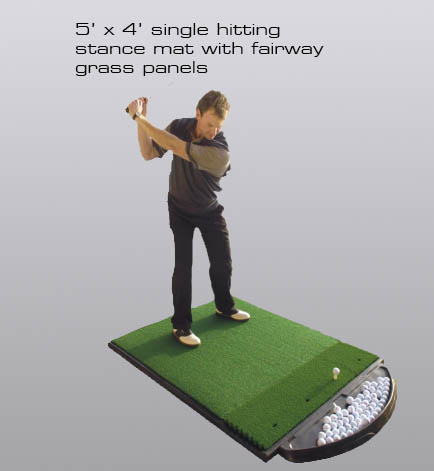 Single stance mat and fairway grass panels with the rubber foundation
$ 749.99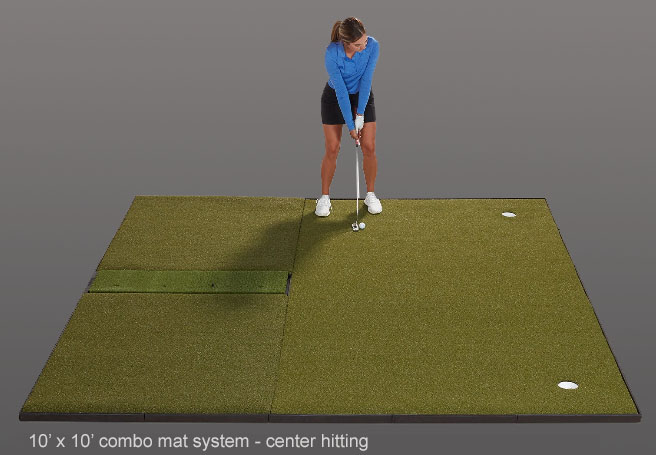 $ 2,499.00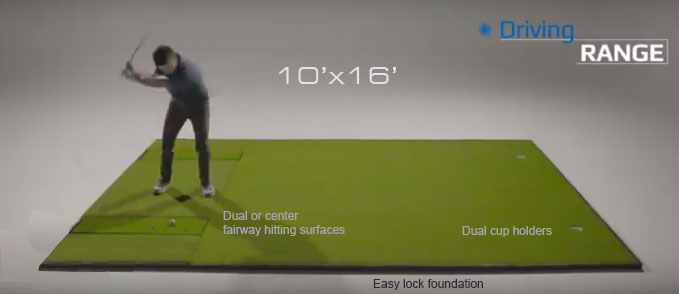 $ 3,999.00
---
DeLux Stance mats 1-3/4" thick

1ft * 2ft - $96 - free shipping 1-3/4" thick
3ft * 5ft - $289 - free shipping 1-3/4" thick
4ft * 5ft - $353 - free shipping 1-3/4" thick
5ft * 5ft - $399- free shipping 1-3/4" thick
---
Grass fiber panels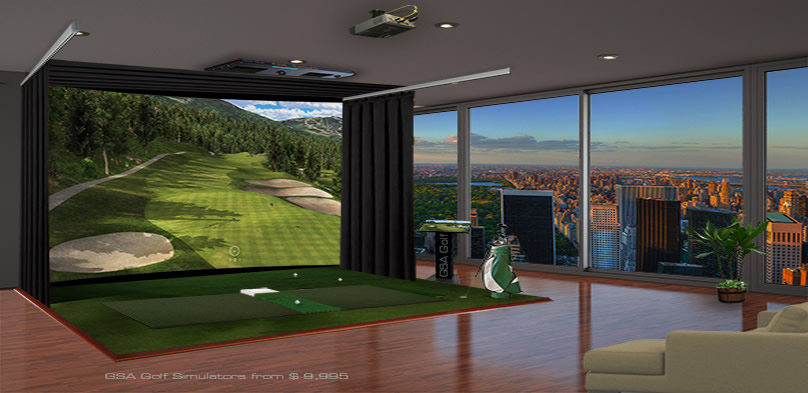 12" * 12" fiber grass panels
Price $ 100.00 each
All 3 panels - 2 x fairway + Sand - Price $ 300.00
Note: the Rough panel is no longer avaialble.
---
---
Stance mat flooring
Recommended flooring layouts when using our 4ft square 1 1/4 inch thick stance mats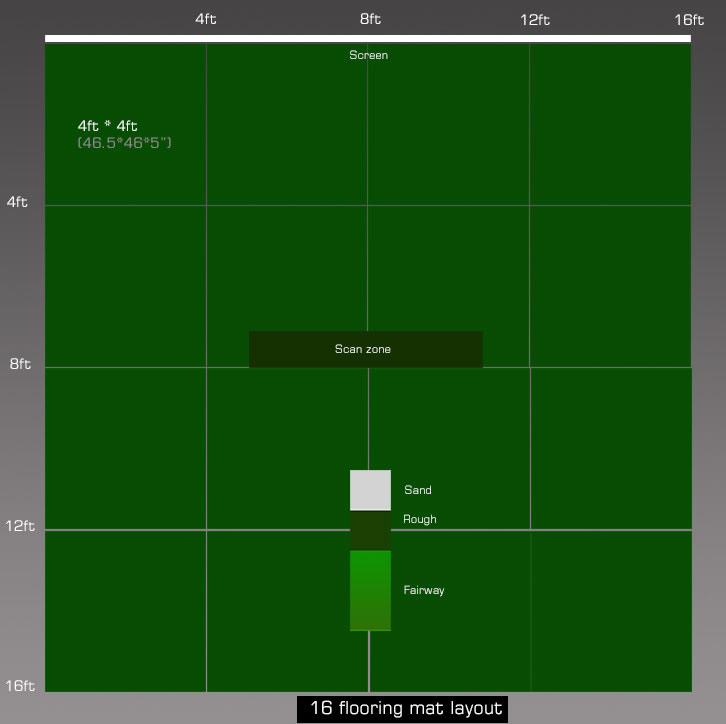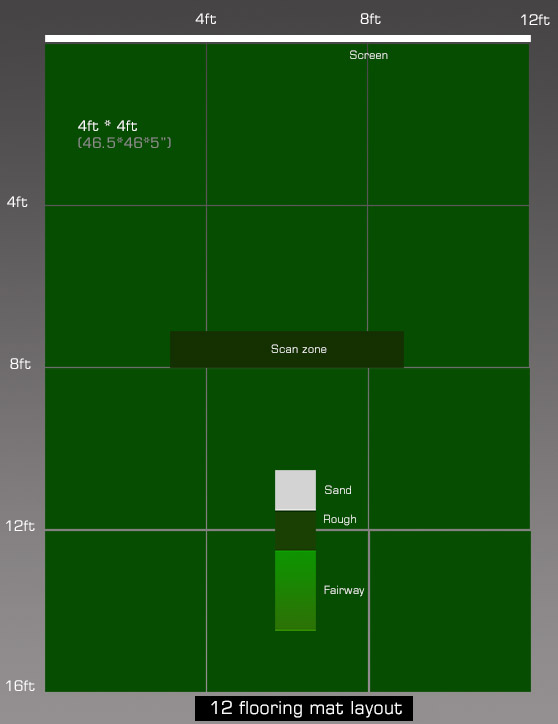 16 panel flooring : $ 3,499
12 panel flooring : $ 2,799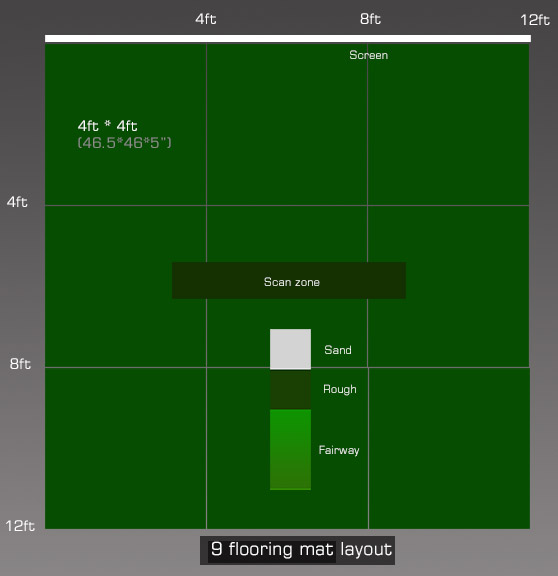 9 panel flooring : $ 2,199
---
Raised flooring

If you want the grass hitting mat panels to be flush (i.e. at the same height) as the turf grass flooring
then there are two methods:
1. Either the area around the hitting surfaces or the entire flooring has to be raised
2. Use stance mats and rubber bases next to the hitting surfaces
-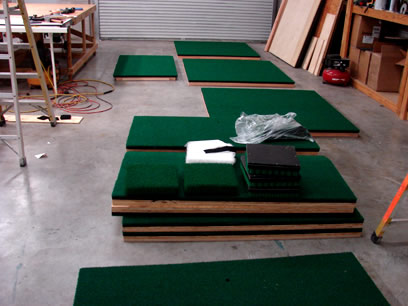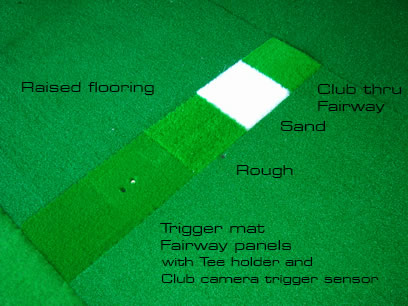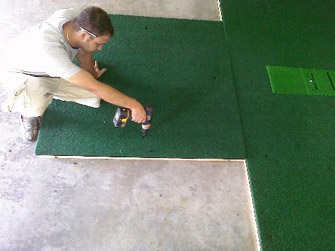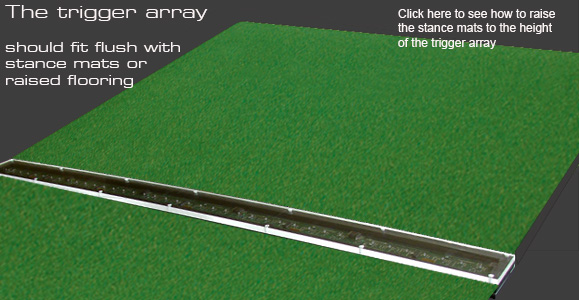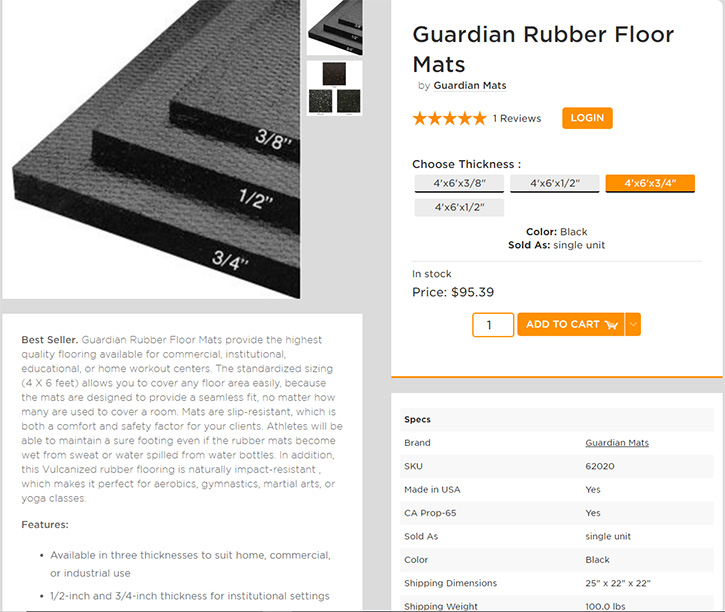 12 panel flooring : $ 1,144
Stance mats are usually only around 5/8" to 1 1/4 " so so additional rubber base mats will be required to raise the stance mat
to the height of the hitting mats or trigger arrays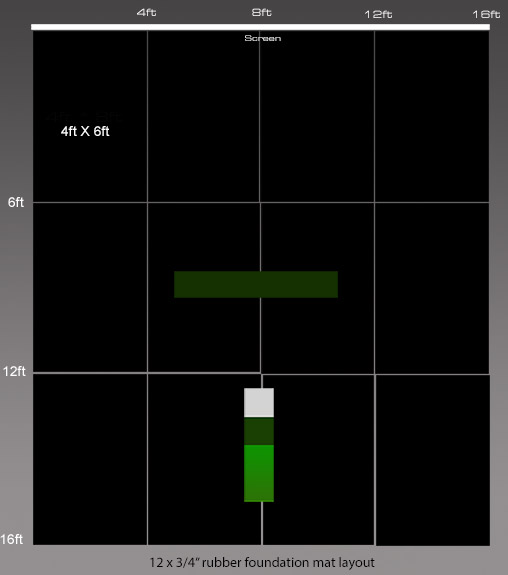 The trigger array (if you are not using a line scan camera) is 1 1/4" high so you'll require either 5/8" or 3/4"
base rubber mats to raise the stance mat to clear the trigger array at 1 3/8 if using a 5/8" thick stance mats.
Note that Dura Pro stance mats are (according to reviews) are already 1 1/4" thick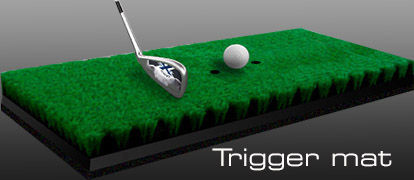 The trigger mats used with club tracking camera systems are 1 7/8" high so grass fibers will be 1/2" higher than the stance mat without making a
trigger mat cut-out in the turf grass flooring which is 3/8" thick.
With the cut-out the the fibers will only be 1/8 above the stance mat.

PX optical sensor club tracking mats have a 1 1/4 inch (10/8") base and 1 5/8" (13/8") high fairway grass panels on top.
Total height of a PX mat is then 23/8" or 2 7/8"
Using two 3/4" rubber bases brings the base up to 1 1/2" high , the PX mat cut-out in the turf flooring another 3/8" and the stance mat another 5/8
for a total stance mat height of 2 1/2"
These means that fibers on the PX mat will only be 3/8" higher than the stance mat.
Note that our stance mats are already 1 1/4" thick so only one rubber foundation will be required.

Rubber interlocking tiles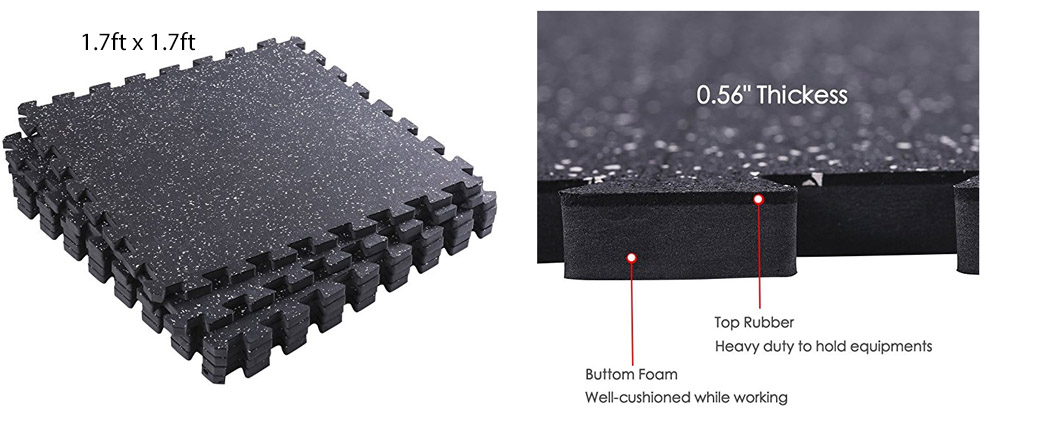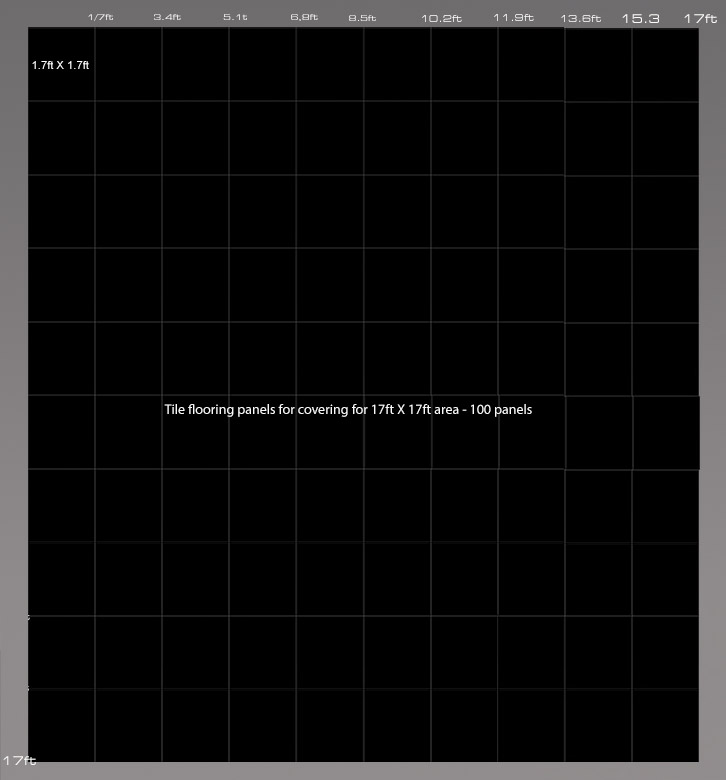 100 panel flooring : $ 1,199

Raised wood flooring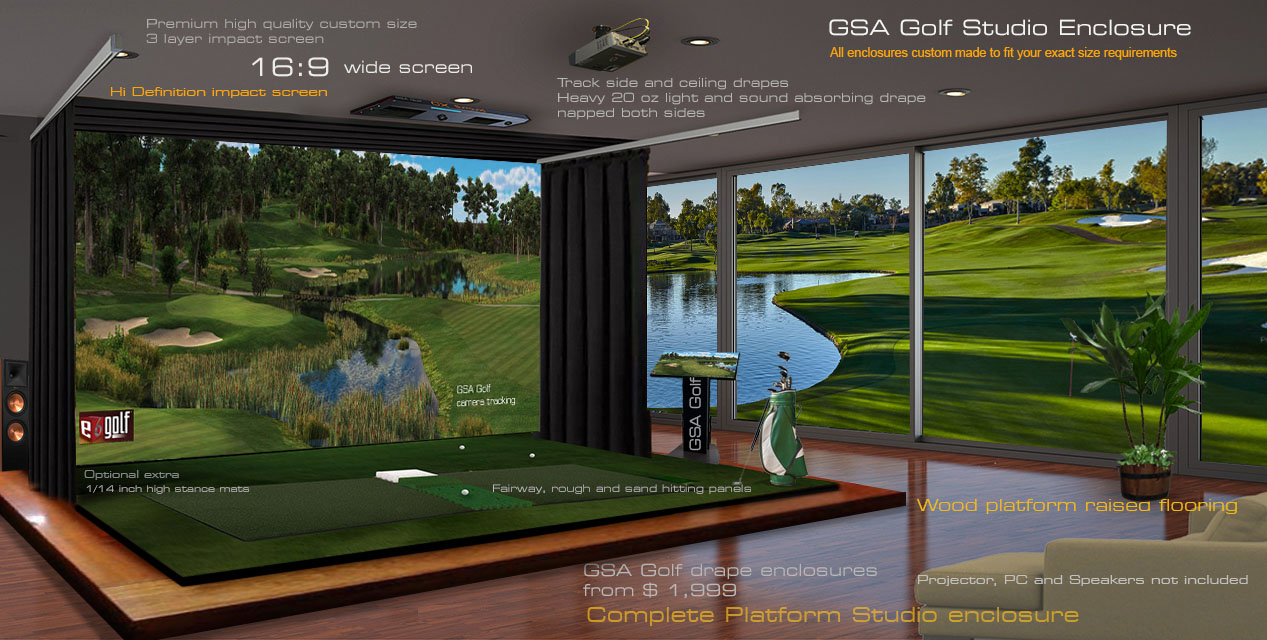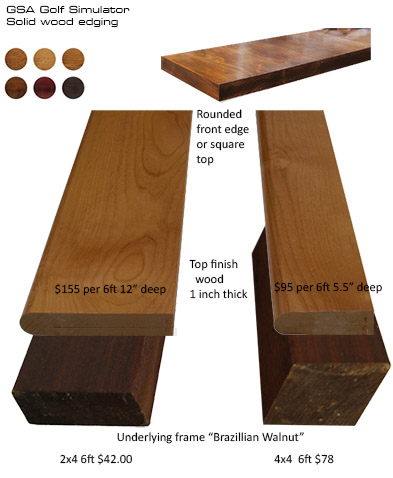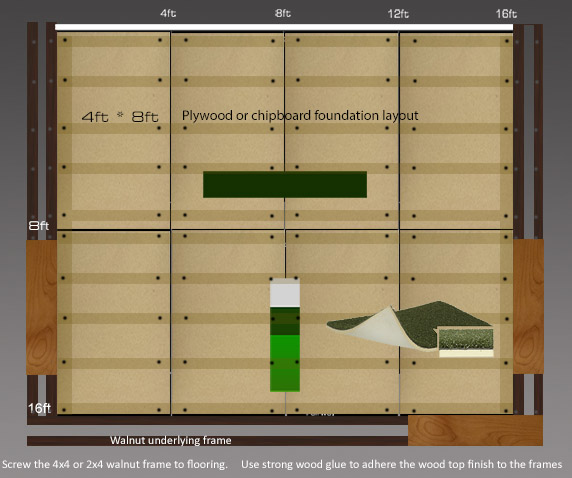 The height of your flooring is determined by the height of the underlying framing.
Standard heights will be 2 to 4 inches using either 2x4 or 4x4 underlying framing.
Depending on the desired width of the finished wood edging, either single or double underlying framing will be required for the edging.
The Brazilian Walnut underlying frames should be screwed directly into the foundation flooring
and the top finish wood is adhered to the framing using strong wood adhesive.
Contact us with your required dimensions
Buy all materials - 8 x 4ft x 8ft plywood panels, 30 x framing 2x4 lumber and 2x4 walnut framing,
finished wood top edging 6 x 8" deep x 8ft
for the platform raised flooring up to 16ft wide - 16 ft deep.
Delivered to your door per freight
$ 2,499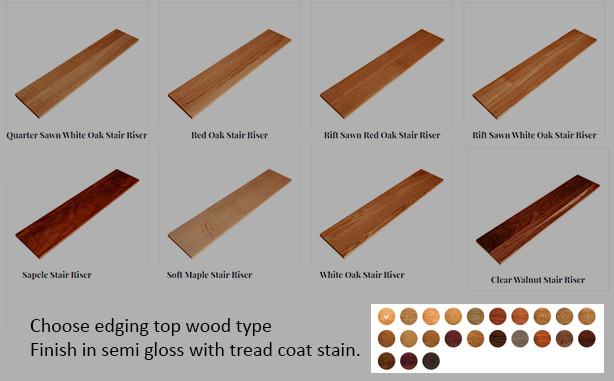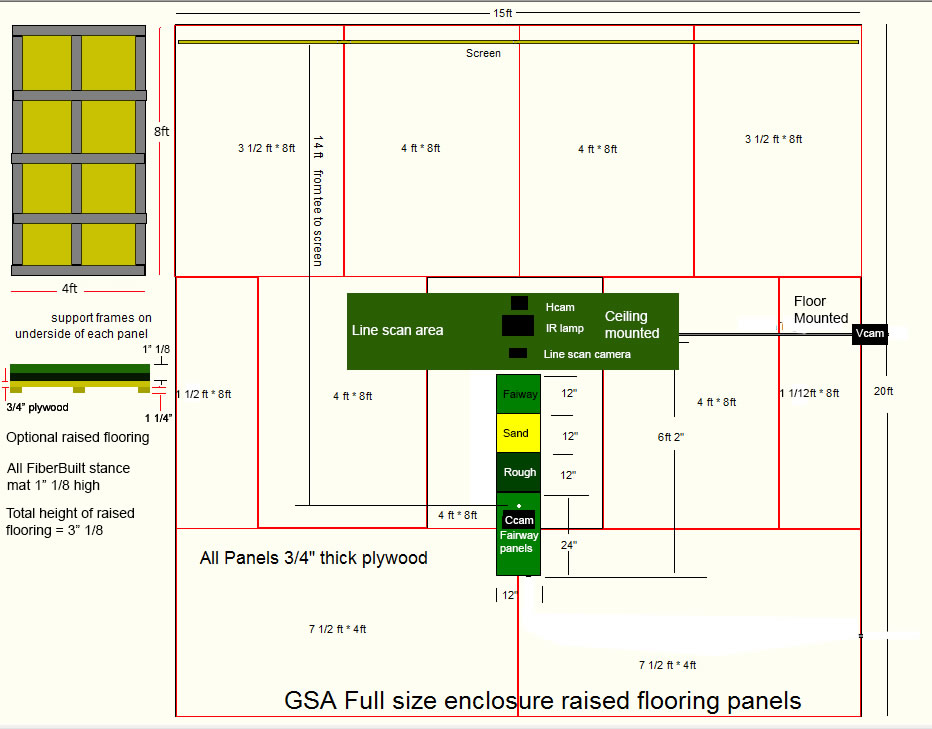 Floor hitting mat cut-outs
The raised flooring will require cut-outs for the hitting grass surfaces
All grass panels are 12" X 12".
The usual cut-out will be 12" X 48" for
two fairway panels, one rough and one sand panel.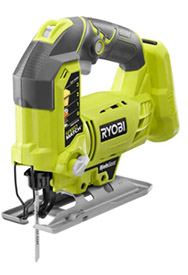 Use an electric jig saw to make the cut-outs.
Mark the cut-out area and drill holes in each corner that are big enough to except the jaw blade.
Later the carpet can be cut for the area with a carpet knife.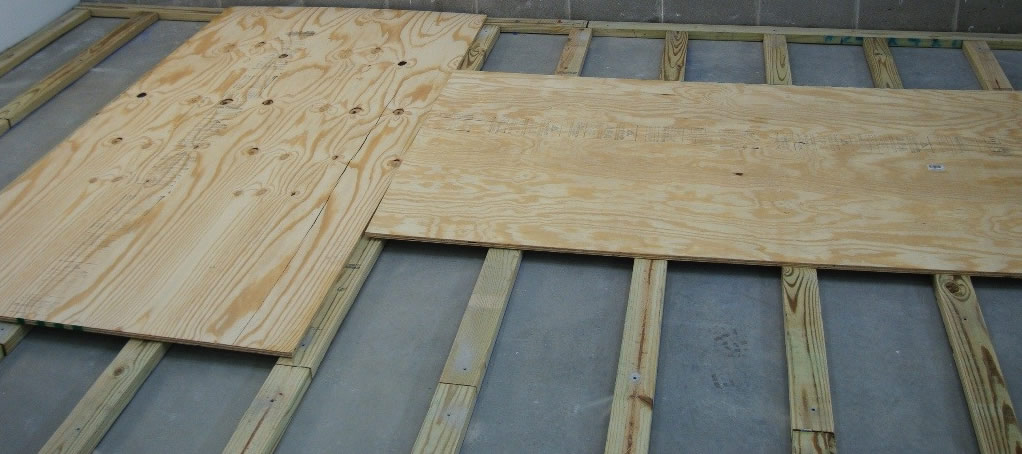 DIY 1x3 or 2x4 wood frames with plywood or chipboard panels to raise floor 1.5 to 2.5 inches
Note that the underlying wood frames are not required if the desired raised height is less than one inch.
One inch or so increase in height is usually sufficient for most hitting mats like our trigger mat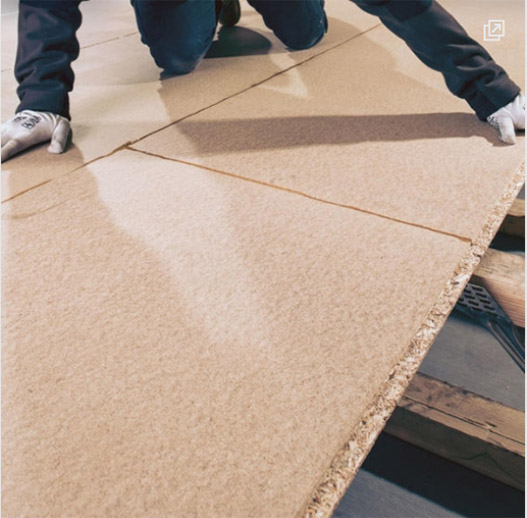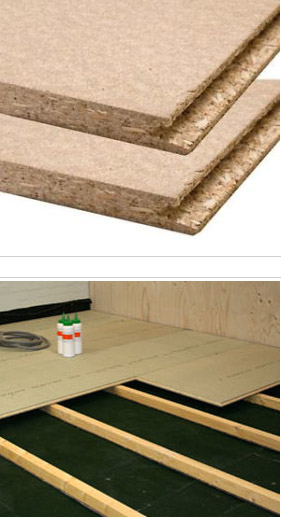 Chip or particle board can also be used.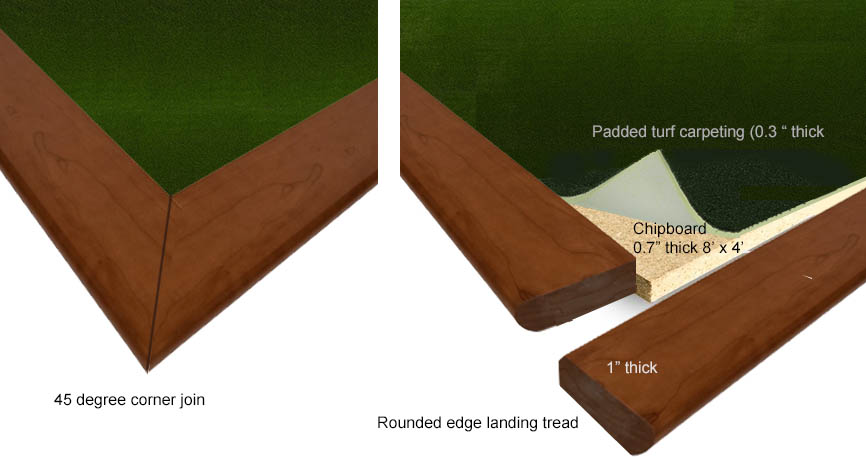 When using the Studio stance mat system, there is no need to raise the flooring so high.
Simply lay down and adhere 0.7" thick chipboard 8'x4' panels over the entire enclosure flooring area.
Lay down and adhere the padded turf carpet top the chipboard.
Use the rounded edge landing board to finish off the edging.
Lay down the Studio mat platform, stance mats and fairway grass panels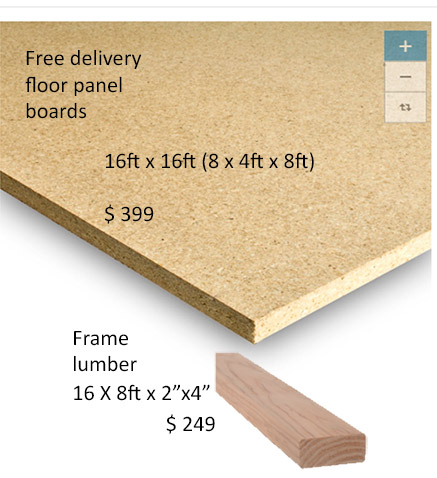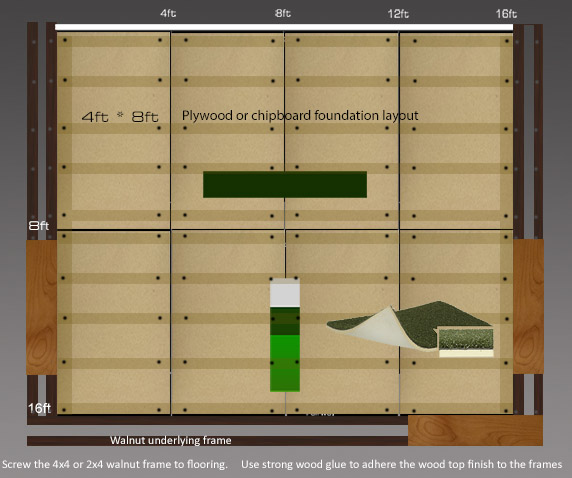 Buy all wood panels and lumber for the 16ft x 16ft raised flooring
Price : $ 648
(Note: additional shipping charges on the above may have to be applied if address is not near a lumber supplier)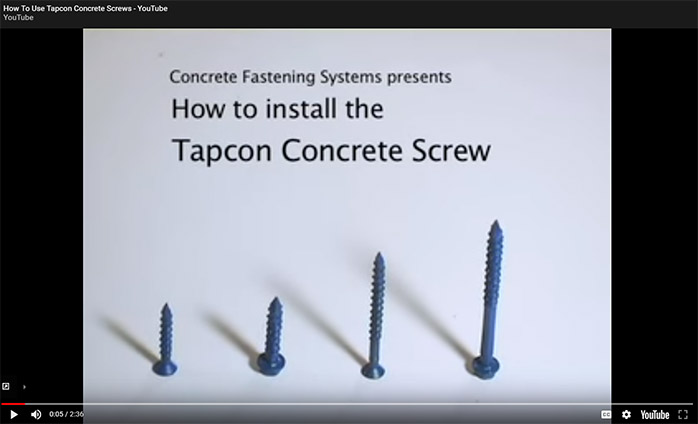 If the panels or joyces are being secured directly into concrete
see the above video to see how to screw into concrete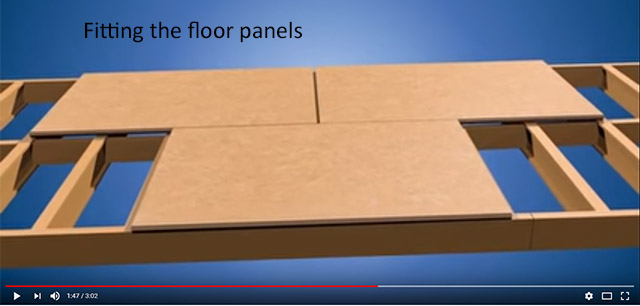 Adhere padded grass carpeting to the flooring using either double sided carpet tape or glue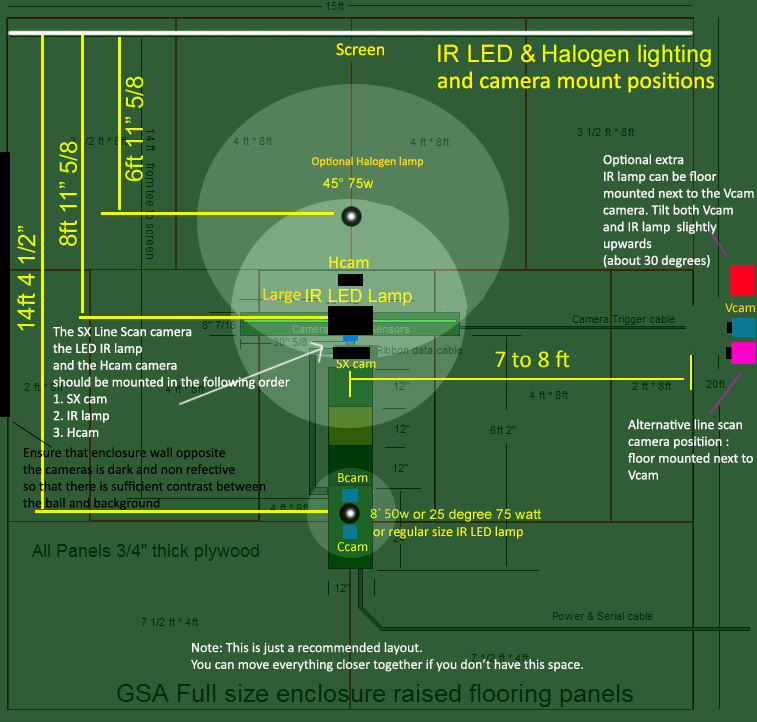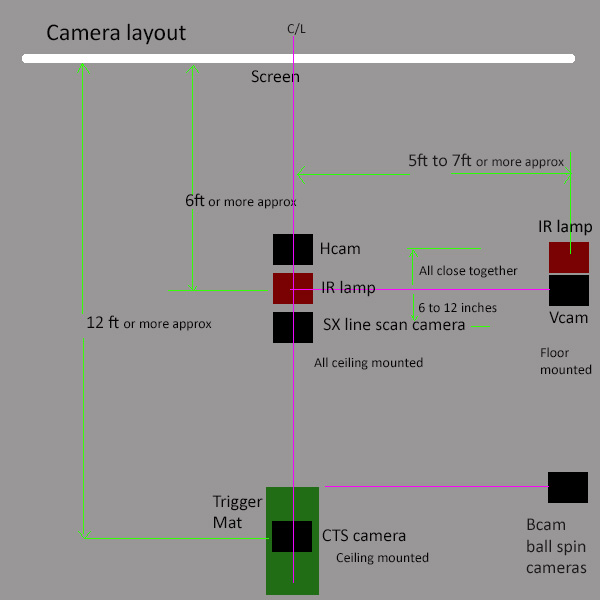 ---
Stance mat systems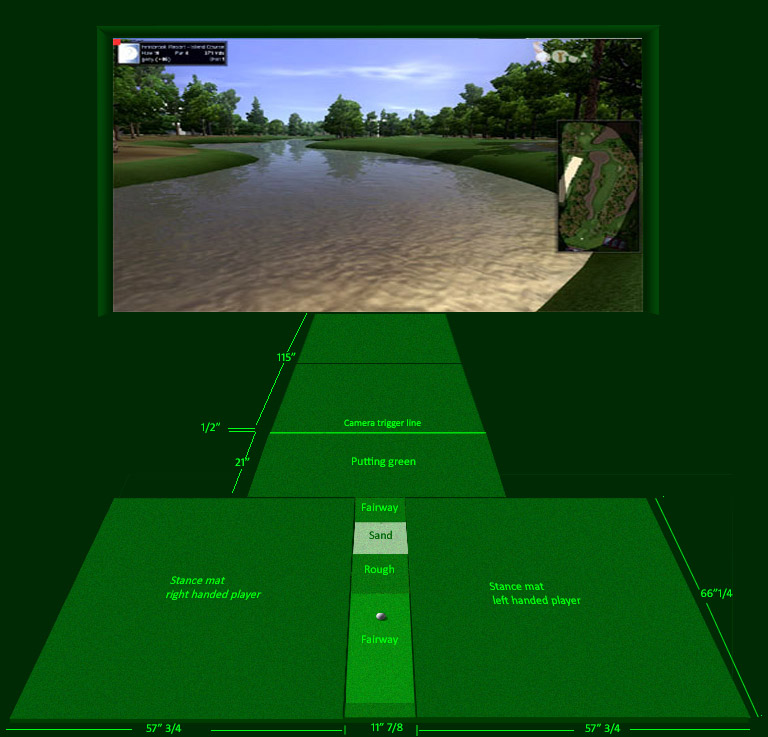 Add the Studio dual 4' x 4' stance mat and fairway grass panels with the rubber foundation for $1,199
$ 1,199.99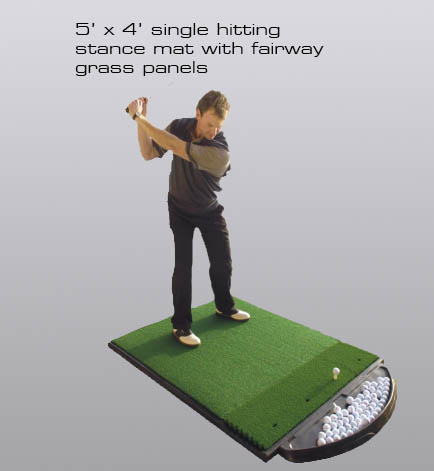 Add the single stance mat and fairway grass panels with the rubber foundation for $749
$ 749.99
---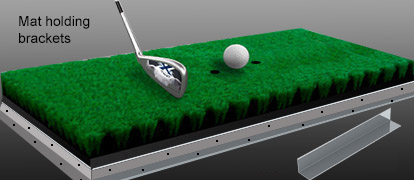 If using stance mats then the grass panels will have to be anchored to the floor.
Aluminum or steel 1/2" angled extrusion can be used to anchor the grass panel hitting surfaces to the floor for a more rigid hold.
Extrusion is not seen when stance mats are buffeted up against the grass panels
If level playing surfaces are not required then at least a cutout in the turf carpeting around the hitting mat is recommended
Either the angled profile (as shown above) or screws direct through mat is used to secure the mat to the flooring
Building a stance mat platform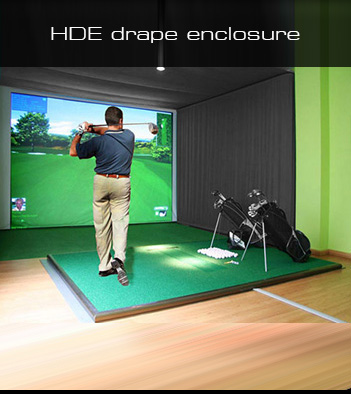 This is a simple way of building a high profile - 3 inch high or more - stance mat platform.
Using 2 or more rubber foundation mats ($95 each) to build up to the height your require, place the stance mat(s) on top
and make a holding frame using 2x4 or 2x3 lumber and optionally top off with round carpet transition trim.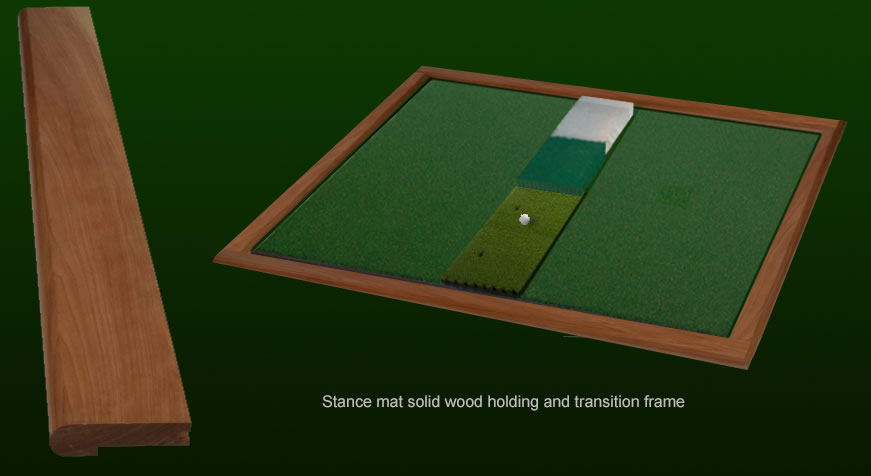 1 inch thick solid wood stance mat frame - tread coated with stain and semi-gloss finish.
$ 299.00
---
How to adhere stance mats to underlying surface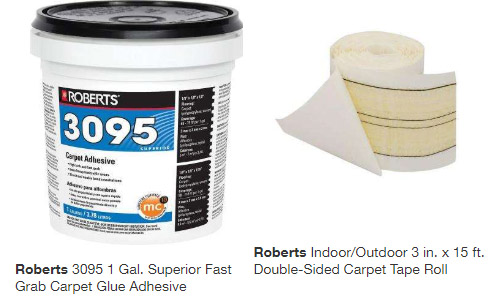 Use either carpet glue or double sided carpet tape to adhere stance mats to the underlying grass carpet
---
Hitting mat grass panel surfaces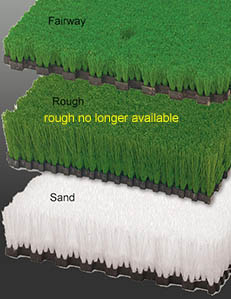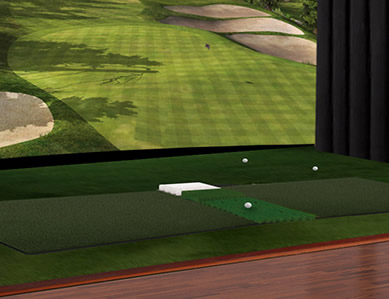 All F series golf simulators include fairway grass hitting panels.
A sand panel is also available.
Note that when playing the ball from these other surfaces (i.e. sand or greens) then club tracking will not function
as the VisTrak camera's FOV is limited
Wood flooring transition trim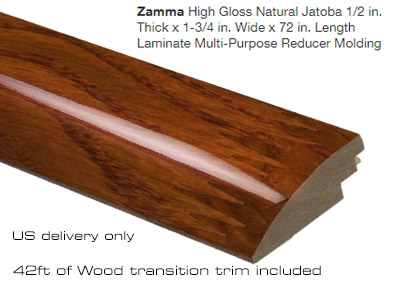 All F Series simulators and Studio enclosures include Gloss Oak style wood transition trim
---
How to make the hitting mat cutout in the turf grass carpet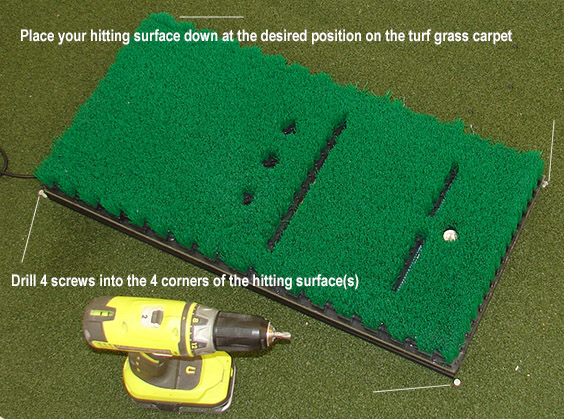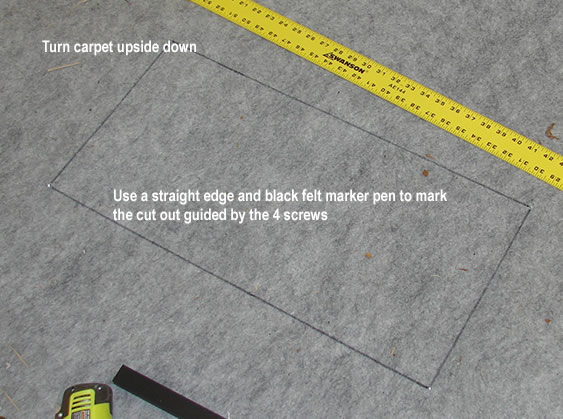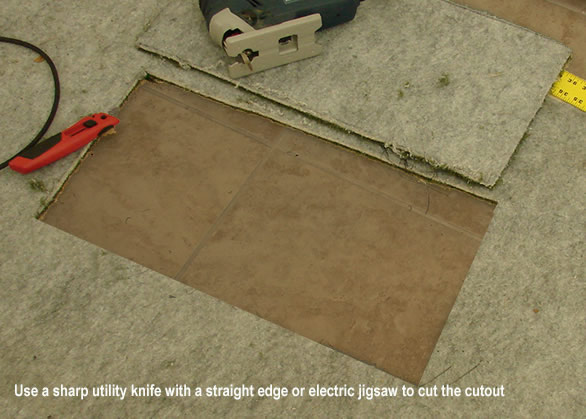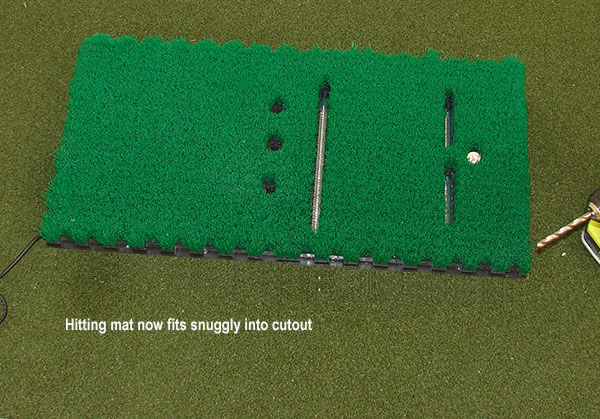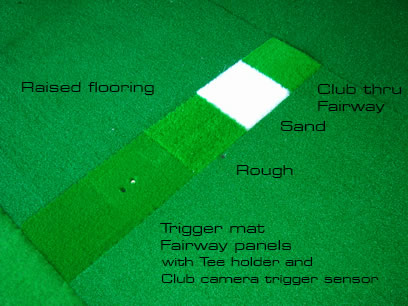 Raised flooring or stance mats will be required to bring the stance height up to the same level as the fitting mat grass fibers.
---
Putting green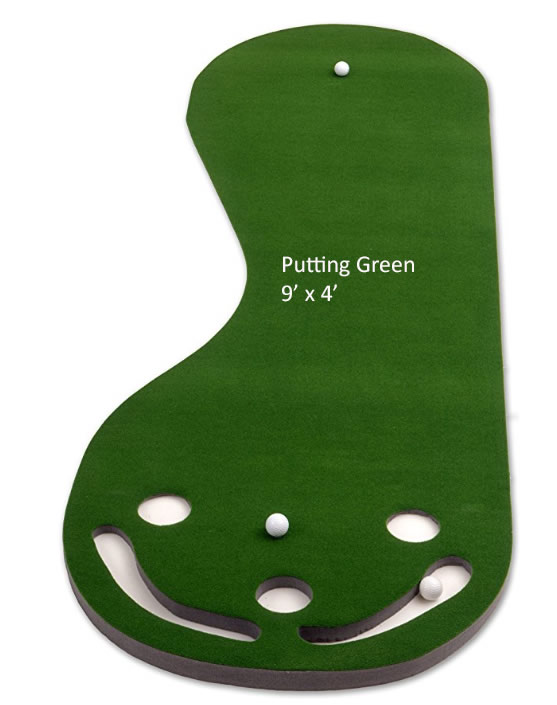 Add this great putting green to your golf simulator
$ 149
Free shipping !
---
Floor scan area
When using our GSA Golf camera systems with line scan cameras
SX line scan cameras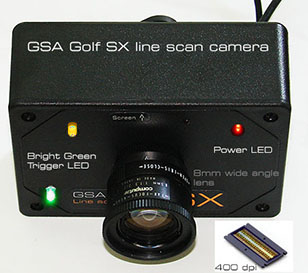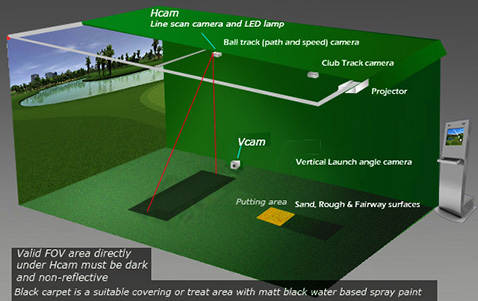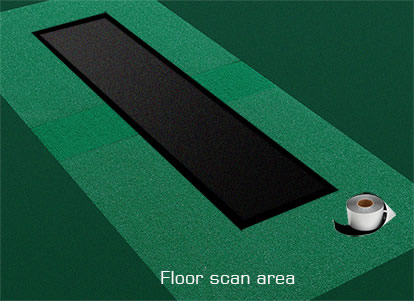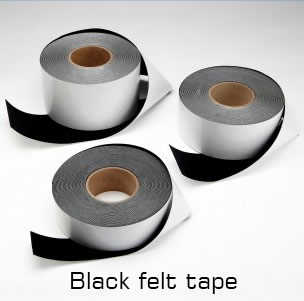 If using our camera systems then the flooring area directly under the line scan camera, IR lamp and Hcam camera must be dark and non reflective.
You can either use our non-reflective black carpet or our low reflective olive green padded turf

Example of low reflective turf:
6ft * 12ft less reflective padded turf grass mat suitable for camera systems
Price $399 + $99 shipping
You may find that the turf carpeting you are already using works well too so try this first
You can also use a black carpet strip (5ft * 5ft)
Note that treating the flooring in the scan area requires masking off the area and spray painting with a matt ( flat ) black spray.
When using the non-reflective black carpet,
you can use 4 inch wide black felt tape to transition the carpet edges to the turf flooring
In case you need to purchase the scan area black non-reflective carpet and felt tape :
Price : $ 150.00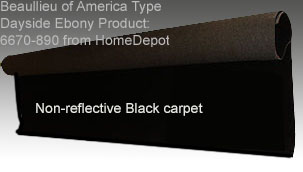 A recommended carpet is : Beaullieu of America - Type: Dayside Ebony, Product 6670-890 which is available at your local Home Depot store at around $4.00 a per ft 6ft wide.

-

-

-