---

Home/Studio track drape enclosures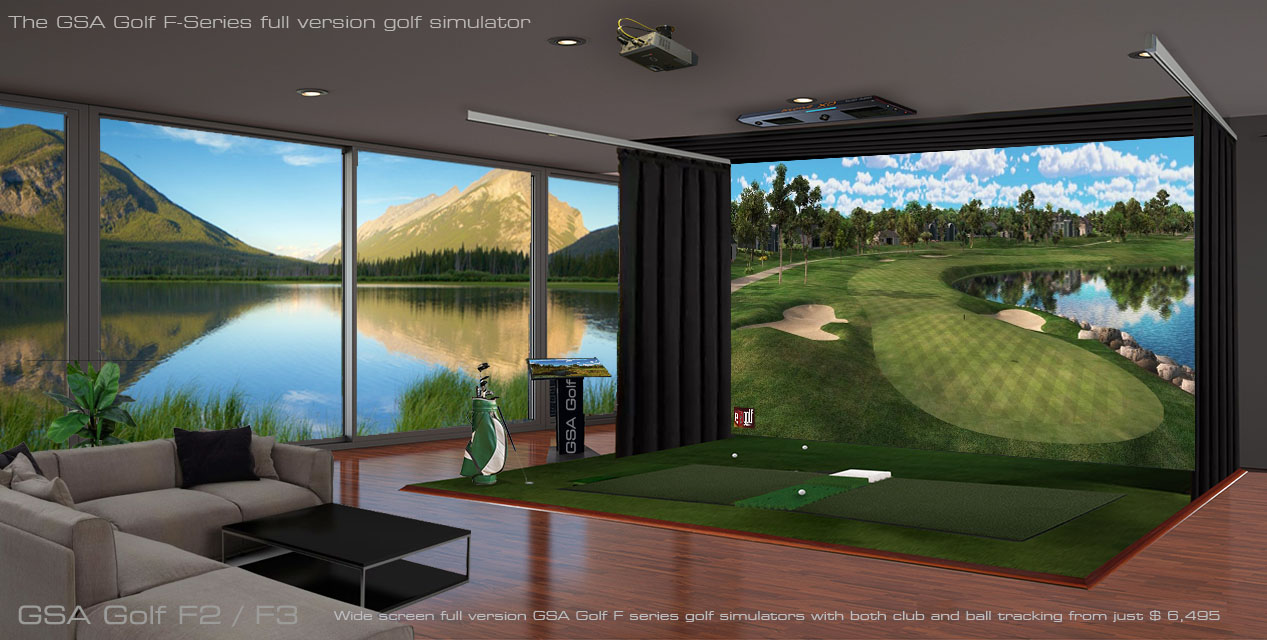 -

-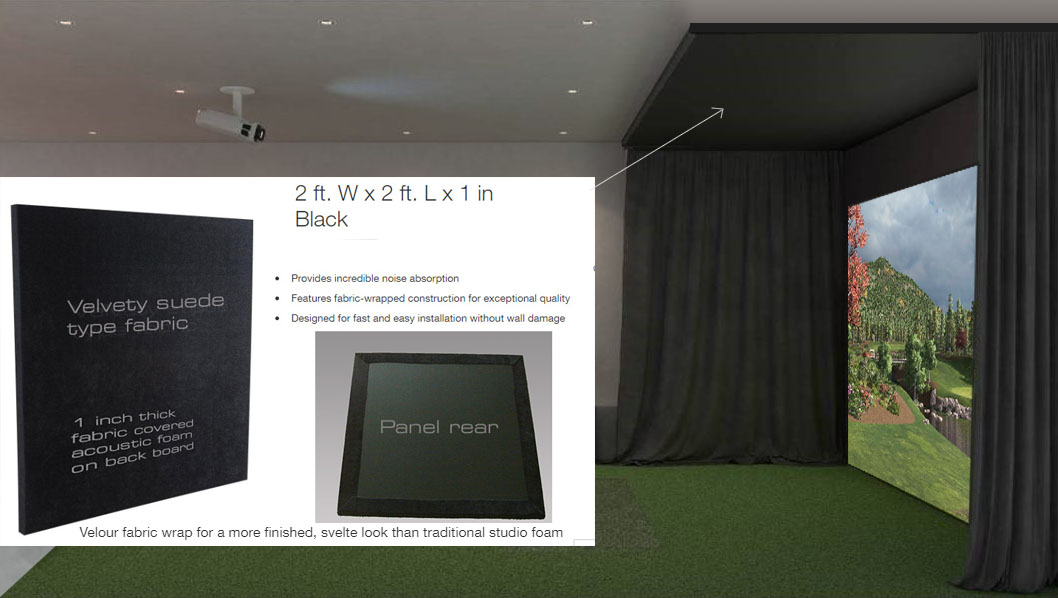 An alternative to using a ceiling drape is to use fabric covered acoustic foam panels.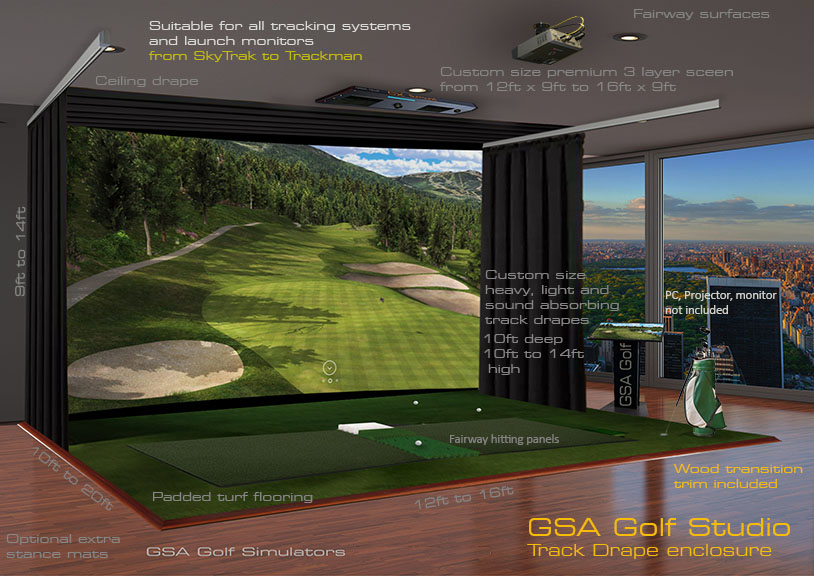 GSA Golf Track drape studio enclosures from $5,499
Note that our golf simulator track drape enclosures are also suitable for launch monitors
including SkyTrak, GC2, FlightScope amd Trackman systems
Size : up to 16ft wide, 20ft deep, 10ft high
for the super wide screen experience

Click the above button to read more and or purchase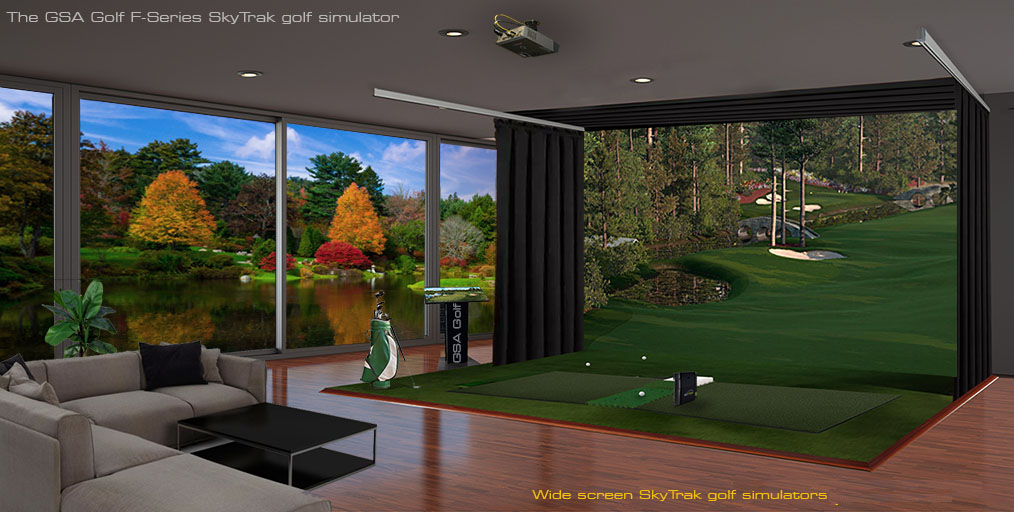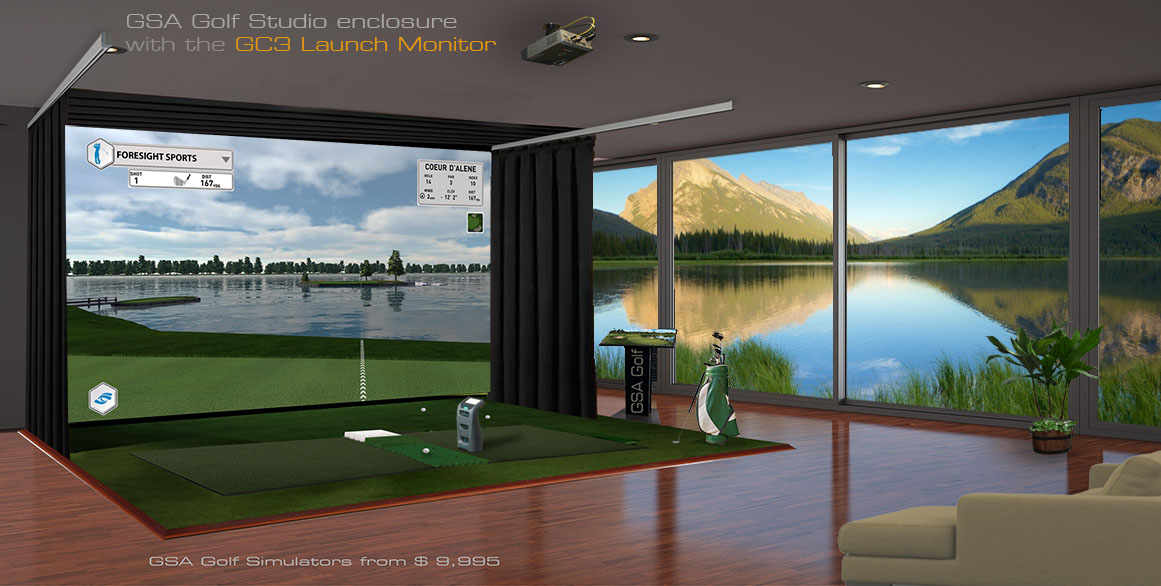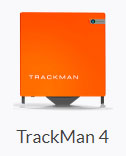 The F-Studio enclosure with Trackman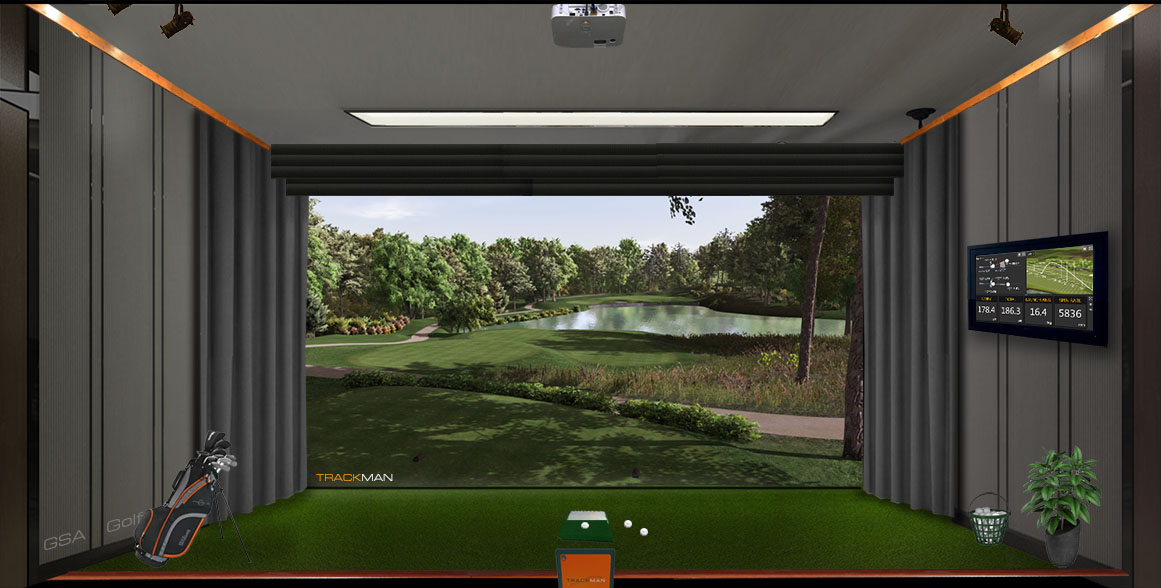 GSA Golf screen materials for your Studio Enclosure
Custom Screens are made up and shipped usually next day !

All Studio enclosures include Premium 3 layer screens

Click the above button to read more and or purchase
Standard size screens from $185

Click above image to read more

What's also included with the GSA Golf Studio enclosure
1. 12 x 10ft length EMT 1 inch diameter screen frame tubing with all fittings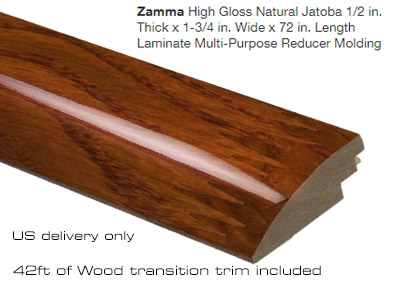 2. 42ft of Wood flooring transition trim

3. Fairway Hitting surfaces and padded grass turf carpeting throughout
4.Custom size heavy 20oz - light and sound - absorbing drapes (10ft deep) with tracks
Black drapes are napped on both sides, with hems and grommets for the tracks
5.Ceiling drape (10ft deep, up to 16ft wide)
What's not included
Raised flooring and / or stance mats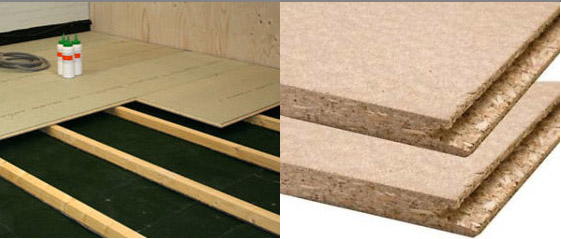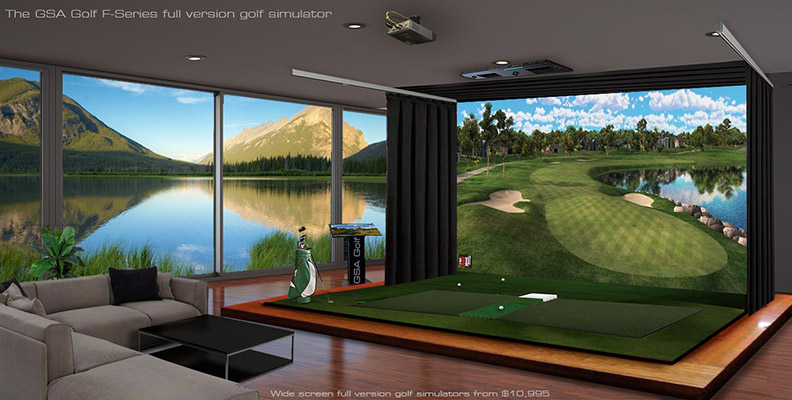 Click the above button to see options for raised flooring

Track drapes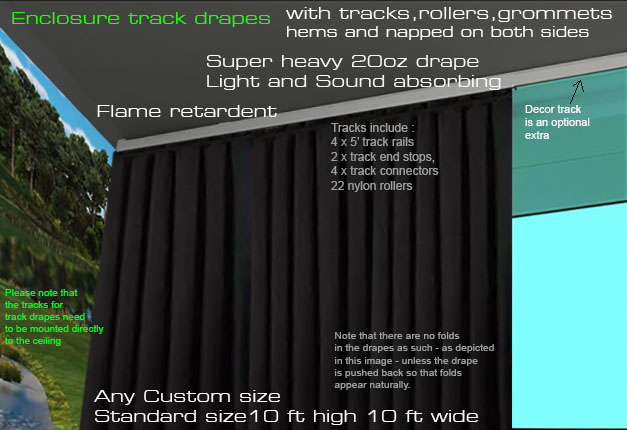 If you need to pull the drapes back to free up the golf simulator area for other uses you can use drapes on a track
We can supply the drapes with track grommets and lower hems for this purpose if required
Heavy Track drape - fire retardent, sound and light absorbing - with grommets, hems and pockets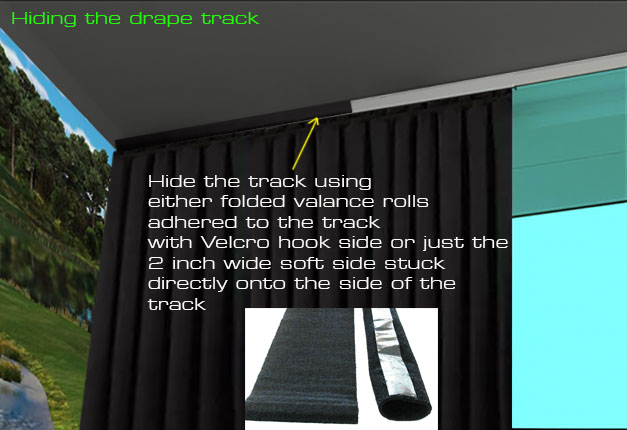 Customer review:
Just wanted to let you know I received the drapes and curtain tracks from the order below.
I have mounted them and they work GREAT! They far exceed my expectations and are fantastic.
They are long enough and heavy enough that I neither have to use weights at the bottom, nor any other reinforcement at the sides.
Nothing gets past them. I have cars parked adjacent to the curtains on both sides and there is no need to further protect the cars -
the curtains provide all the protection needed.
Jim L. Florida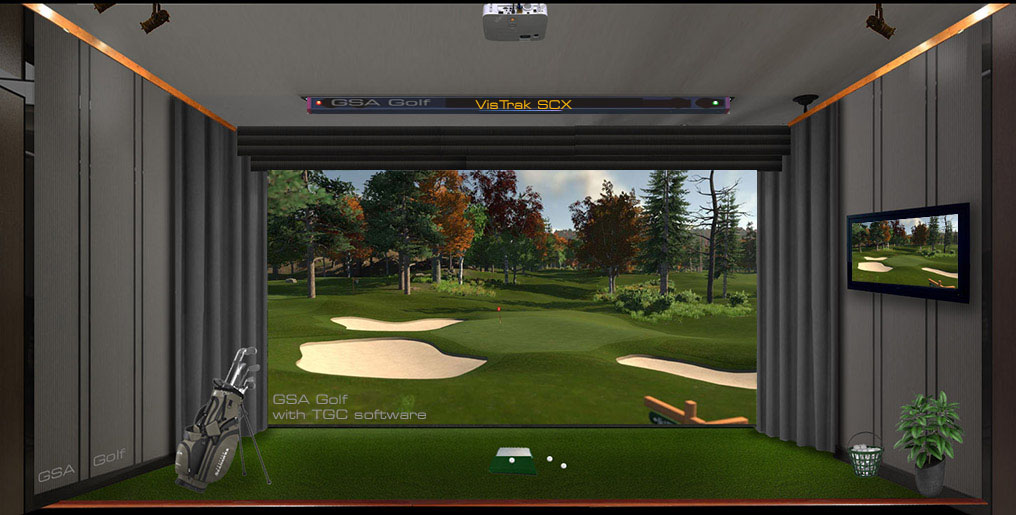 Click the above button to read more and or purchase
Track drape studio enclosure
Click the above button to read more and or purchase

Home theater quality premium screen image impact screens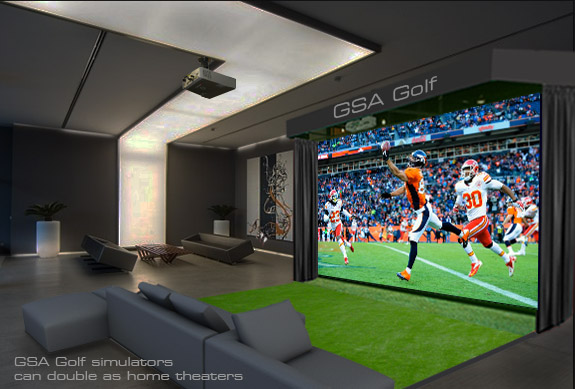 Click the above button to read more and or purchase
---
Padded grass turf flooring by the roll



Padded grass turf. Color: OliveGreen

Add additional stance mats for just $217 each

Raised flooring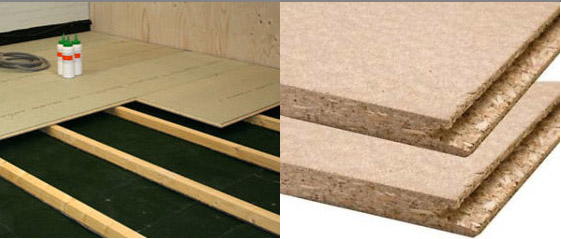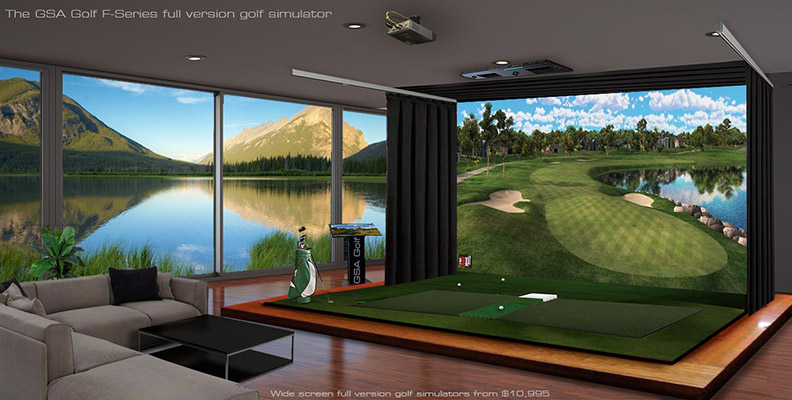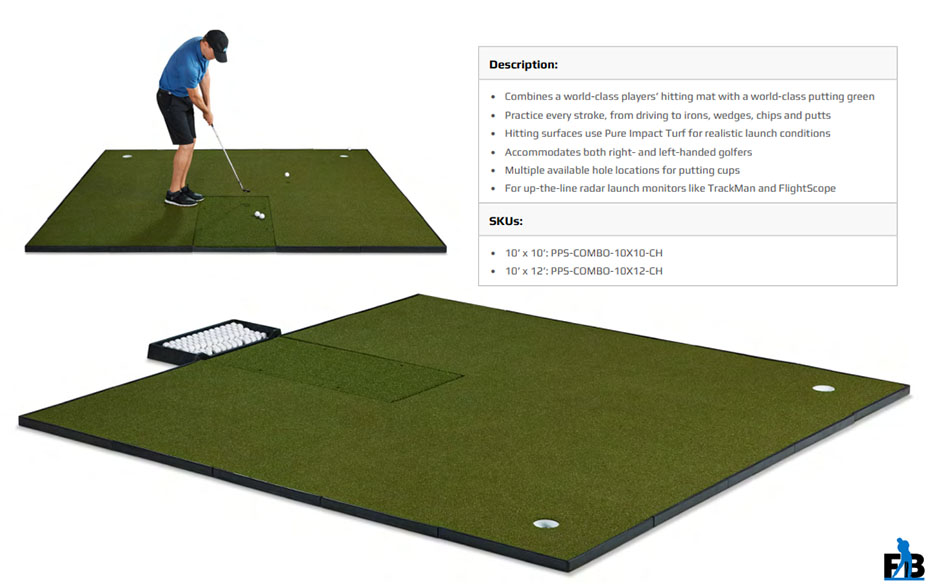 Raised platform turf flooring

Click above to read more

-
Click the above button to read more about flooring options and or to purchase

Click the above button to read more about GSA Golf drape enclosures


Add the Studio dual 4' x 4' stance mat and fairway grass panels with the rubber foundation
$ 1,349.00