---
January 27 10:45 am
New low priced VisTrak Compact series
VisTrak Eagle Compact
Hi-speed ball and club tracking camera with IR LED lighting
Price $899
New Vcam hi-speed camera design
Floor mounted camera add-on to VisTrak Eagle and EVI system to capture vertical launch angle
Price $899
VisTrak SCX Compact
Price $1,799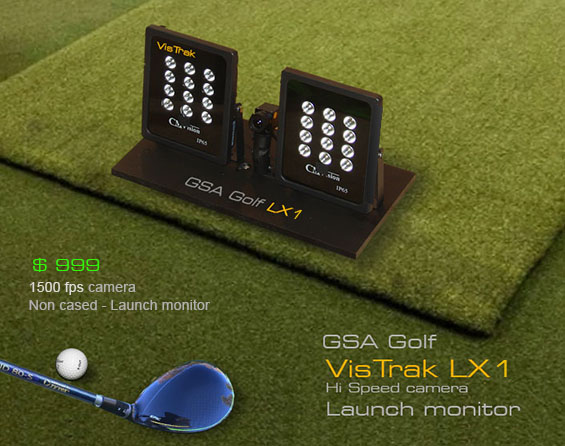 Price $999
---
January 26 10:45 am

V 9.8.7.0
A number of small bugs fixed when using frame contrast and brightness.
---
January 24 3:35 pm

V 9.8.6.9
Issue with Windows 11 not allowing updates to run if the update install file has the same name.
Yesterday's CP update install file used the file name "CPiAlpha6.exe"
Today's CP update install file uses the file name "CPiAlpha7.exe"
---
January 21 3:15 pm

V 9.8.6.9
World's first and only hi-speed camera tracking system in color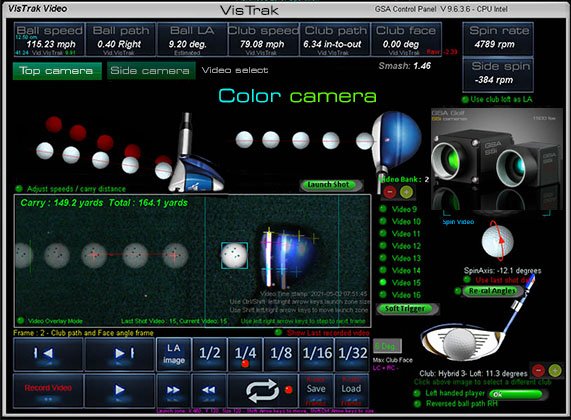 New 1: Integration of the new SSI color cameras now completed
New 2: Frame count now being displayed when "Show Full Ball Frame" selected in the camera panel
GSA Golf color 800 fps camera systems start at just $799
---
January 15 12:00 pm

V 9.8.6.8
Issue with putting fixed
Contrast now being applied after video load.
---
January 14 11:15 am

V 9.8.6.7
More improvements to the video brightness and contrast features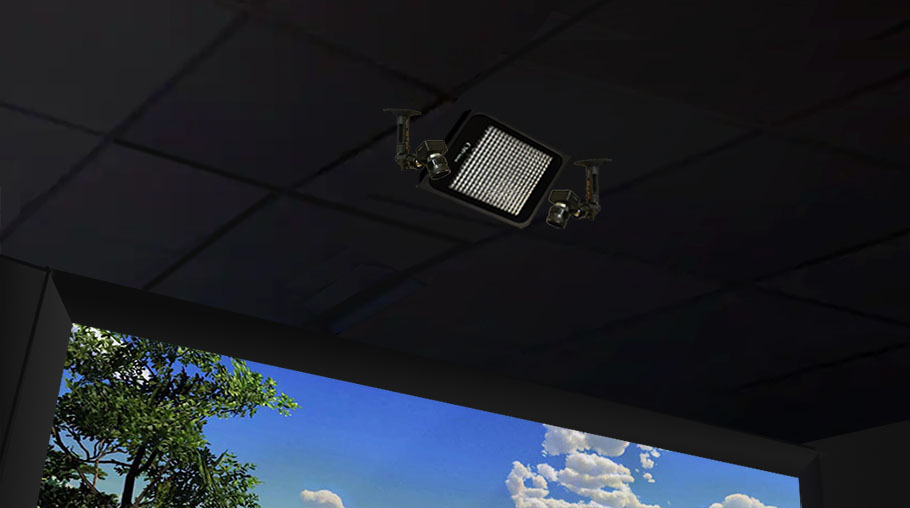 Using these settings negates the requirement to use more that 2 IR LED or Halogen lights
---
January 13 12:15 pm

V 9.8.6.6
Fix: when flipping camera images using the xRev and yRev functions, x was not being reversed when y was reversed
New: Parallel Stereo configuration now activated. (Select in the Setup window).
Parallel stereo
Use Parallel Stereo when you want to the shot playback videos to show close to real ball path.
Mount the stereo cameras around 12 to 16 inches apart on the center line instead of the usual 40 inches apart.
Other than LA, all data is calculated from the left camera when parallel stereo is selected. LA is calculated using stereo disparity from both the left and right cameras.
Centered stereo
After many tests, centered stereo LA is not proving to be accurate.
The Centered stereo option will probably be removed from the CP soon.
---
January 9 12:50 pm

V 9.8.6.4
New: Ability to jump from the VisTrak video panel to the Camera panel and vice-versa without the requirement to exit these panels beforehand
Currenly working on the new Centered Stereo system.
Update due tomorrow.
---
January 8 11:05 am

V 9.8.6.3
Putting issue resolved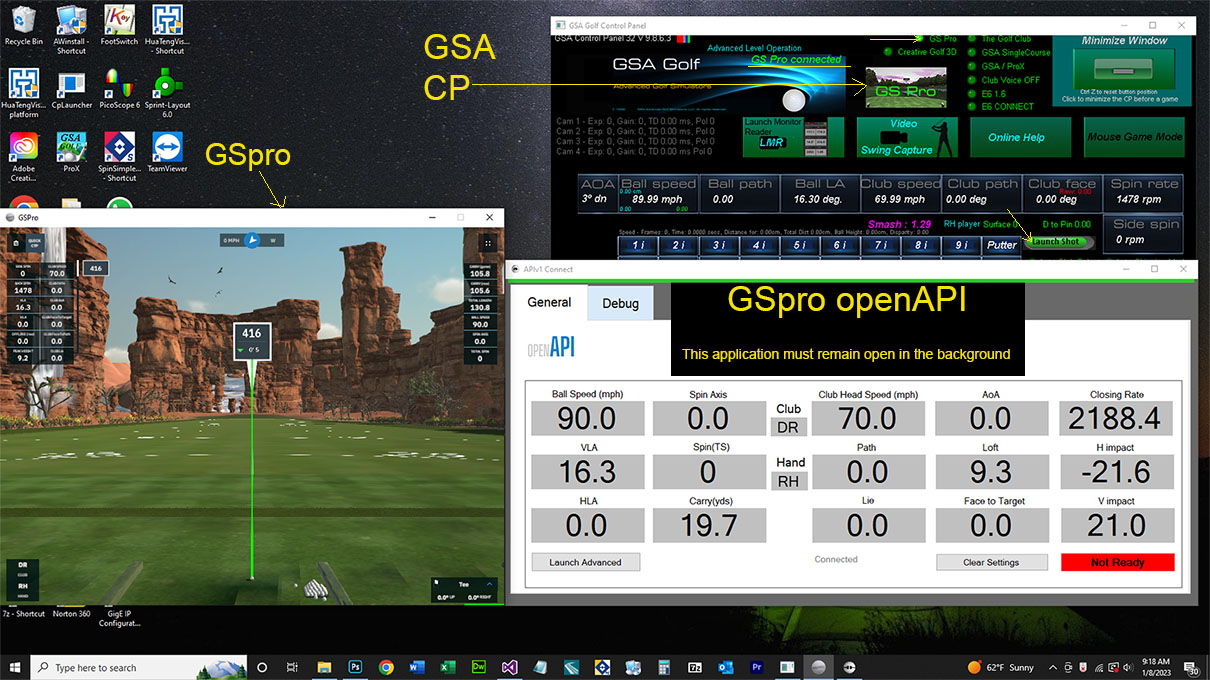 When using GSpro, the GSpro open API must remain open.
The GSA CP communicates with GS Pro via this openAPI (Application Interface).
---
January 7 2:45 pm
Putting issue has turned up in latest versions of the CP. Fix is due tomorrow
Customer has reported that ball strikes are not being detected with GS Pro. We'll be looking into this tomorrow too.
Centered stereo calibration is also set for tomorrow's CP update.
---
January 4 1:36 pm

V 9.8.6.2
New Camera image brightness and contrast
New camera image and brightness controls that turn low light dull images of the ball and club into vibrant bright images.


---
January 2 1:21 pm

V 9.8.6.1
Fix: Ball centering (ROI) not working when camera images were set to Y reversed. i.e. flipped upside down.
---
December 30 11:33 am

V 9.8.6.0
SCX Centered Stereo camera setup now activated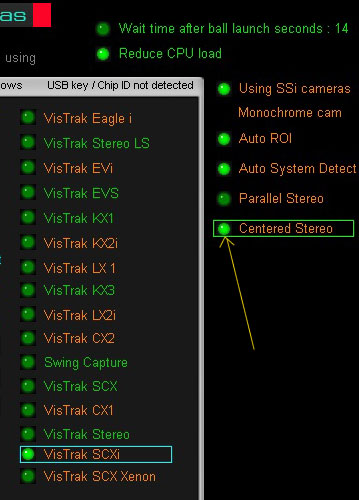 -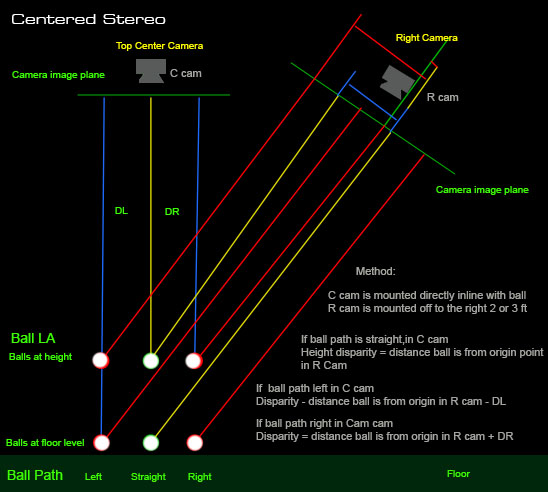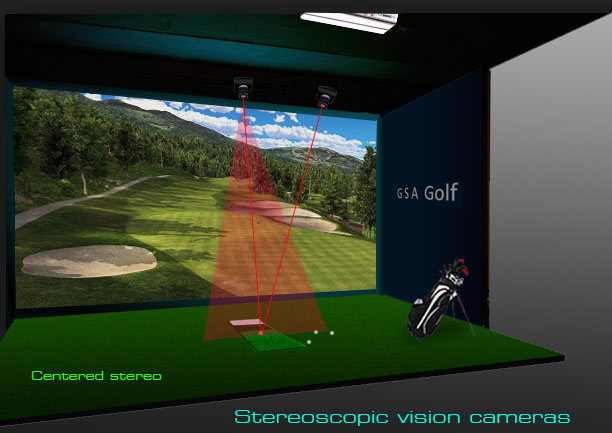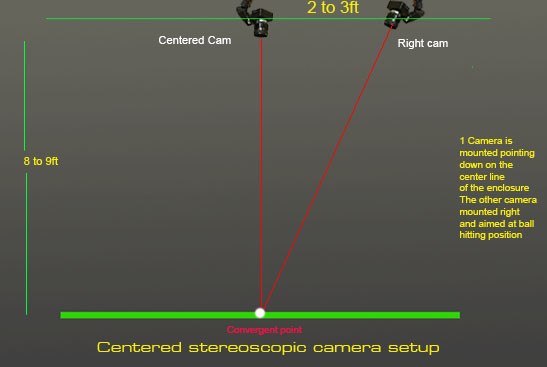 Centered Stereo consists of one camera mounted directly overhead on the center line and one camera off to one side.
The advantage being that the user sees the exact ball and club path from the center camera (as with the VisTrak Eagle), while the camera off to one side is used to calculate ball launch angle.
I did the basic concept math for this and all indicates that it should work well. Tests should be completed this week.
---
December 26 9:10 am

V 9.8.5.8
SCX putting issue fixed.
Parallel stereo camera setup now activated
Fix: Incorrect stereo disparity being calculated resulting in incorrect vertical launch angles
To use, switch "Parallel Stereo" ON in the Setup panel of the CP (far right side).
Mount cameras 1 to 2 ft apart as shown below
---
December 21 2:15 pm
Parallel camera vs Converging camera stereo setups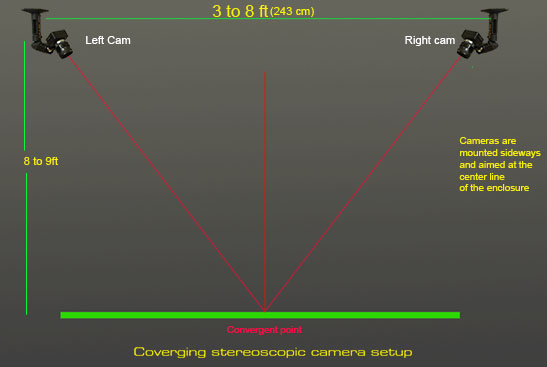 -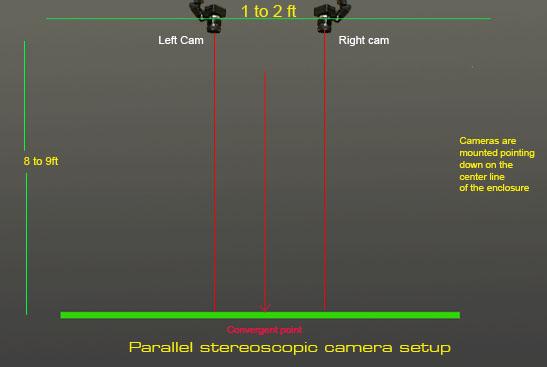 A main issue with converging camera stereo systems is that the video shot playback doesn't show the exact ball path due to the different left and right viewing angles of the cameras.
i.e. the left camera will show the ball traveling in one direction and the right camera will show the ball in the opposite direction.
In order that the video playback shows the exact ball path, the cameras have to be pointing directly down (i.e. like the Uneekor systems) and not pointing inwards (like the two far left and right cams in a GC Hawk).
When the cameras are mounted pointing down , the user will see the exact ball path in the video playback.
Coding of the new parallel stereo camera feature should be ready later next week.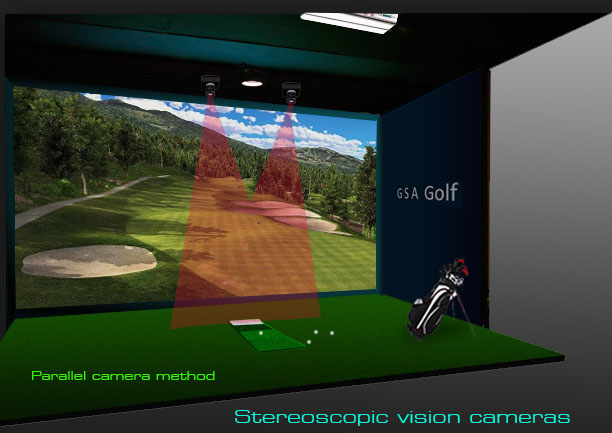 New camera shipments have arrived
Finally, the correct cameras have now been shipped to us (i.e. hi-speed (790/1500 fps) 640 x 480 res cameras) so we can start shipping back logged orders now.
The only difference is that these new cameras have a C-Mount lens fitting and not a CS mount fitting. Unfortunately C Mount lenses cost $40 more than CS mount lenses for some reason
---
November 6 2:05 pm
Camera Tracking Software Available on Amazon soon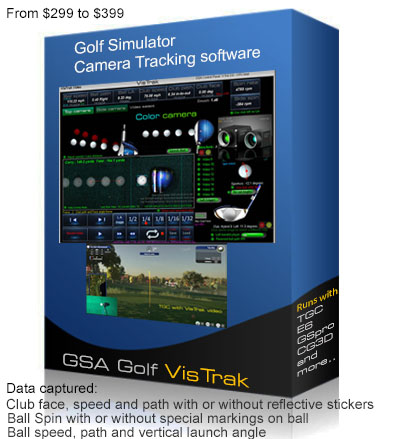 $ 299
The GSA Golf camera tracking software (i.e. the Control Panel) can be purchased separately for those that are purchasing their own cameras.
All additional products required to build your own high-speed golf simulator camera tracking system are available on Amazon.
Including cameras, cables and lights.
---
November 5 12:25 pm

V 9.8.5.5
New: SSi camera system shot videos now include the full user setup
This is important for us to analyze customer issues. i.e. we can setup our system to exactly replicate the users system
New: Ctrl and Shift key indicators shown
---
November 3 9:25 am

V 9.8.5.3
Fix 1: Dual VisTrak SSi systems (i.e. LX2, EVi, SCXi, KX2i) not saving the frames of camera 2 in the shot video
Fix 2: SCXi systems not always measuring correct ball LA
---
October 26 2:40 pm

V 9.8.5.1
New customer camera registrations
Putting and Chipping delay frame adjustments now shown in the Setup panel
---
October 23 12:00 pm
Color camera versions
World's first and only hi-speed camera tracking system in color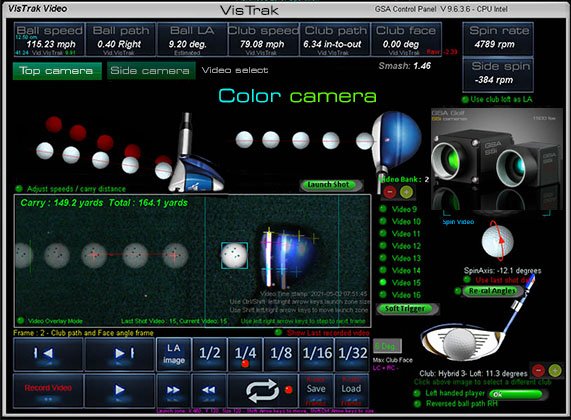 Color camera versions of are now available.
Note that color cameras require visible light sources. i.e. Halogen or video spot light lighting.
---
October 22 2:15 pm
Halogen track lighting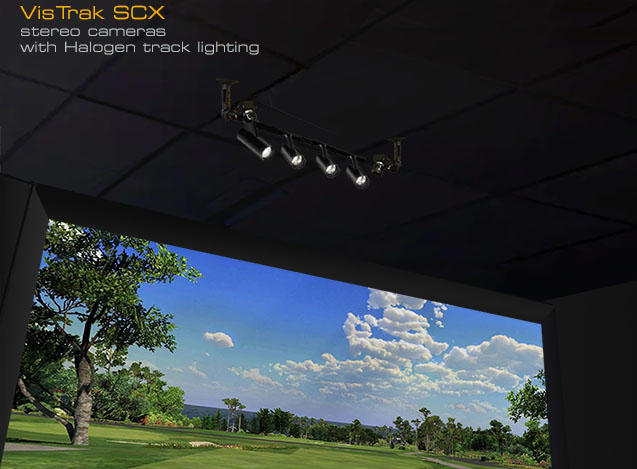 Instead of expensive IR LED lighting, you can also use Halogen track lighting.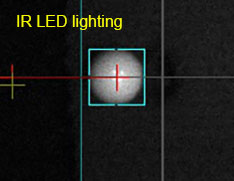 -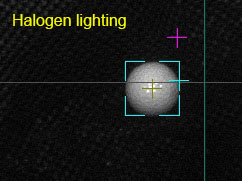 The above comparison images show that halogen track lighting works just as well - if not better - than IR LED lighting
A 2 ft track with 4 spots and bulbs are available on Amazon for around $100.
While LED IR lighting can cost up to $500.
---
October 21 1:45 pm

V 9.8.4.8
New:
Putting and Chipping camera speed delay frames activated.
The delay frames - user adjustable in Video panel when in putting or chipping mode -
slow the camera down so that slow movings balls have time to be captured outside the launch zone area.
---
October 20 4:00 pm

V 9.8.4.7
New: General Setup panel clean-up when using the new SSi cameras - i.e. a host of irrelevant options have been removed
New: Improved ball spin dot detection
Still not as accurate as I would like though. More work is required in this area to achieve better ball spin rate accuracy.
Ball spin detection is now priority one for the next month or so of development.
---
October 19 1:45 pm

V 9.8.4.6
Fix: Putting not working with dual camera SSi systems
New: IBS tolerance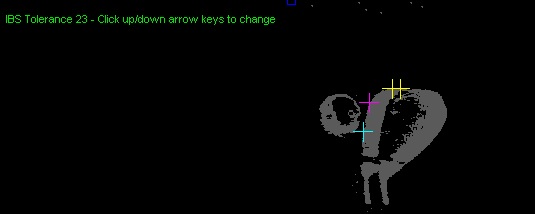 IBS club detection tolerance is now user adjustable.
Adjust to between 16 and 24 in order to acheive the cleanest (low noise) results as shown above
---
October 18 3:20 pm

V 9.8.4.4
Improved putting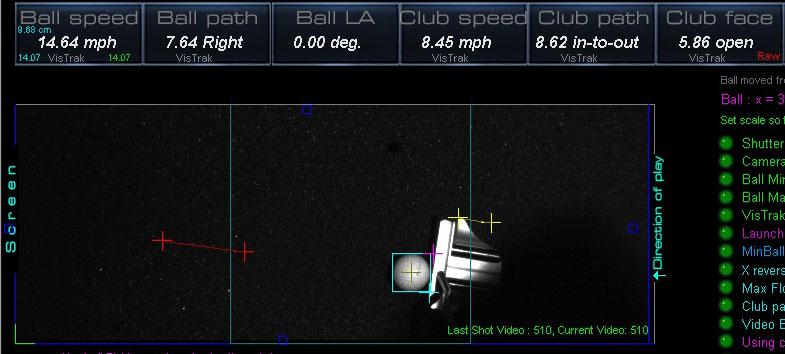 KX2i and LX2i systems activated
---
October 16 10:00 am

V 9.8.4.2
Improved club face and path detection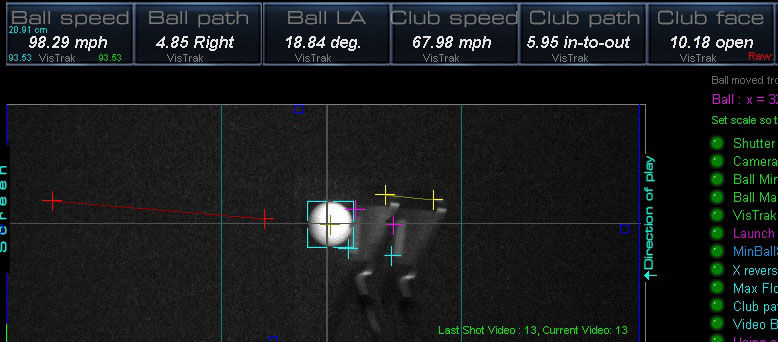 ---
October 15 10:35 am

V 9.8.4.1
EVi mod for Jeff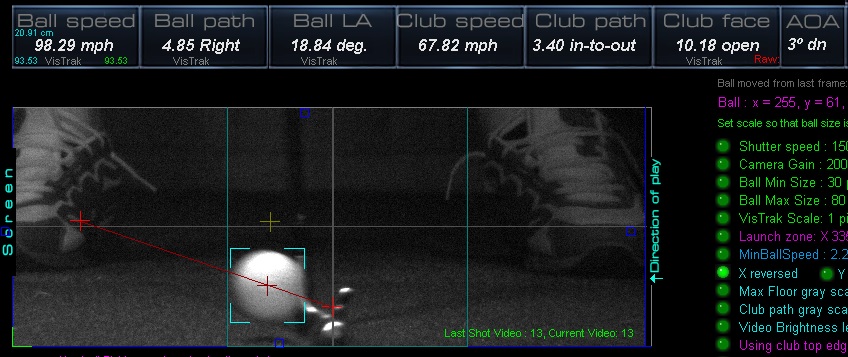 Customer Jeff has either placed the Vcam camera too near the camera or is using the incorrect lens.
This results in the ball image being too large and the FOV not matching the FOV of the ceiling camera which in turn results in incorrect LA measurements.
This version fixes the problem but generally speaking, the FOV of both cameras should always be about the same.
---
October 13 3:00 pm
LX 2 casing mod.
Tests revealed that the top camera mounting height in the original design of LX2 was too low to detect accurate club data.
In order to achieve better camera perspective for accurate club tracking, the top camera has to be mounted far higher.
An acrylic / ABS post has thus been added to achieve the extra height and thus better top camera perspective.
While the LX casing probably won't be given any aesthetically pleasing case design awards, it does work very well.
In addition, the unit is now far easier to pick-up and move with the handle on the back of the post.
i.e. you don't have to bend down to pick it up anymore
---
October 7 12:15 pm

V 9.8.4.0
New: Club path now shown in the IBS club image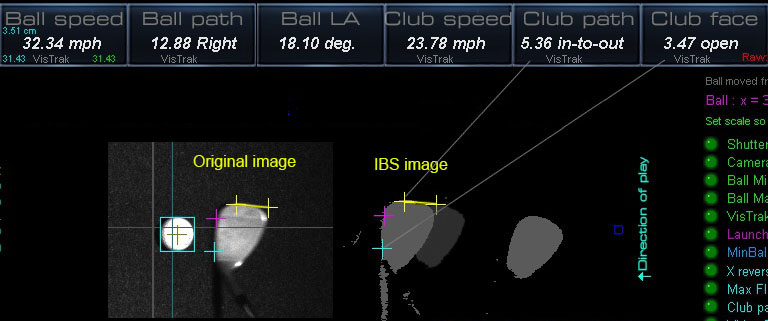 LX2 now ready for production
The LX2 adds club tracking and more accurate ball path detection to the LX1
Data captured: Club face angle, club speed and path plus ball spin, speed, LA and path
The VisTrak LX2 is the world's first and only launch monitor offering post shot video replay of your shot from both side and top cameras !
---
October 6 1:00 pm
Optional ball placement laser guide now available for all ceiling mounted cameras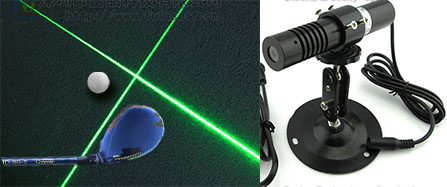 Laser automatically switches off when ball is located. Click above image to read more...

V 9.8.3.8
Advanced club detection is now default ON
All club data is now derived from the IBS club frames including face angle, path and speed

The new ACD (Advanced Club Detection) is functioning so well now, it is now the standard club detection method.
This CP update has the latest ACD features

---
October 2 1:32 pm

V 9.8.3.3
First results of the new advanced club detection method that detects club data without markings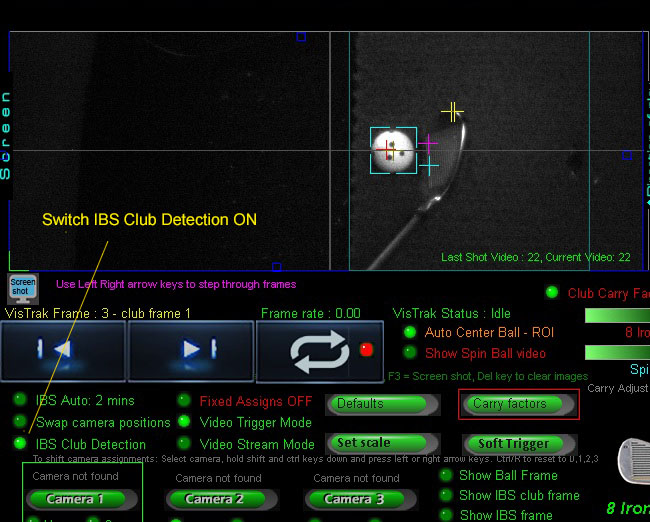 ---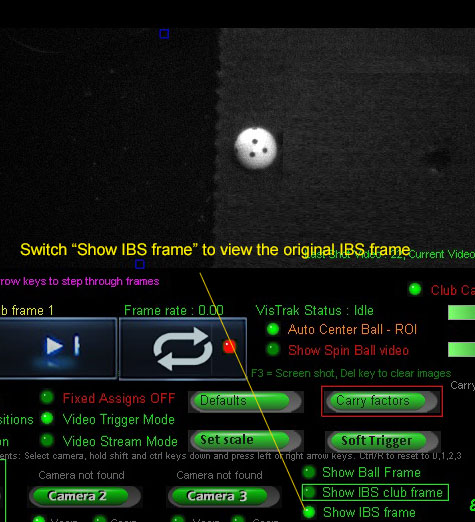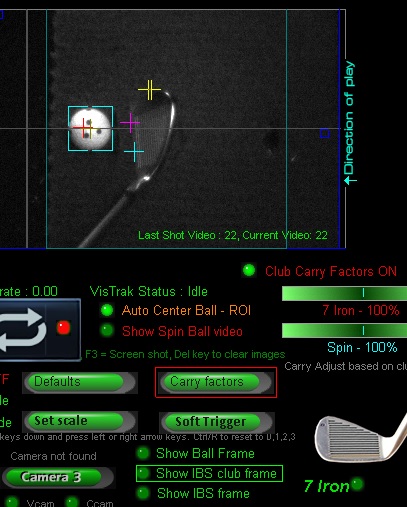 ---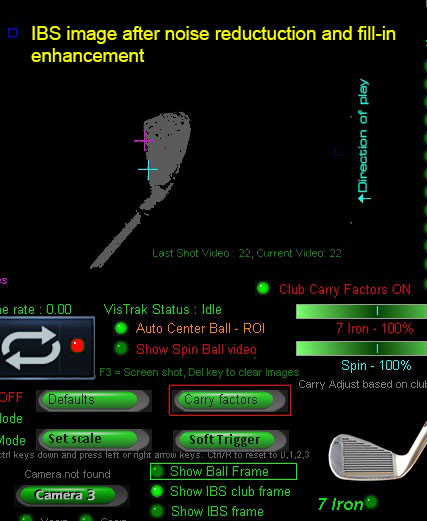 Using IBS (Image Background Subtraction), the method entails subtracting a frame image of the mat before ball strike (some 8 frames back in the video sequence)
from the frame image of the mat just before ball strike. The result leaves a clear binary image of just the club.
---
October 1 8:27 am
Hurricane Ian : GSA Golf back online on Monday
We are starting to get Power and Internet services back on now and should be ready for business again on Monday
---
September 27 4:35 pm
Measured Ball Spin and Club detection without markings on balls and clubs

coming soon for all VisTrak systems
New ASD and ACD free software updates that detect both ball spin and club data without markings
While the ability to detect ball spin without markings on the ball will require a hardware upgrade (i.e. an IR Xenon flash), club data detection without markings doesn't.
Using IBS (Image Background Suppression) methods, accurate club data (club face, path and speed) should be relatively easy to detect.
As applying markings to the club seems to be the biggest issue that most complain about, the ACD club detection software will take priority now.
---
September 24 4:05 pm
Ball spin detection without ball markings
It should be noted that in order to detect ball spin with balls that have no markings on them, high resolution images of the ball that clearly show the dimple patterns are required.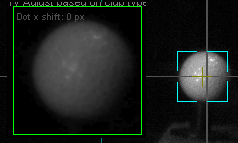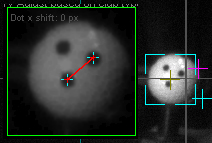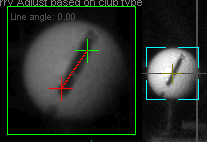 While the regular VisTrak hi-speed - but low resolution - camera works just fine when clear markings are on the ball,
the ball images do not have sufficient resolution to clearly show the dimple patterns.

In order to obtain hi-resolution images of the ball in flight, the camera has to be set to hi-res mode and an IR-Xenon flash is required.
So, while it's great that we now have the proven code process that detects ball spin without ball markings, we don't - as of yet anyway - have the hi-resolution images.
As stated before, the IR Xenon hi-resolution camera systems are expected to be ready in the 1st quarter of 2023
---
September 23 10:45 am

V 9.8.3.2
Ball spin detection without ball markings
Amazingly accurate results using test ball images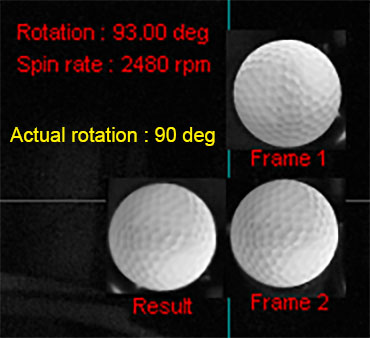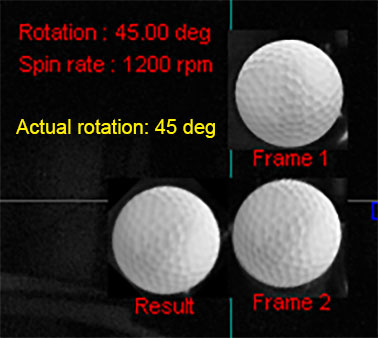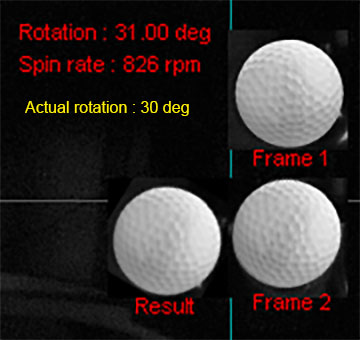 Are these results too good to be true?
The test method used here is to take a ball image and paste it into a VisTrak frame 1 using Photoshop.
Then rotate the ball image a certain number of degrees and paste it into frame 2.
Then load the frames into the CP and run the images through the spin calculation process.
The spin calculation process rotates the ball image in frame1, one degree at a time, and compares it to the ball image in frame 2.
The comparison process subtracts each and every pixel gray scale level from the ball image in frame1 from the level in frame2, and the result is stored in a "degree match" table.
We then just have to search the "degree match" table for the best match result to get the number of rotation degrees.
Knowing the amount of rotation within a certain frame time allows us to determine the ball spin rate.
My question at the moment though is "to what extent is the non-uniform lighting" effecting the results?
More tests using the VisTrak side camera are thus required.
Nevertheless, I'm very happy with these results. Almost fell off my chair when seeing the results this morning in fact.
---

V 9.8.3.0
Ball spin detection without ball markings
First test results of low resolution ball image spin detection are promising and show proof of concept.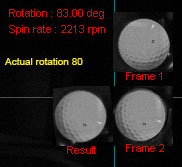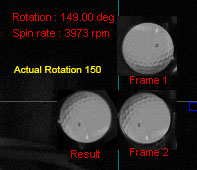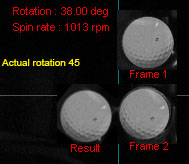 ---
September 21 5:45 pm

V 9.8.2.9
Fix: LA sometimes being set to zero in VisTrak systems
---
September 20 1:50 pm
Ball spin detection without ball markings
Tests of this new feature show that the method works very well with systems featuring floor mounted cameras. i.e. KX, EVi and LX
This method also negates the requirement to select the spin options "ball dots on ball" and "ball logo or line on ball".
First release should be ready tomorrow afternoon.
---
September 17 3:18 pm
New SSi camera setup video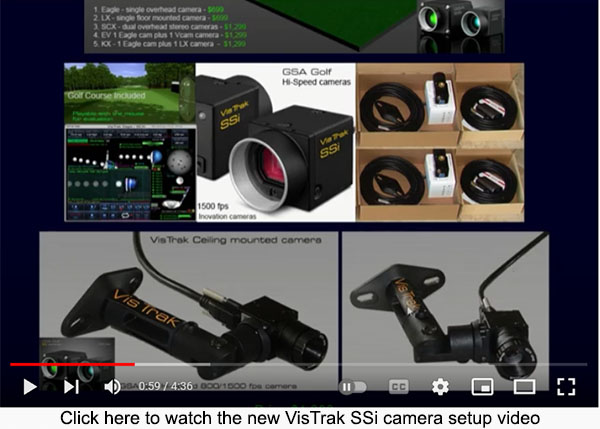 ---
September 13 6:10 pm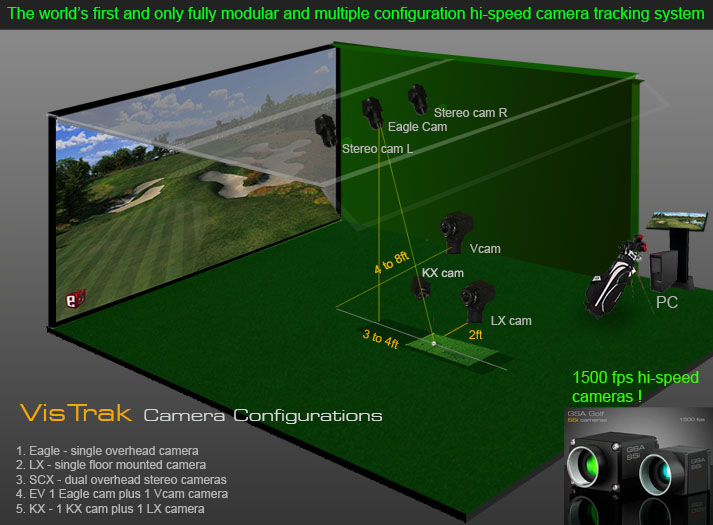 Looks like our modular and multiple configuration hi-speed camera tracking systems are a world's first.
Not to mention our super low prices.
---
September 11 12:18 pm
New Ball Spin YouTube video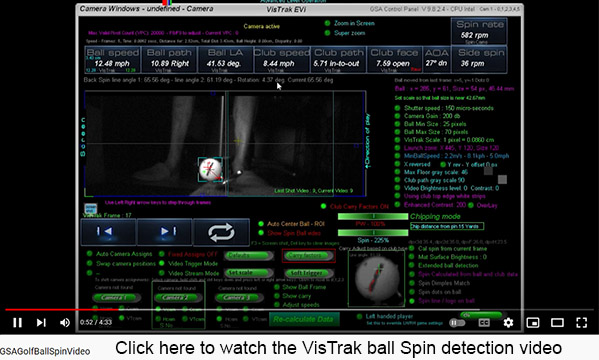 The new VisTrak ball spin video is now completed and online
---
September 8 5:15 pm

V 9.8.2.4
Updates for VisTrak EVi and KX2i systems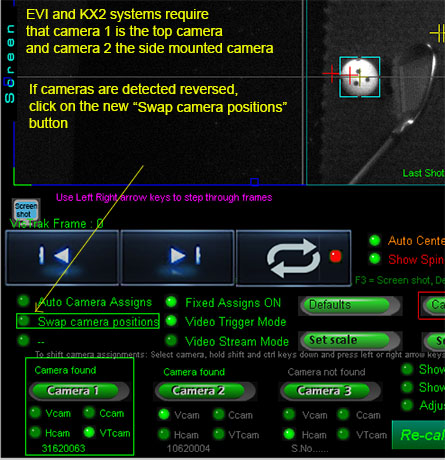 ---
September 4 10:35 am
Business news:

GSA Golf hi-speed tracking cameras : the new "GoPro" of golf simulator camera tracking systems?
I must admit I do like the idea of selling just cameras.
Cameras have zero assembly time and take only 15 minutes to pack and ship, while cased systems take up to 15 hours of assembly time and half a day to pack and ship.
The price advantage for the consumer is huge too, with prices now starting at just $699.
Not to mention the ease of mounting and configuration flexibility.
i.e. you can convert from a ceiling mounted system (Eagle) to a floor mounted (LX) launch monitor just by repositioning the camera and lights.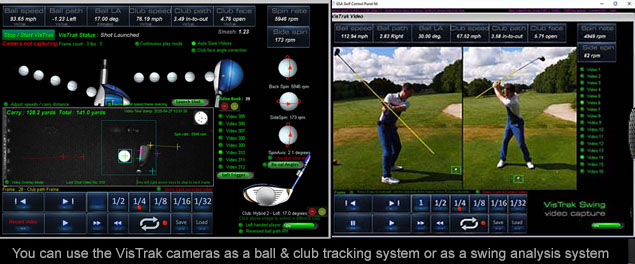 Or even as a swing analysis system.
The cameras are modular too, so you add more cameras as and when budget allows.
To the best of my knowledge, no other golf simulator company is offering this type of product at present.
One reason for this could simply be that a cased / housed product looks more expensive and thus a far higher price can be commanded.
Companies selling essentially just 2 or 4 cameras and a couple of lights in a box are charging between $5,000 to $20,000 at present.
If they just sold the cameras and a maybe control box with a hardware cost probably not much more than $1,000, those super high prices would be a tad difficult to justify.
Currently my camera only systems are outselling my cased systems 10 to 1, so I'll probably be concentrating more on this business model in the future.
YouTube ball spin video coming next week
Having just completed the dual camera video playback YouTube video (see below), a ball spin video will be next up.
---
September 3 5:05 pm
New dual shot video playback feature video now on YouTube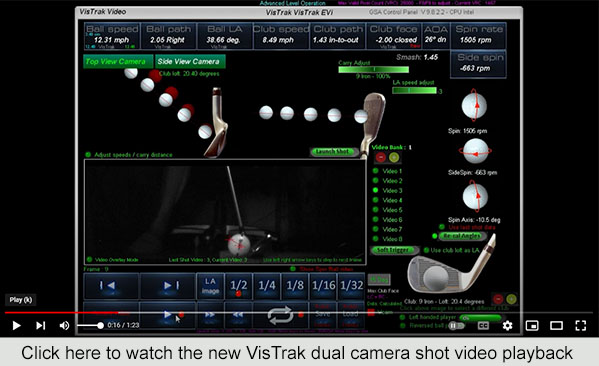 ---
September 2 1:35 pm

V 9.8.2.2
Cleaner look for video playbacks
New shot video playback overlays
The new "Mini" shot videos are immediately displayed in the game software after every shot.
The video window can be positioned anywhere in the game software.

Switch this feature on/off in the setup window

The new GSA Golf EVi and KX systems feature dual hi-speed camera 32 frame shot playback videos from both the top and side cameras after every shot
Priced from $1,299
---
August 27 1:05 pm
non-cased camera systems vs. cased systems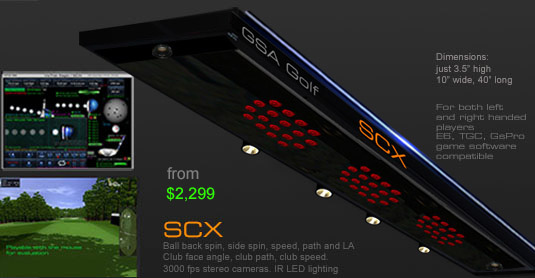 SCX cased $2,999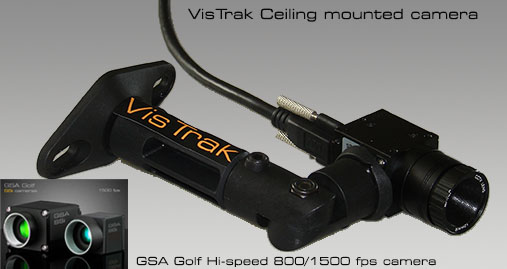 -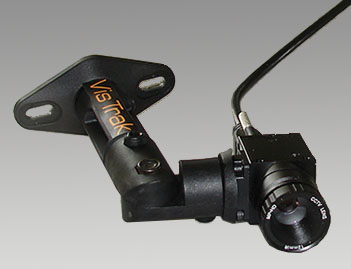 SCX non-cased - from $1,599

Advantages of non-cased camera systems:
1. Straight off the bat, non-cased camera systems are almost half the price of cased systems
Reason: while it takes some 15 hours to assemble a cased system, a non-cased camera system takes only 15 minutes.
2. Non cased cameras are far easier to mount
The SCX's total weight is over 15lbs and probably requires 2 people on two step ladders to mount,
whereas a camera only weighs a few ounces and can easily be mounted by a single person.
3. Non cased cameras are far easier to aim and focus adjust
Access to the camera's mount and lens focus dial is far easier if the camera is not cased.
4. Non cased cameras allow the user to swap cameras around in different configurations to change to different systems
For example, you can setup the cameras as an SCX, EVi, KX, or LX system simply by re-mounting the cameras and lighting.
In a cased system, the cameras and lighting are fixed for the particular system the case was designed for.
5. Fast lead and shipment times
While cased products can take well up to 4 weeks to ship, cameras are usually shipped within 24 to 48 hours.
6. No requirement to sign a sales agreement
As the value of just the cameras is a lot lower than the cased version, we can take the risk of selling the product without a sales agreement.
One of the many reasons for this is that fully cased products that weigh as much as 15 lbs can easily be damaged during transport
- seemingly no matter how well they are packed - and often a return cased product is nowhere near as well packed and thus far more likely to be damaged.
End result is that we can get a damaged unsellable product back that results in a total loss for us.
Whereas the chances of single small and light weight camera being damaged during transport is almost non existent.

Advantages of cased camera systems:
1. Other than some may say it looks better, I can't really think of any great advantage
---
August 23 6:30 pm
Worlds first?
GSA Golf Launch monitors with Dual camera angle 32 frame shot videos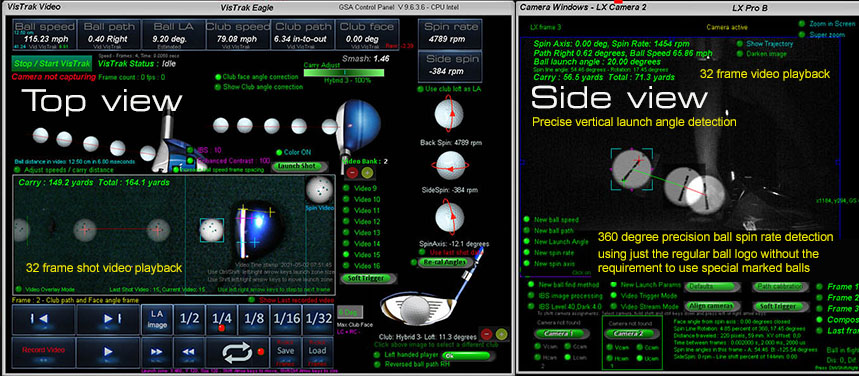 To the best of my knowledge, the VisTrak EVi and KX2i launch monitor systems are the only LM systems on the market today
that feature dual 32 frame shot videos from both the top and side view cameras after every shot.
Prices start at $1,299
---
August 18 1:00 pm

V 9.8.1.4
Updates for SCX and Eagle systems
---
June 18 2:15 pm
SCX vs Uneekor ball spin comaprison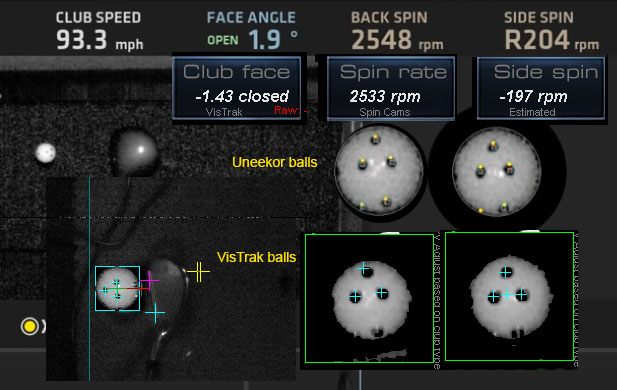 In order to do a first basic comparison test, I copied 2 ball frames from a Uneekor playback video and plugged them into a VisTrak playback video.
I was pleasantly surprised to see that the comparison results are very close even though the VisTrak spin dot detection is still not perfect.
Using Photoshop measuring tools, I could calculate that the average dot shift on the vertical axis with the two Uneekor ball images was 7 pixels,
as was the dot shift in the VisTrak ball images.
Due to a phantom spin dot in the center of VisTrak ball frame 1, the side spin had to be estimated.
The main discrepancy being just caused by using different shot videos. i.e. the VisTrak video had a closed club face and the Uneekor an open club face.
If both shot videos were the same then even the estimated side spin would be almost identical.
This test confirms that my method of ball spin detection from an overhead camera works well.
Main issue now is to figure out where the phantom dot is coming from in frame 1 and to improve spin dot centering when the dot is close to the ball's perimeter.
The math to measure ball spin from an overhead camera is a tad complicated (at least it is for me) but seems to work well.
---
May 30 2:20 pm
VisTrak SCXi and Ei Spin detection coding now completed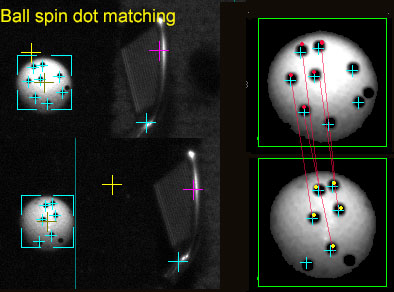 Both back spin and side spin detection coding is now completed and initial tests show very good results.
While more testing and the inevitable tweaks will be made over the coming months, I'm confident in releasing the first Beta versions now.
---
May 29 3:15 pm
Ball and club markings are optional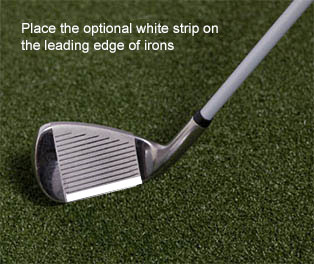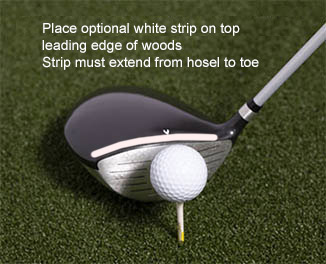 Above - GSA Golf club single strip sticker

Above - GC Quad tracking dots stickers
To the best of my knowledge, most users of camera tracking systems (like the Uneekor and GC3/GC4 etc)
that recommend applying 3 or 4 tracking dots to their clubs, don't even bother doing that.
Likewise with ball markings.
i.e. they just go ahead playing without these ball and club markings and seem to be just happy with that.
As I keep getting questions about the requirement to use ball and club markings -
I've thus pointed out on the relevant system pages that the use of club and ball markings is purely optional
and that the system is perfectly playable without such markings.
For the sole individual working on his game, applying stickers to the clubs isn't a big deal,
but if you've invited the guys over for a couple of rounds and beers, you're unlikely to want to say to them
"okay guys, here's a bunch of 50 little stickers in a bag that you have to apply to all your clubs before we can even start"
---
May 22 2:00 pm
Estimated Uneekor QED frame rate compared to VisTrak SCXi frame rate

The above image is composite of 2 frames of a Uneekor QED post shot video playback.
The image was taken from one of the many YouTube videos of QED post shot videos.
According to my calculations - using the distance the club traveled in between the 2 frames and scaling pixel distances to inches -
the frame rate appears to be around 790 fps in the video.
These tests were conducted on many other other videos too and all seem to correspond to the above findings.
Disclaimer:
Whether or not the Uneekor QED is really running its cameras at 790 fps cannot be conclusively verified though
and I am not intentionally implying or inferring it here.
All tests were only based on published Uneekor shot videos available on YouTube.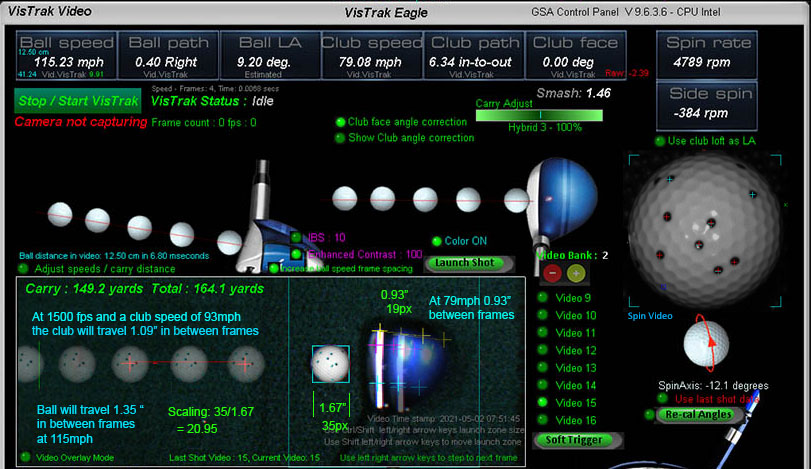 In comparison, the VisTrak Eagle-i and SCXi captures double the number of frames with its dual 1500 fps cameras.
i.e. the distance the club and ball move in between frames is halved.
Of interest, the frame rate of the SCXi camera at a resolution of 640 x 480 is also exactly 790 fps.
So, in case the SCXi requires a higher resolution than its current 640 x 240,
then we can use this higher resolution without losing any functionality.
---