---
May 28 2:05 pm
New super cool looking light bar indicator

All systems now include a blue light bar indicator.
Light bar pulses if system is looking for a ball on the mat.
Light bar stays ON when ball is detected and system is ready for swing.
Other colors available too (Green, Red, Blue etc)
---
May 25 4:25 pm

V 9.9.2.4
New backup and restore settings options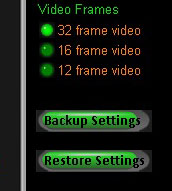 Even though settings are stored after every session, you can use these new backup and restore options in case of issues.
Once you are happy with your settings, click the Backup Settings option. Should - for some reason - you lose your settings or they are get corrupted, just click on the restore button.
In order to prevent inadvertent clicking on these options, you have to hold the shift key down to use them.
New lasor controls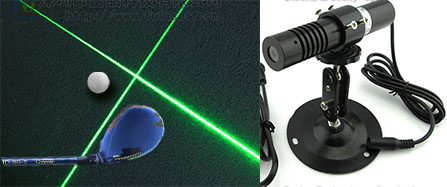 $199
Optional extra Laser ball placement guide
Indicates to user that the ball has been detected in the launch zone area on the mat and ready for swing
Laser automatically switches off when ball is located.
---
May 22 1:45 pm

V 9.9.2.3
Fix : Occasional incorrect ball speed frame count resulting in low ball speeds
---
May 19 4:52 pm

V 9.9.2.2
New 1: Faster shot calculations to reduce the ball strike to launch lag time.
Previous versions where running 2 pass data calculation routines which resulted in all calculations being run twice.
This version uses a single pass data calculation routine.
New 2: shot video playback overlay position out of bounds check
Fix 1: bug in ball strike frame detection
Fix 2: shot data sent to game not always the same as displayed data
---
May 18 5:30 pm
GSA Golf business news

The below images are of my new VisTrak LED track light systems.
Extremely competitively priced from just $899 to $1,699 (no one else even comes close) ,
these systems - with all their super hi-speed camera features - far surpass any of the competition in this price class and
will undoubtedly be a major player in the golf simulator tracking market very soon.
Available on Amazon soon too.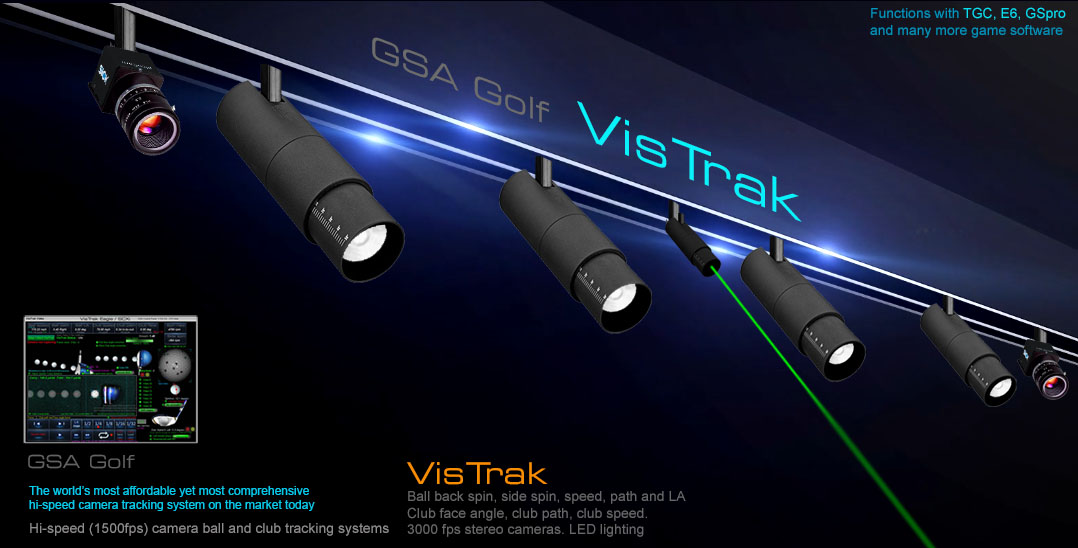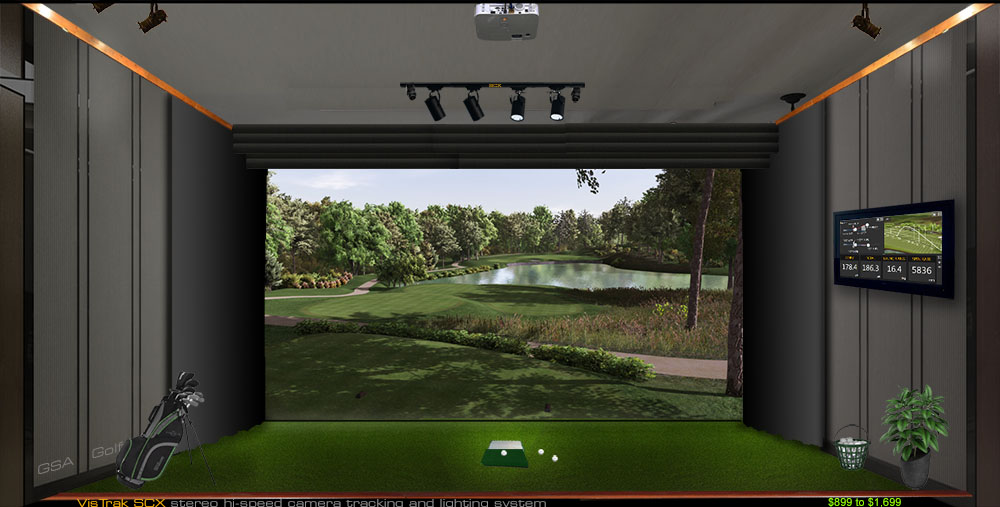 ---
May 17 1:50 pm

V 9.9.2.0
Improved club path, speed and face detection.
---
May 12 2:00 pm
New LED track lighting test results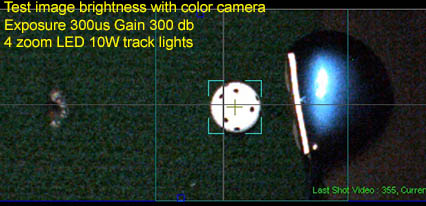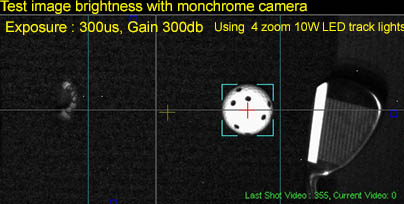 I'm pleased to say that the tests using the new zoom-able 4 10w LED track lights showed excellent results.
All new systems will thus be supplied with this new LED light track from now on instead of Halogen light tracks.
4 hi-power LED zoom-able track light system with 800 Lumens per light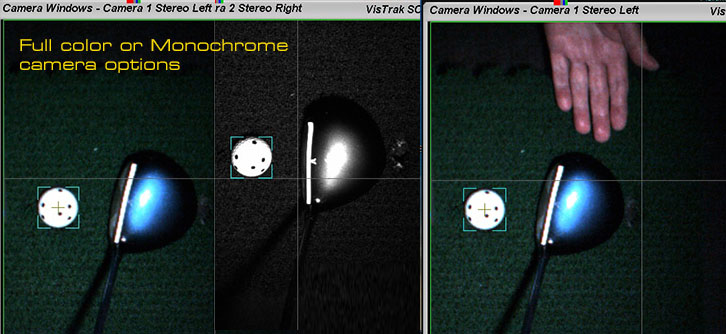 Choose between color or monochrome cameras
---
May 11 11:30 am

V 9.9.1.9
Fix: issue causing ball strike frame not to be detected correctly that resulted in incorrect launch data.
New: Number of smaller improvements
---
May 9 2:35 pm
---
May 7 1:15 pm
IR LED vs Halogen lights

Ball images using 3 24 IR LED lights

Ball images using 2 24 IR LED lights

Ball images using 1 24 IR LED light

Ball images using 2 50w 12 degree spot halogen lights
As can be seen, just 2 50 watt halogen lights easily out perform the 24 IR LED lights - even without having to increase the contrast settings
---
May 6 1:30 pm

V 9.9.1.8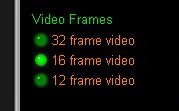 Video frames
This major CP update reduces the ball strike to ball launch lag time.
Currently, the system is capturing 32 frames per shot, whereby only a fraction of these frames are actually being used.
Most shots only capture a max of 4 to 8 frames before club impact to the ball and another 4 to 8 frames after that.
The current longer lag time is due to the system looking for a ball that has long past the FOV of the camera. i.e. the system is looking for a ball that is not there.
Reducing the total frame count from 32 frames per shot (i.e. 16 frames before impact and another 16 frames after ball impact )
to 16 or 12 frames per shot ( i.e. 8 or 6 frames before impact and 8 or 6 frames after impact) should significantly reduce the ball strike to launch lag time.
Select the number of ball / club frames the system should capture for a shot in the Setup window.
---
May 5 2:30 pm

V 9.9.1.7
Color cameras
The new color camera software updates are now completed
New:
Improved ball strike frame detection
---
May 3 3:45 pm
Color cameras
The new color camera software updates are nearing completion and should be ready sometime this weekend.
Business news
Application for the trade mark "VisTrak" has been successfully submitted to the US patent Office 3 weeks ago.
While the application has been officially approved by the USPTO, (and to the best of our knowledge no one else has applied for this trade mark name before us),
final trade mark approval won't be given for another 6 months or so.
One of the main reasons to apply for a trade mark license is because Amazon require this before named products can be advertised on their platform.
Amazon doesn't require that the trade mark to have actually been approved, they just want to see that it has been officially applied for and not rejected,
which usually means the name is still available and trade mark approval is likely.
---
May 1 4:50 pm
Color camera systems
All the work done recently on the monochrome camera systems has now to be applied to all the color camera systems.
This work should be completed within the next few days
Business news
Cased system prices have been increased to allow for better dealer markups
Halogen track system prices have been lowered for those customers purchasing direct from us
---
April 30 2:30 pm

V 9.9.1.6
SCX camera alignment via frame image rotation
The camera alignment image rotation software is now complete and the first Beta release of this feature is now ready.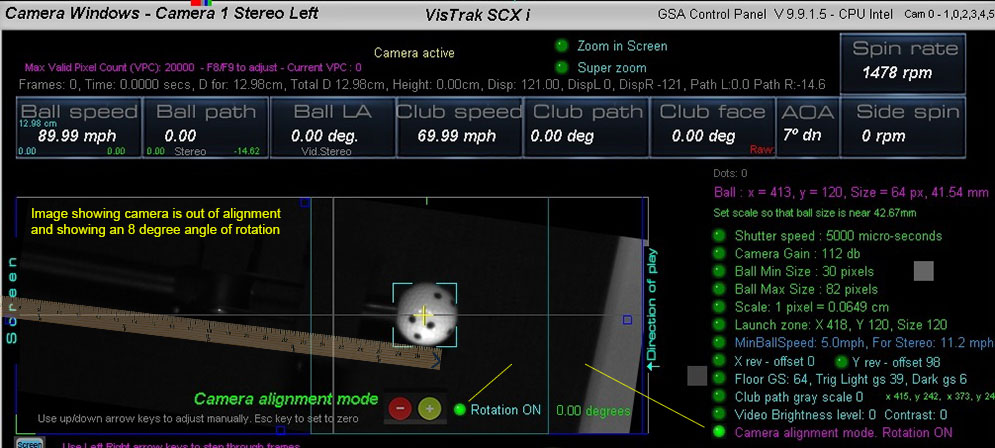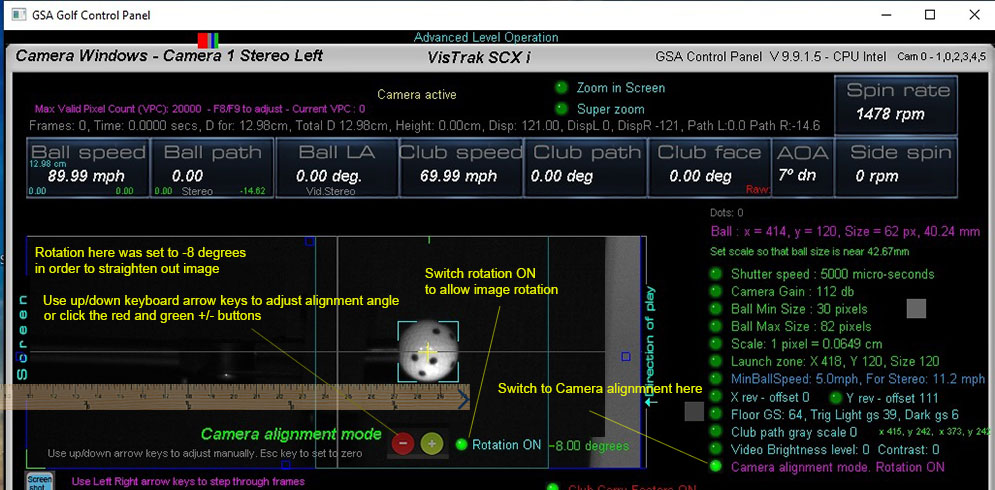 Many other improvements also in this update including:
Improved ball detection and faster shot calculation speed.
Note that this update required a large number of modifications and additions, and deveopment took the best part of 10 days.
In case of issues, re-install the previous CP version V 9.9.1.5 from April 23 2023
---
April 24 2:00 pm
SCX camera alignment via frame image rotation




SCX Camera alignment can now soon be obtained with the new frame image rotation feature.
Current CP versions only rotate the co-ordinates so the user doesn't see the actual rotation.
This feature is 99% complete and should be available tomorrow.
---
April 23 2:00 pm

V 9.9.1.5
Horizontal correction angle now shown with yellow line from ball launch position

---
SCX Horizontal tilt correction software completed


Setup instructions to correct camera tilt alignment
1. Place ball on the usual place on the hitting mat.
2. from the Control Panel's main window, click the "Start / Stop VisTrak" button so that the ball is detected on its launch position.
You should see that ball is located in both the Right and Left cams after a couple of seconds
3. Go to the "Cameras" panel and select camera 1 (the left camera) and click the "Soft Trigger" button to see the ball.
4 . Using a straight edge (or line laser) that is pointing straight ahead towards the center of the screen and lined up against the ball on the hitting position,
move the ball around 12 inches forward in a straight line.
5 .Click the "Soft Trigger" button again to grab a new frame of the ball in its new position.
Ideally you should see that the ball is still exactly on the center line and the "Alignment Correction Angle is 0".
6. If not, then click the "Set L Angle to ..." button in order to correct the mis-alignment.
7 . Do the same for camera 2 ( the right camera )
---
April 21 2:00 pm

V 9.9.1.2
A couple of small cosmetic errors corrected
SCX Vertical Launch Angle calculation
In order to measure accurate ball vertical launch angles (LA), it's imperative that the cameras are mounted square to the ground.
Any horizontal tilt will result in erroneous LA measurements.
In order to check for horizontal tilt, place any straight edge or pole on the hitting mat from the ball launch position, pointing (as near as possible) perfectly straight forward and
grab a new frame with the "Soft Trigger" button in the camera panel.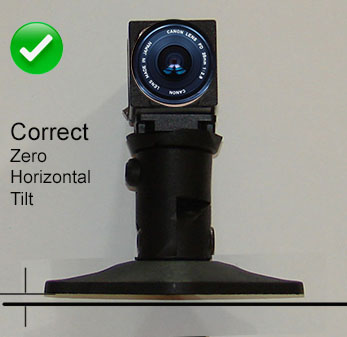 The above image shows that the straight edge pole is in line.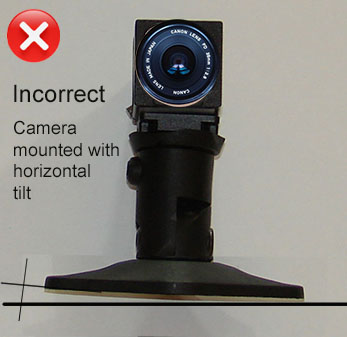 In this image, the pole appears tilted.
In order to correct the problem, you will find that there is no direct easy method to horizontally adjust the tilt as the low cost plastic mounts only feature vertical tilt and rotation.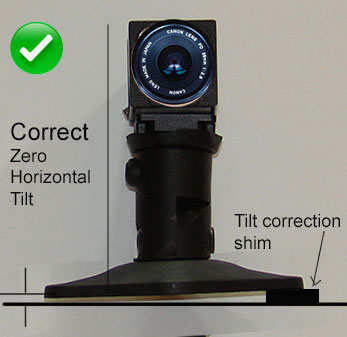 One simple temporary solution for the moment is to place a small shim or piece of thick tape under one side of the mount base to correct the tilt.
Do this check and adjustment for both left and right cameras.
The more elegant solution is to correct the tilt mathematically with image rotation in the Control Panel's image processing software.
This "tilt correction" software should be available this coming week.
---
April 20 1:45 pm

V 9.9.1.1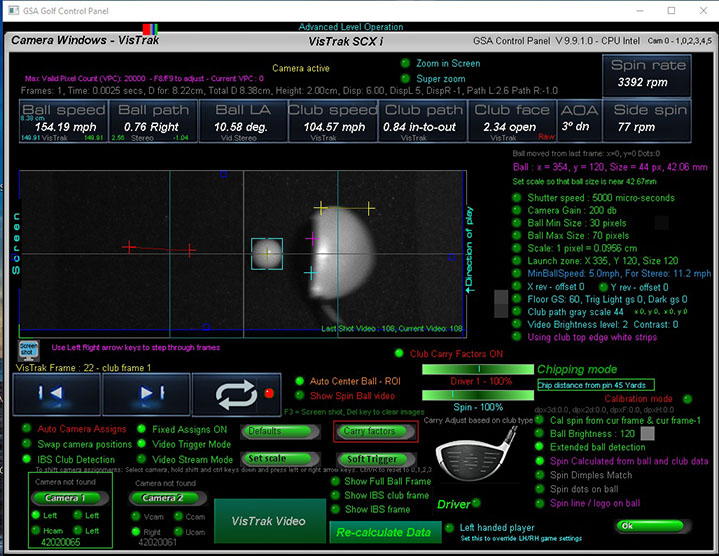 Fix: Ball Strike frame not always being detected correctly
---
April 19 1:40 pm
www.golf-simulators.com now back online
Due to an administration error with the website hosting company, this web-site URL was down for the last 3 days.
Of course, everyone thought that GSA Golf was out of business during that time.
As you can see, the problem is now resolved though.
All other GSA Golf related URLs and web sites (i.e. www.gsagolf.com and www.vistrak.com) are also up and running as usual
as are the Google Adwords advertising campaign and the all important Google search ranking.

V 9.9.1.0
New hi-precision SCX calibration tables
The "disparity - to - height" tables are made by increasing the ball height in single 0.3 cm steps for a given camera mount height and camera separation distance
and entering the disparity value in the calibration table.
First table in this update is for an 8 ft mounting height and a camera separation distance of 20"
Second table in this update is for an 9 ft mounting height and a camera separation distance of 28"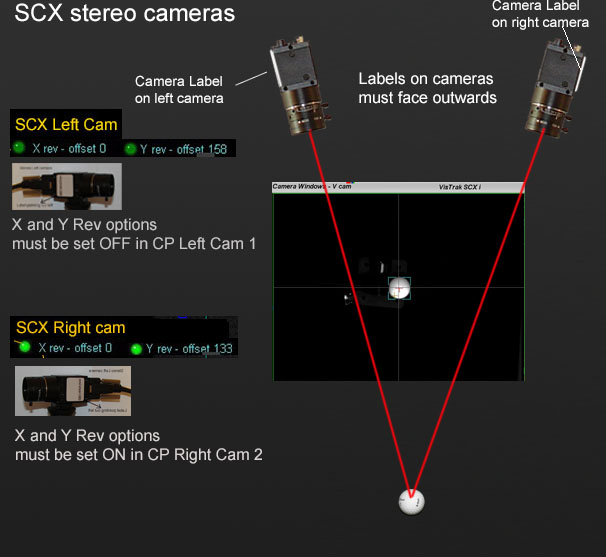 To activate: go to the camera panel, select calibration mode and - depending on your camera mounting height and seperation width -
click either the new "Using 8ft x 20 inch" or "Using 9ft x 28 inch" table.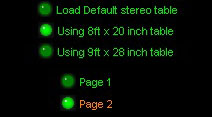 ---
April 17 12:35 pm

V 9.9.0.8
Basic SCX Stereo camera calibration
Fix: Disparity shown in calibration panel not always correct.
Fix: ball path not calculated in calibration panel.
New recommendation: Min distance the stereo cameras should be apart is now 20 inches as any less is not producing sufficient disparity values to calculate LA accurately.
---
April 15 2:30 pm
GSA Golf Business news
Amazon GSA Golf product listing
Finally, the long and winding road to get our products listed on Amazon is nearing an end.
The required trade mark registrations with the US Patent Office have been completed, so it should only be a few days now before our products are being listed on Amazon.
Website Online credit card payments
While the website online credit card authorization process issue is still not resolved, we do a have temporary work-around that allows to customers to purchase products with credit cards as before.
Only difference is that we have to manually authorize the payments at this end with our merchant account provider.
A new feature allows customers to select Invoice payment methods that give a 6% price discount
---
March 28 3:30 pm

V 9.8.9.6
Fix: top of white clubs occasionally being detected as a ball.


Improved IBS club detection
New: Ability to switch off ROI for EV vcams
---
March 9 4:00 pm

V 9.8.8.6
EVi Vcam vertical launch angle detection without side illumination


The floor mounted Vcam camera was around 7ft away using a 6mm lens
Numerous other smaller updates and modifications
---
February 24 2:00 pm

V 9.8.7.9
New: Shot Video file numbering method updated
The last shot video file number and bank number is stored so that your shot videos will always start from the last video number stored.
A new "Reset Video Count" button in the Video panel will allow you start storing videos from video 1.
Otherwise videos will automatically loop back to 1 after the last video stored exceeds 512.
---
February 22 3:15 pm
New monitor stands now available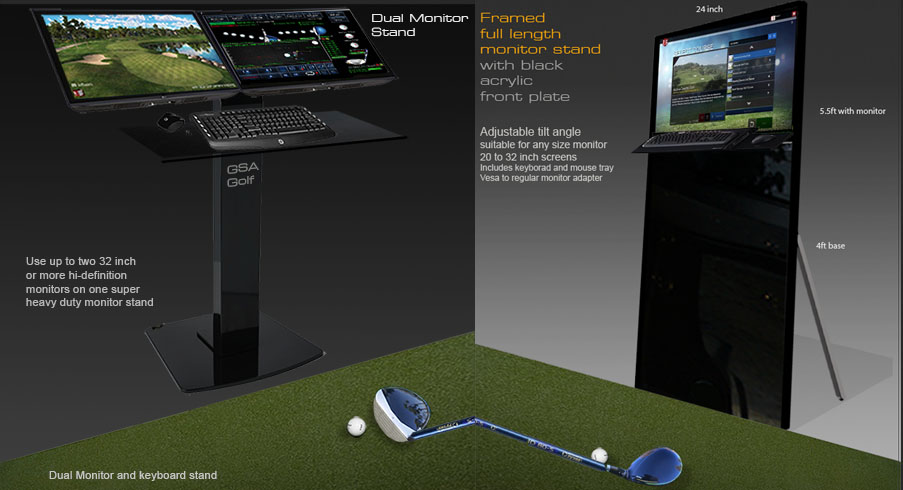 ---
January 8 11:05 am

V 9.8.6.3
Putting issue resolved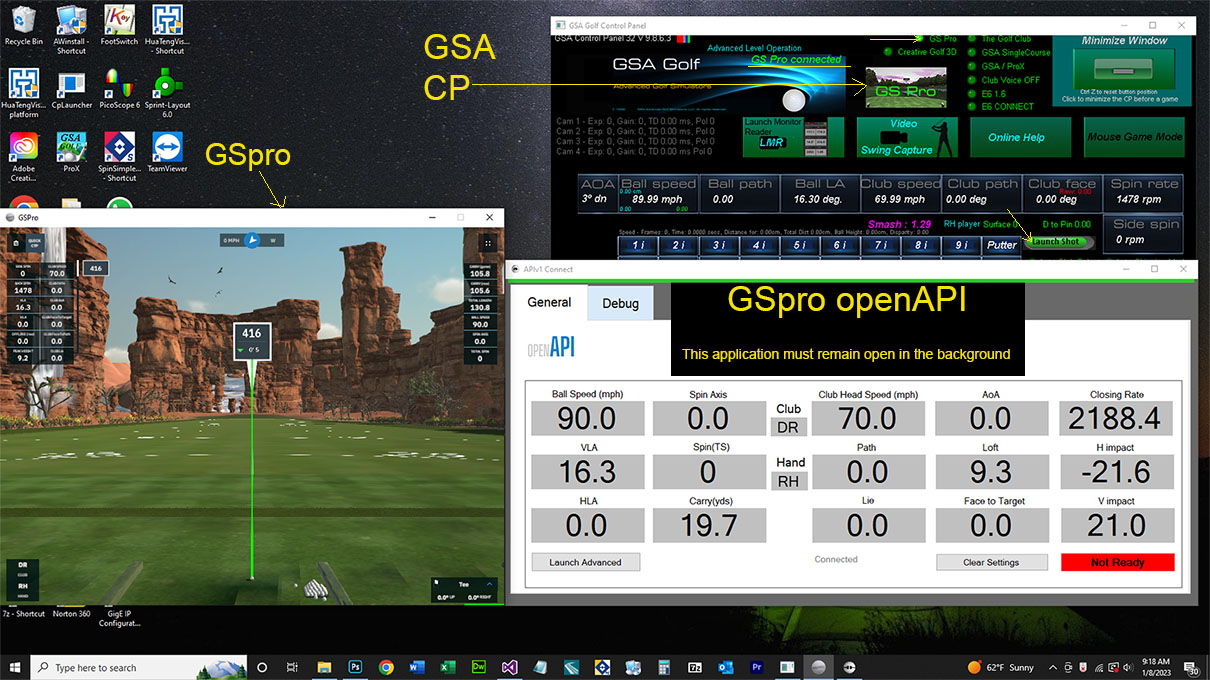 When using GSpro, the GSpro open API must remain open.
The GSA CP communicates with GS Pro via this openAPI (Application Interface).
---
January 7 2:45 pm
Putting issue has turned up in latest versions of the CP. Fix is due tomorrow
Customer has reported that ball strikes are not being detected with GS Pro. We'll be looking into this tomorrow too.
Centered stereo calibration is also set for tomorrow's CP update.
---
September 13 6:10 pm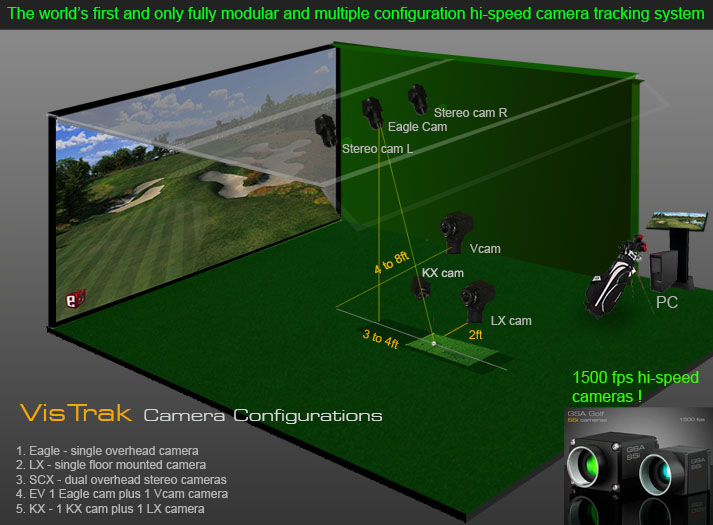 Looks like our modular and multiple configuration hi-speed camera tracking systems are a world's first.
Not to mention our super low prices.
---
September 11 12:18 pm
New Ball Spin YouTube video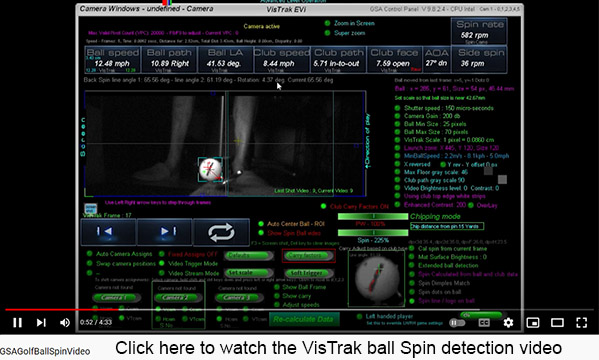 The new VisTrak ball spin video is now completed and online
---
September 8 5:15 pm

V 9.8.2.4
Updates for VisTrak EVi and KX2i systems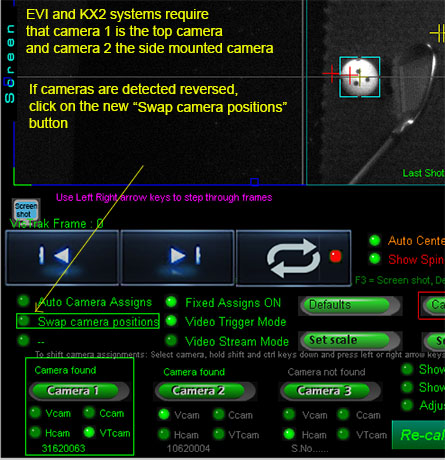 ---
August 23 6:30 pm
Worlds first?
GSA Golf Launch monitors with Dual camera angle 32 frame shot videos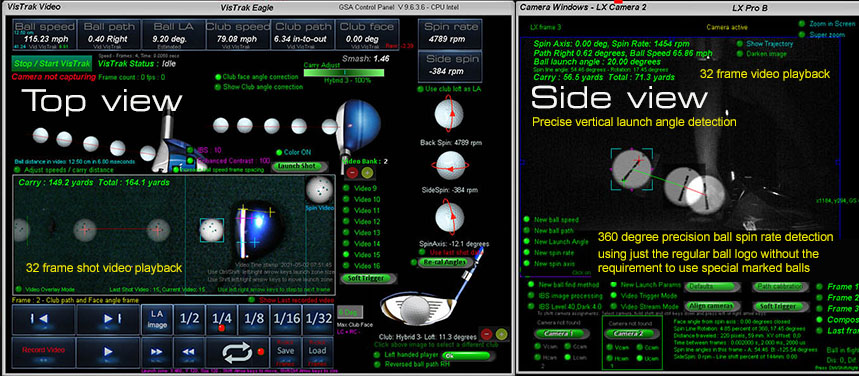 To the best of my knowledge, the VisTrak EVi and KX2i launch monitor systems are the only LM systems on the market today
that feature dual 32 frame shot videos from both the top and side view cameras after every shot.
Prices start at $1,299
---
August 18 1:00 pm

V 9.8.1.4
Updates for SCX and Eagle systems
---