---
May 21 6:00 pm
Coming tomorrow morning - Uneekor frame rate compared to VisTrak SCXi frame rate
Comparison will be shown with photographic evidence.
I'm expecting that the SCXi's frame rate is twice as fast as the Uneekor's frame rate.
May 21 4:00 pm
In theory at least...
GSA Golf business with the SCXi Track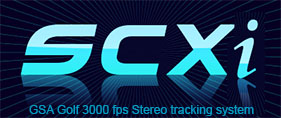 Hoping I'm not going over the top here but should the SCXi Track be as good as any of its major competitors that are selling at over 2.5 times the price,
(e.g. a Uneekor for $7000 in contrast to the SCXi Track at $1,999)
then I would expect the SCXi to be the best selling camera tracking system in its price class by far.
And, in theory at least, outsell the Uneekor at least 2:1 (if not far more).
Time will tell, but at least we have the super high speed cameras now, so it's just a matter of how well the software works now.
---
May 21 3:00 pm
SCXi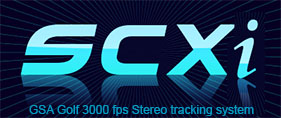 $1,999.00
Coding of the stereoscopic vision feature of the SCXi is now complete.
Now on to ball spin detection.
As the SCXi is capturing frames at over 3000 fps, we'll have plenty of frames to work with, so this shouldn't be a problem.
In addition, as the new SSi cameras can increase gain to over 200db, there's no requirement to use Xenon IR flash technology to illuminate the ball at high speed rame rates.
A new method of ball spin detection will also be used that is far faster and possibly more accurate than the previous ball spin dot matching method when viewing the ball from overhead cameras.
---
May 20 2:15 pm
SCXi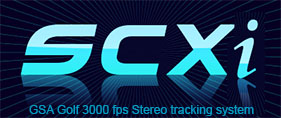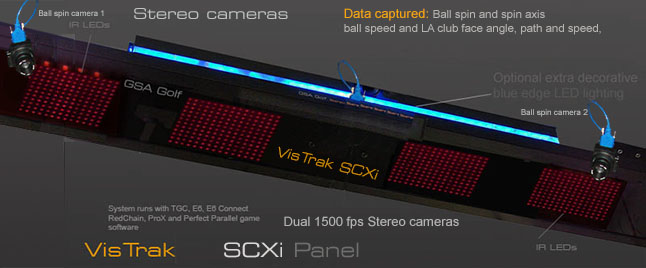 Coding of the stereoscopic vision feature of the SCXi
(i.e. the ability to detect vertical launch angle of the flying ball ) is now 90% complete.
After testing this weekend, initial Beta Test versions should be available sometime next week.
---
May 19 3:50 pm
Converting the regular GSA Golf products to function with the new SSi cameras
The VisTrak EV is now functioning well with the new SSi cameras.
As these new cameras are so fast, the KX3 will now only require 2 cameras instead of 3.
---
May 18 3:50 pm
Converting the regular GSA Golf products
i.e. VisTrak E, EV, EVS, KX, SCX, LX, Stereo and CX systems
to function with the new SSi cameras
(SSi = Super Speed Innovation)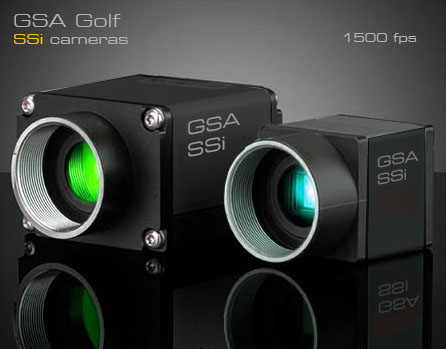 This process is underway and should be completed by the end of the month.
Delivery of SSi cameras now arriving from China
The first delivery of SSi cameras have arrived from China today. Ahead of schedule too.
---
May 17 3:00 pm
SCXi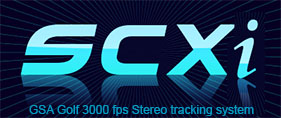 As the multi camera stereo functionality with the new SSi cameras is now completed and fully tested (today) in the CP,
we now go on to the next steps.
1. Using stereoscopic methods to determine vertical launch angle of the ball
2. ability to detect ball spin and spin axis from all the captured stereo frames
Initial software source code is already completed for both these 2 functions but not yet tested using these new cameras.
More cameras on the way
The camera supplier in China has confirmed that our new orders are on their way.
---
May 16 2:30 pm
SCXi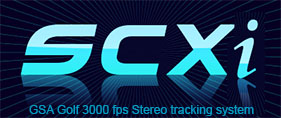 Multi camera functionality with the new SSi camera is now completed in the CP.
CP is now capturing images from 2 stereo cameras in parallel at full frame rate speed.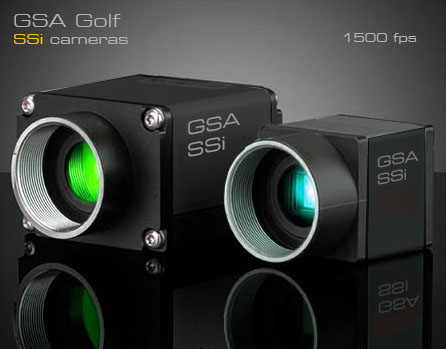 My only concern at the moment is that there seems to be a delay in shipping these cameras from China.
While some cameras have already been shipped, other newer orders are currently on hold.
Can only hope and pray they will ship soon.
Eagle i and SCXi Color
The first color SSi camera arrived today, so I'll be checking this camera out soon too.
---
May 14 3:00 pm
GSA Golf business with the SCXi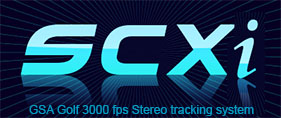 The primary objective of the SCXi is to make and offer a formidable alternative to its main competitors.
i.e. to the Uneekor and Foresight Sports systems.
In order to do this, the price has to be far less than half the price of these competitors but equally as good in accuracy and functionality.
While it is way too early to say that the SCXi will meet the minimum accuracy criteria required to effectively compete at the moment, its price certainly does.
In addition, wholesale prices have to be offered to resellers.
Rest assured I will be working day and night to achieve these objectives in the coming weeks and months though.
May 14 1:15 pm
SCXi now running at 3000 fps !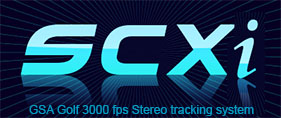 While coding in the CP multi camera capability using the new 1500 fps SSi cameras, I tried out the camera manufacturer's application using 2 cameras.
To my absolute amazement, I saw that both cameras were running at the full 1500 fps each in parallel.
Due to USB3 bandwidth limitations, I was expecting the frame rate for each camera to drop in half. But no, both cameras run at full speed.
This means the SCXi can capture a full set 32 frames of both the spinning ball and club in stereo.
i.e. a total frame count of 64 frames from the system capturing frames at 3000 fps.
May 14 9:15 am
New SCXi systems coming this summer
Using the new 1500 fps cameras, the SCXi versions of the regular SCX system won't being using IR Flash lighting.
Prices are thus $1000 less.
Depending on the results of the development, these systems are expected to be available this summer
VisTrak SCXi Track

VisTrak SCXi Track with external lighting
$1,999.00
VisTrak SCXi Panel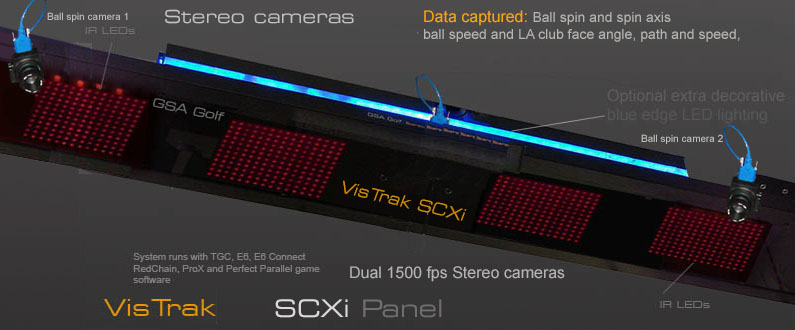 VisTrak SCXi with Panel lighting
$2,999.00
---
May 13 3:15 pm
New SSi super speed 1500 fps camera
While not being the biggest fan of the Chinese culture, I have to give it to them on this camera. Hats off on this one for sure.
Are you kidding me? A 1500 fps camera that has a wholesale price nearly half the price of it's nearest competitor here in the US that only does 590 fps.
This camera easily hits all the competition out of the ball park as far as the eye can see in my opinion.
Sure glad I'm not a sales rep for all those other US and European camera manufactures out there that strugle to offer cameras that get over 100 fps.
Just working on multiple SSi camera capabilities at the moment. Should be completed this weekend.
New delivery of cameras on their way they say.
They even give me tracking info, which is reassuring.
Always a bit scary when ordering direct from China in the current political climate and supply chain issues.
---
May 12 6:15 pm
New SSi super speed camera CP version available next week

The new CP Si version of the CP for use with the SSi cameras will be available next week
May 12 4:00 pm
New SSi super speed camera now running at 1500 fps
At this frame rate, the VisTrak Eagle Si will capture 12 to 32 frames of the ball traveling at 150 mph
i.e. a frame for every 1.5 inches ball movement.
Ball spin detection should thus be possible with just a single camera.
A new SCX Si is in the works this year that should compare to a Uneekor and retail for around $ 2,000 (with regular IR lighting i.e. without panel lighting)
Or just $299 if the customer purchases his own cameras and lighting.
SSi cameras on back order
The new Super Speed SSi camera is being ordered directly from the manufacturer in China but shipping dates are not yet known.
40 IR cameras have been ordered but delivery times are probably in the 1 to 2 month range.
However, color versions of this camera will be coming in next week.
May 12 1:40 pm
New SSi super speed camera now running at 1500 fps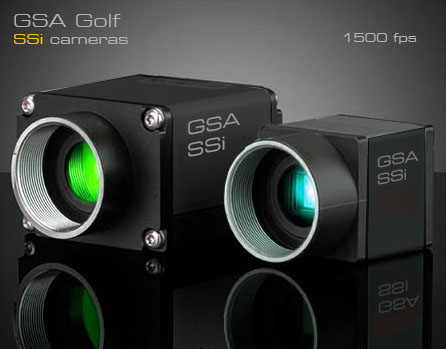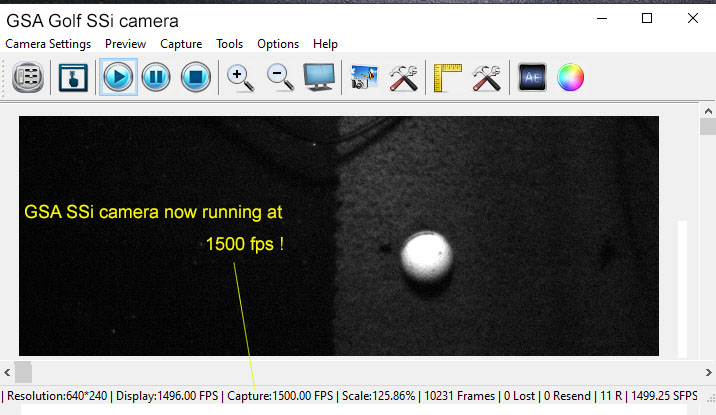 While running the camera manfuacturer's camera application today, I noticed it was capturing frames at the amazing rate of 1500 frames per second

After a couple of hours of tweeking, the CP is also now capturing frames with this camera at 1500 fps
---
May 11 2:53 pm
New SSi super speed camera
Tests today showed that this new 1000 fps camera functions extremely well as a VisTrak Eagle camera
Multiple camera setups have now been coded but yet to be tested.
---
May 10 2:15 pm
New SSi super speed camera
All integration of this 1000 fps camera into the CP is now complete
Tests are now underway to see how it fairs as a VisTrak Eagle camera.
Multiple camera setups have yet to be tested though.
More of these cameras are on order (including color versions) and should arrive in the next few days.
---
May 8 3:40 pm
New SSi super speed camera implications
Other than there would be almost double the number of frames in the shot playback video,
there would be very little difference in tracking accuracy compared to the regular 590 fps VisTrak camera.
Its main advantage for us would be that the camera - in contrast to a Flir camera - is that it is actually available.
Going forward though - with so many more frames - there will be a far greater chance of detecting ball spin.
For those that would like to upgrade their current VisTrak 590 fps camera to the new SSi 1000fps camera,
there will be an upgrade option. Probably in the $299 range.
May 8 11:25 am
New SSi super speed camera
Camera now running at over 1500 fps !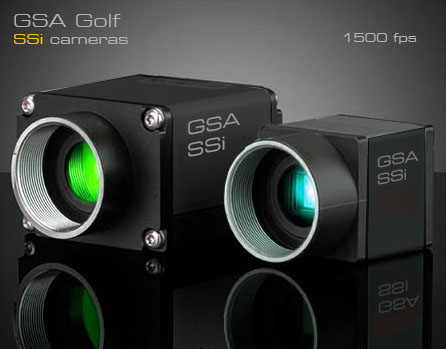 Integration of the new SSi super speed camera is almost complete now

Running the "Test camera speed FPS" function confirms that the frame rate in the CP is over 1000 fps
Recorded FPS today was an amazing 1031 FPS!
---
May 7 3:45 pm
Potential new series of VisTrak camera systems coming up.
Should the new SSi Super Speed camera indeed function in the CP at the far higher speed of 1000 fps instead of the current camera's 590 fps,
then a new series of GSA Golf products will be offered.
All current GSA Golf tracking systems using this new camera will have the abbreviation "si" attached to the product name.
"si" standing for "Super-speed Innovation"
i.e. VisTrak Eagle si, SCX si, KX si, LX si.
May 7 1:20 pm
New SSi super speed camera:
Camera now running at over 1000 fps !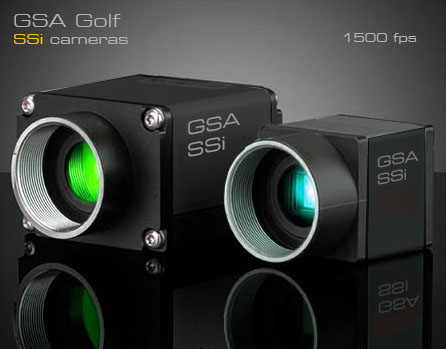 Integration of this high speed camera into the CP is now more than 50% complete.
CP is grabbing frames directly from the camera and storing images into the VisTrak frame buffers.
Next and final step is to be able to adjust camera settings (gain, exposure, resolution etc) from the CP controls.
---
May 5 3:25 pm

- V 9.7.8.6 Alpha 15
Fix: Club markings occasionally being detected as ball


-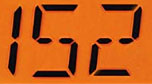 -

Practical tests using a webcam with various lighting conditions and viewing angles have revealed that using the OpenCV template Matching method to identify numbers is not reliable.
i.e. using a number font template and scanning over the data box for a match requires that the number font template be very close in form and brightness to the image of the number in the data box.
Without devising a method to teach the LM Reader to recognize the number images, this is not going to work reliably.
I have therefore devised a new more robust method of identifying images of numbers.
This method uses line matching to identify the number.
The above image shows that any image of a number - no matter its color or size - consists of a number of unique lines (both vertical and horizontal) .
So instead of trying to match the image of the number, we now only have to match the lines that make up the number to positively identify the number.
Coding of this "stunningly brilliant - Nobel Prize worthy" - method of mine should be completed by the weekend.
---
May 4 11:05 am

- V 9.7.8.5 Alpha 15
Fix: Club markings occasionally being detected as ball


New: GSA Control Panel GenICam version
For those that would like to use their own sourced cameras and lighting
Our CP GenICam software license is $299 for use with up to 3 GenICam (Generic Interface Camera) compliant cameras
The base price for the GenICam Control Panel Software is a one time fee
Your camera serial numbers or PC Machine ID must be registered with GSAGolf for use
Cameras cost around $250 each, IR Lighting around $69 each, cables around $30
GSA Control Panel GenICam version
$ 299.00
The software allows you to build your own camera tracking system
including: VisTrak CX, Eagle, Stereo, EV and KX 1,2 or 3
---
May 3 11:50 am
CP now GenICam compliant
The CP is now GenICam (Generic Interface Camera) compliant.
Using the GenICam interface, any GenICam camera can be used with the GSA Golf Control Panel (CP).
This includes the new 790 fps camera shown below.
New 790 fps camera
2 test cameras have been ordered (1 color, 1 monochrome) and tests will begin as soon as they arrive. i.e. sometime next week.
---
April 27 6:15 pm

- V 9.7.8.4 Alpha 15
Fix: When setting up test launch parameters from the CP's main window to a test launch a shot, system was not always using the users parameters.
i.e. ball speed, launch angle etc.
Fix: Web cam systems (LMR, Swing Capture, CX Stream) not functioning due to "trial date expired".
There is currently no trial date limit on the use of GSA Golf CP web cam systems.
---
April 13 3:15 pm
Cameras sold out
Other than a couple of used cameras and the CX cameras, all other new GSA Golf camera systems are now sold out until the camera manufacturer (FLIR) can supply new cameras.
While FLIR state August, I'm taking this statement with the proverbial pinch of salt. (Especially now with the war in Ukraine and the world wide chip shortage)
Until then, I am now only selling CX, Mevo or LMR radar ball and club tracking systems.
---
April 11 4:27 pm

- V 9.7.8.2 Alpha 15
A number of small cosmetic fixes and default value updates
---
CX CP Update
April 11 10:32 am

- V 9.7.8.2 CX CP
More new default settings for CX systems
In particular the scaling factor which should be 3.200
Right click on the "Defaults" button in the CX1 camera window to set the main settings to default values.
Cause of fluctuating camera frame rate located and resolved
Frame rate should now be a steady 145/146 fps
---
April 10 2:51 pm
CP Updates

- V 9.7.8.1 Alpha 15

- V 9.7.8.1 CX CP
Number of small cosmetic updates and small bugs fixed
New default settings for CX systems
When changing club types or club loft angles with a loaded shot video, system automatically re-calculates the shot data to show how this change effects the carry.
---
April 9 3:30 pm

- V 9.7.8.0 CX CP
1. Improved ball path detection
2. You can now jump from the Video window to the Camera window and back without having to exit the windows separately.
3. frame timing now shown for all frames
4. Improved ball speed detection
---
April 8 1:50 pm

- V 9.7.7.7 CX CP
Measured (dynamic) frame rate timing
The new frame time stamps are now being stored in the shot video files.
Without this, it will not be possible to re-load an older video and it show the correct ball speed.
April 8 10:50 am

- V 9.7.7.6 CX CP
Measured (dynamic) frame rate timing
Testing the CX camera revealed that the camera is not capturing frames at a constant frame rate.
In contrast to the VisTrak Eagle camera - that consistently captures frames at a constant 590 fps - the CX camera's frame rate is fluctuating.
Even the camera manufacturer's app is showing fluctuating frame rates with this camera, so we know this is not a bug in the CP causing it.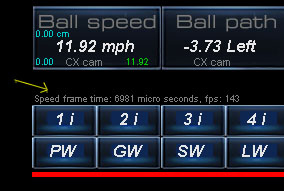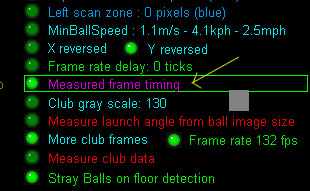 In order to fix this, the CP is now measuring the frame rate for each captured frame with the CX1 camera.
This is done by setting a very precise (in micro-seconds) frame time stamp for every captured frame.
When calculating ball speed from the two speed frames, the difference between the two associated frame time stamps is used instead of a fixed frame time.
i.e. we're not using a fixed set fps of 132 fps.
The CP's main and camera windows now shows this frame timing and fps for every shot.
In the above image, the frame time was 6981 micro seconds, which equates to 143 fps (i.e. 1/ 0.006981)
This should solve any inconsistencies between near identical shots.
The "measured frame rate timing" is currently optional but default is ON.
We will be contacting the camera manufacturer as to why this type of camera is producing constant frame rates.
We're assuming that the camera is doing some kind of internal image processing as the camera is dubbed "Dynamic Learning" or DL.
Note that in order to calculate ball speed, 2 precise parameters are required: Distance and time. i.e. Speed = distance / time.
So it is vitally important to know the precise time taken for the ball to travel between the 2 ball speed frames.
---
April 6 4:45 pm

- V 9.7.7.5 CX CP
Fix: Occasional error in ball speed calculation occuring in about every 10th shot.
April 6 12:25 pm

- V 9.7.7.4 CX CP
Stray ball detection for CX1 systems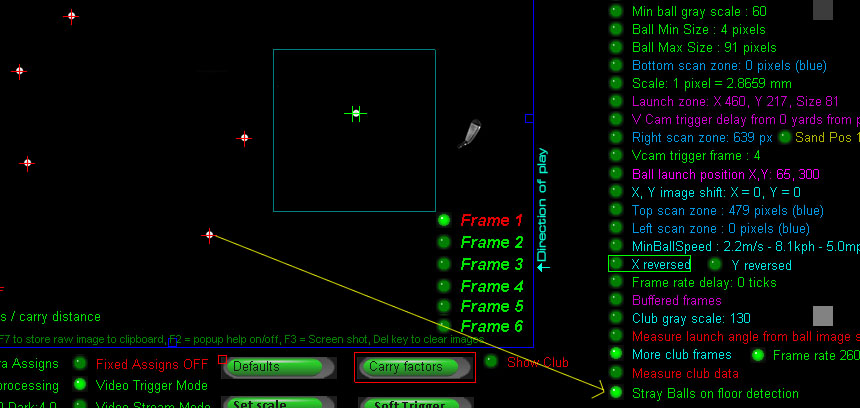 Due to the large FOV of the CX1 camera, chances are that stray balls lying around on the floor from previous shots will be in the FOV of the camera.
As these balls interfere with the ball in flight detection, this feature will identify them before ball strike so that they can be eliminated from the shot calculations.
---
April 5 12:20 pm
GSA Golf tracking system accuracy
Numerous hours have been spent over the past days checking the accuracy of the VisTrak systems.
All math calculations have been confirmed to be as accurate as can be,
so if the game software is not showing carry distances that are consistent with the users expected carry distances,
then one of the following could be the cause.
1. A CP carry or ball speed factor has been applied. (either negative or positive).
Ensure all ball speed and carry factors are set to 100%.
Press shift R in the club dependent Carry factors window to set all carry factors to 100%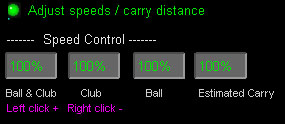 -

-

Click all global carry factors to 100% in the "Adjust speeds / carry distance" window.
Set the LA Speed adjust to 0.
2. The system you are using doesn't feature Vertical Launch Angle detection
True accurate ball speed detection is not possible without accurate vertical launch angle detection.
However, reasonably good ball speed results are obtained using the either the selected club loft or user defined club loft as the vertical launch angle.
3. The system is not detecting the ball from one or more of the cameras correctly
i.e. the system is picking up other objects in the FOV of the camera that is not a ball.
4 The scaling factor hasn't been set correctly
If the scaling factor is not set correctly, then measured ball speed will be totally incorrect.
The scaling factor is used to convert measured distances in pixels to real world distances in meters (cm and mm)
Use the "Set scale" button to set the scale after a stationary ball has been detected on the mat.
The scaling factor is a global speed adjustment factor for all clubs and only has to be set once during the system setup.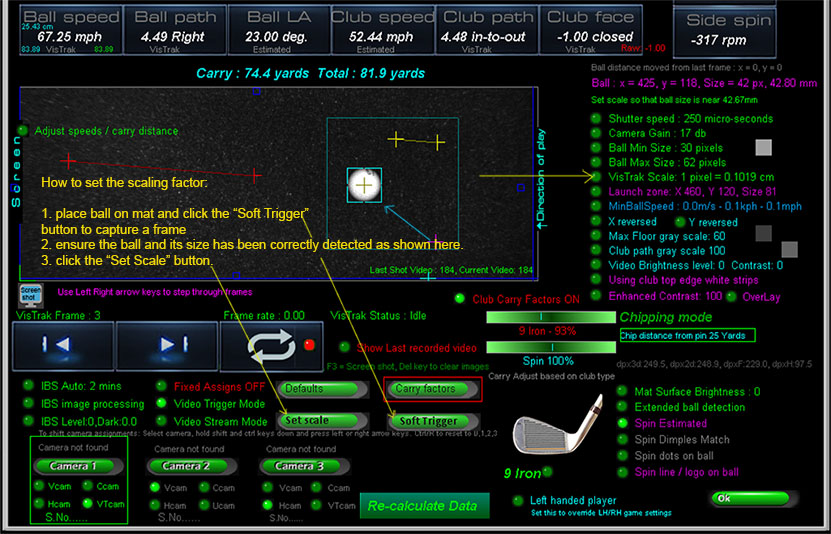 FlightScope Trajectory Optimizer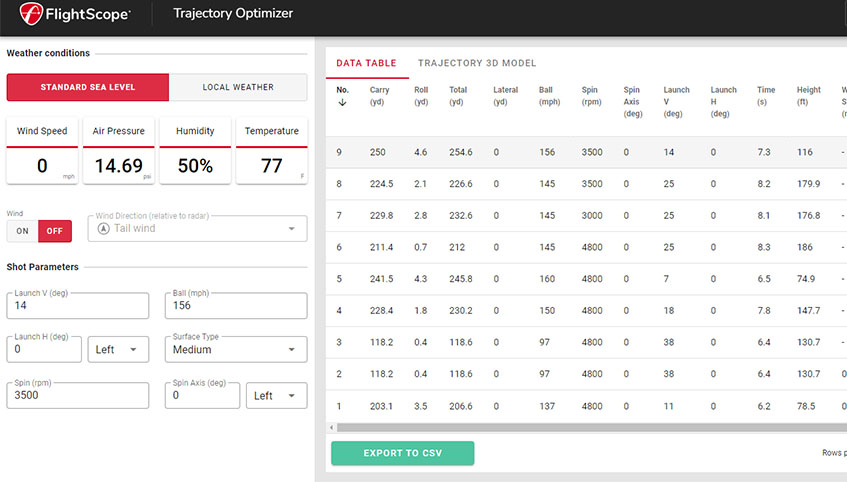 Using this online app, you can see what carry you would obtain based on various input parameters such as LA, ball speed and spin rates.
Click the above image to go to the app.
---
April 4 1:53 pm

- V 9.7.7.3 CX CP
1: Fix: Ball speed not detected when just 1 frame of ball is captured after ball strike.
This usually only happens with fast driver shots.
---
April 3 12:55 pm
Measuring ball speed from an overhead cam vs a side mounted cam.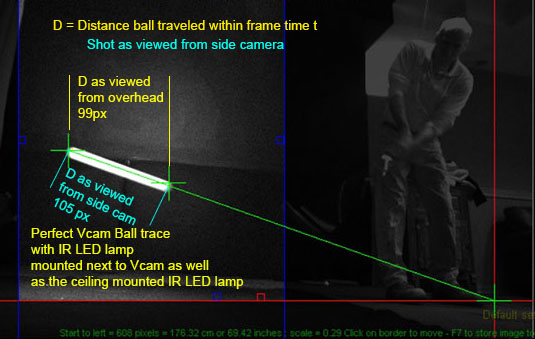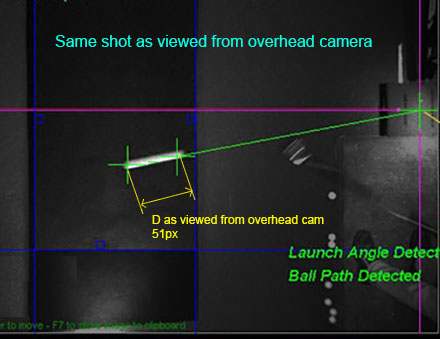 Measuring ball speed from a side mounted cam (as with a floor mounted launch monitor), is quite straight forward.
Other than path deviation, the distance the ball has traveled during the camera exposure time or frame time can easily be measured.
Measuring ball speed from a ceiling mounted camera requires more calculations as the apparent distance the ball has traveled will be distorted.
i.e. the higher the launch angle, the shorter the distance will appear.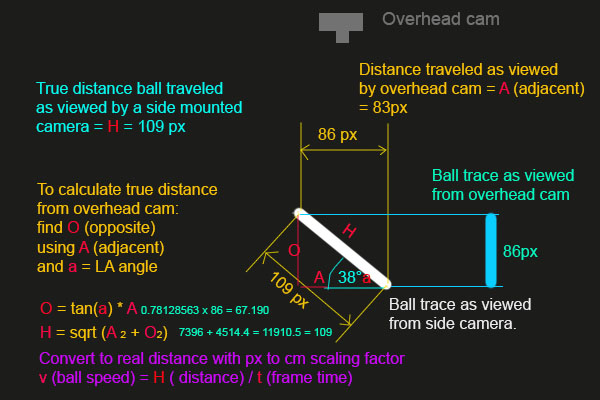 The above diagram shows how to obtain the true distance from the overhead camera.
April 3 10:25 am
CP Updates

- V 9.7.7.2 Alpha 15
1. Fix: Club speed adjustment not functioning
2. Improved: faster shot re-calculation when adjusting ball speed and club speeds

- V 9.7.7.2 CX CP
1: Fix: Error in ball speed calculations
2. Fix: LA Speed adjustment slider bar in camera window not responding
---
April 2 2:45 pm
CP Updates

- V 9.7.7.1 Alpha 15

- V 9.7.7.1 CX CP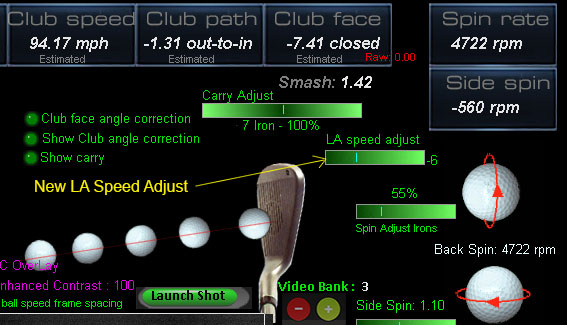 1. auto LA ball speed adjustment for VisTrak Eagle and CX 1 systems based on launch angles.
i.e. for systems that are only measuring ball speed from an overhead single camera without any vertical launch angle information.
This factor will reduce (if minus) the measured ball speed based on launch angle (LA). i.e. the higher the LA, the more speed reduction is made.
The reason for this is to compensate for varying ball image sizes.
i.e. the higher the ball is in flight, the nearer the ball is to the overhead camera and thus the ball image size increases.
Without this adjustment, measured ball speeds will seem to increase along with the increasing LA.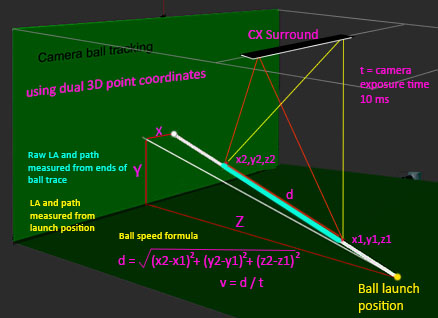 The above diagram shows how the CP calculates ball speed from an overhead camera.
Two 3D positions of the ball are required to calculate both ball speed and path (X).
Whereby, ball height (Y) can only be estimated if using a single overhead camera or not using a Vcam vertical launch camera.
Without the new LA speed adjust, distance (Z) will appear to increase as the ball gains height and gets nearer the camera.
The result is higher measured ball speeds with higher launch angles.
Setting should be around -6.
2. removal of the CP estimated carry distance numbers.
Note that the CP estimated carry distance numbers were only added in the CP as a very general estimation of carry distance and would not
- in all probability - correspond to carry distances measured in the associated game software (i.e. TGC or E6)
As this feature is causing more issues with customers than anticipated, and that it is not the the role of the CP to estimate carry distance
( this being solely calculated form the game software)
it has now been removed from the GSA Control Panel (CP).
However, users can still temporarily switch this feature back ON if desired
but its default setting will always be OFF with every new start of the CP.
i.e. the setting is not being saved.
It should be noted that we have consistently told users that the CP's estimated carry is just an estimation and will not correspond with the game software's carry distance,
but - as this doesn't seem to sink in - we've removed it.
Customer complaints that the CP's estimated carry distance is not corresponding to the game software carry distances should thus be resolved.
3. Setting all carry factor to 100%
Press shift R in the Carry factors window to set all carry factors to 100%
4. Ball spin calculations
Max estimated ball spin rate is now capped to 11,000 rpm.
Previously ball spin rates were incrementally reduced when over 11,000.
There's still more improvements to be made to the spin calculation routines though.
---
April 1 10:55 am
GSA Golf Business :
Why GSA Golf enclosure components (screens, flooring, drapes etc)
are out selling GSA Golf camera tracking systems 100:1

The simple answer is advertising exposure.
If you Google "Golf Simulator Enclosures", then GSA Golf comes up on page 1 or 2.
In contrast, if you just Google "Golf Simulator", then GSA Golf is nowhere to be found.
Even if you go back to page 50, you will never see GSA Golf listed as a golf simulator manufacturer.
Why this should be is a complete mystery to me.
Especially considering that the main GSA Golf web site URL is Golf-Simulators.com
and that there are more golf simulator relevant pages on this web site than practically any other golf sim website on the entire Internet.
So those that are interested in purchasing a tracking system for a golf simulator will never know that GSA Golf even exists.
Currently it appears that - of the very few camera tracking systems we do sell - they are from customers that have just stumbled upon us by pure chance.
While this situation isn't particularly existence threatening for GSA Golf, at some point it will start to become an issue.
Of course, we could step up Google Ad Word advertising in order to gain more exposure, but we simply don't have the many thousands of dollars required for this at present.
Unlike - for example "AboutGolf" or "Full Swing" - who must be spending $millions a year in order to consistently appear on page 1 (most times at the top of page 1 too).
In the meantime, I will be spending 95% of my time on improving the current GSA Golf systems - with an eye on "accuracy and easier setup and use".
---
March 31 8:50 am
Vistrak CP update

- V 9.7.7.0 Alpha 15
Mod 1: Min ball size now limited to max 25 px
Note that setting this value too high was the main cause of users reporting undetected shots in recent CP updates.
All new CP updates check for min and max ball image sizes in VisTrak frames in order to help identify the ball.
Mod 2: Improved ball detection when ball images are dark
CX CP update

- V 9.7.7.0 CX CP
User defined club speed adjustment now working with CX systems
---
March18 10:00am

- V 9.7.5.5 Alpha 15
EC Overlay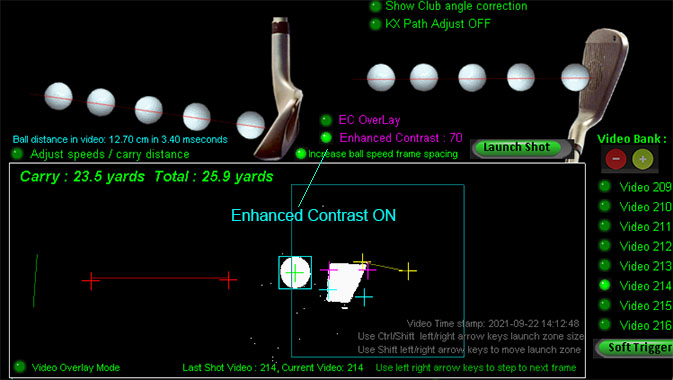 When using EC, the frame images are converted to binary images (i.e.black/white).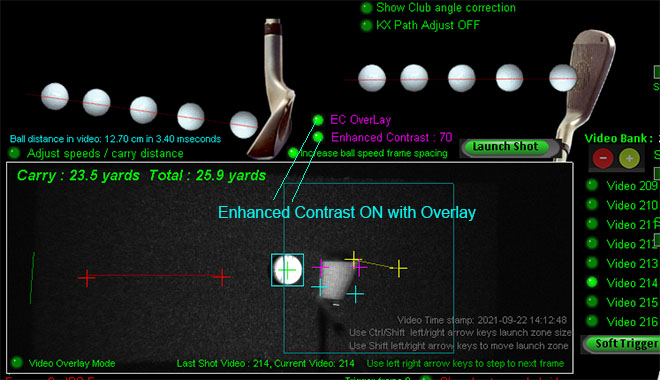 As some don't like the look of the black/white images, I've added a function that restores the original image.
With the new EC Overlay option ON, the original gray scale image is restored in the render frame buffers.
All image processing is still performed on the black/white frame images in the background though.
---
March16 2:44pm

- V 9.7.5.4 Alpha 15
Improved spin dot detection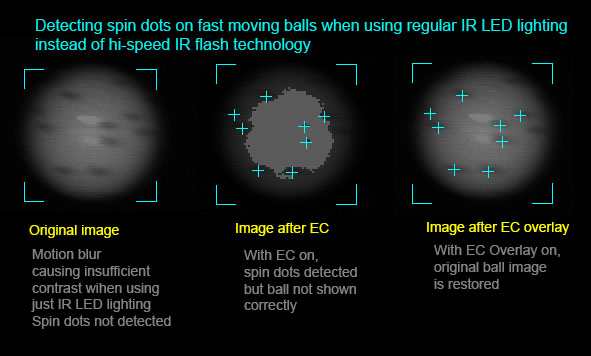 Coming next : EC Overlay
The problem with using just regular IR LED lighting when detecting ball spin is that the camera exposure time has to be extended. Usually at least 300 micro-seconds
Extended exposure time results in motion blur and thus the ball spin dots are not clearly defined.
Using Enhanced Contrast allows the system to detect the spin dots but the ball image is distorted.
The new EC Overlay feature (coming later this week) will restore the original ball image.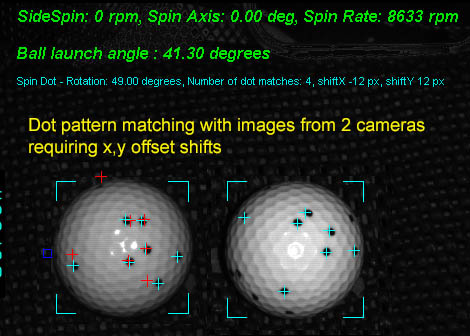 The above ball images where made using IR Flash technology with a very fast exposure time of 20 micro-seconds.
---
March15 3:18pm

- V 9.7.5.3 Alpha 15
Test mode system event log file generation activated.
This update allows us to trace any issues during customer remote access support.
CX1 triggering update
CX CP V 9.7.5.3

The triggering method for the CX1 camera is now more robust with this update.
Problem was caused by slightly varying frame image brightnesses that resulted in the system prematurely detecting a ball movement.
In particular, if an outside window - that allowed fluctuating daylight to enter the enclosure was not fully covered - the image brightness would vary from frame to frame.
This issue could literally depend on the weather. i.e. if the sun was out one moment and then a cloud came over the next, the image brightness would change.
---
February 25 3:15 pm

- V 9.7.3.3 Alpha 15
VisTrak update: New Enhanced Contrast method


The new Enhanced Contrast method turns gray scale images to binary images.
i.e. any pixel below the user defined EC value (in this example 30) will be switched to black and any pixel over the value will be switched to white
This version also has an improved ball strike detection method.
---
February 3 11:55 am

- V 9.7.2.2 Alpha 14
Update for VisTrak Stereo systems.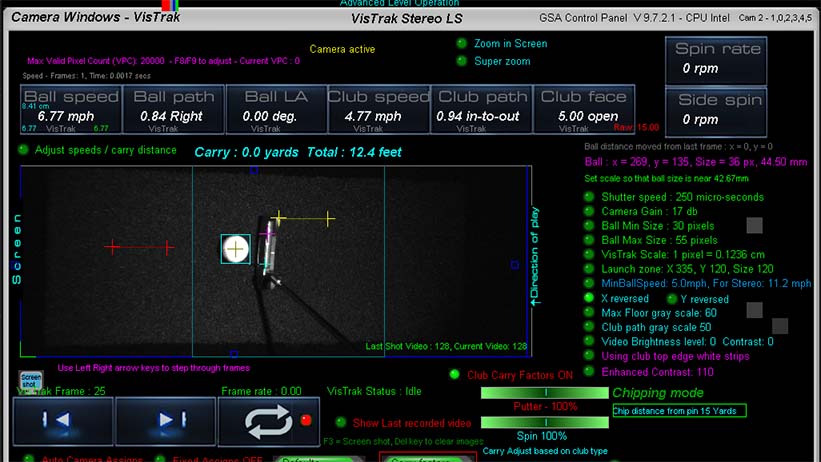 Fix: putting not working when option "putting from VisTrak camera only" swicthed ON
---
January 13 1:35 pm

- V 9.7.1.4 Alpha 14
New: Extended ball detection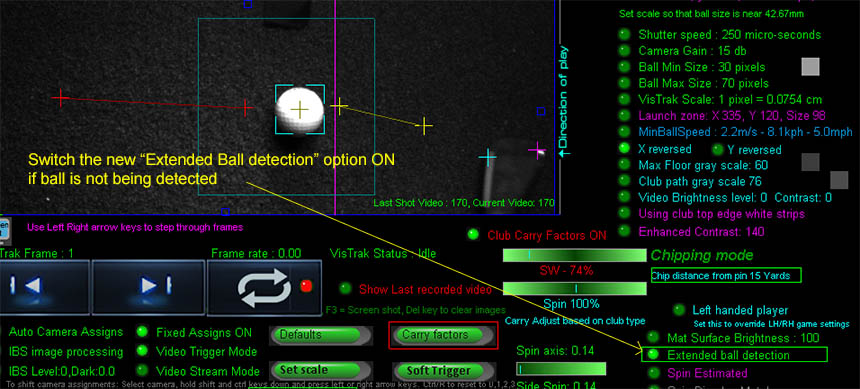 Switch this new option ON if ball is not detected.
When not ON, the system will process the video faster but if the ball is not immediately detected, then more image processing is required.
---
December 11 2:05 pm

- V 9.7.0.3 Alpha 13
New: Mat surface brightness setting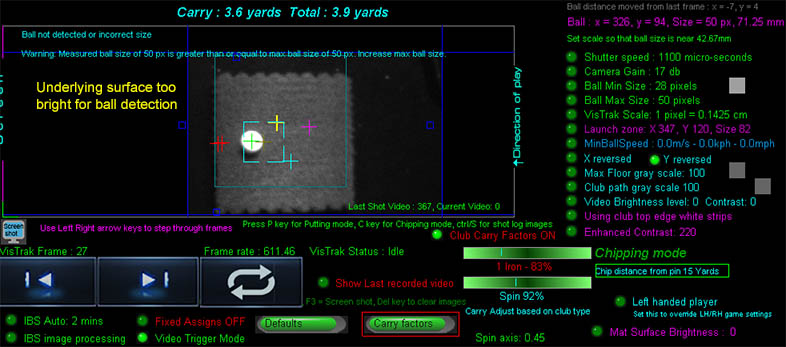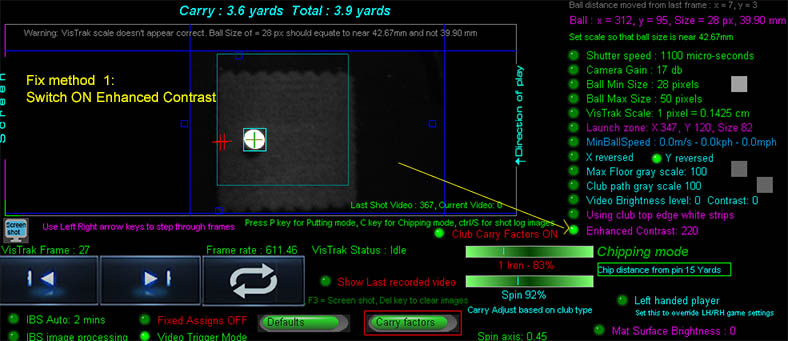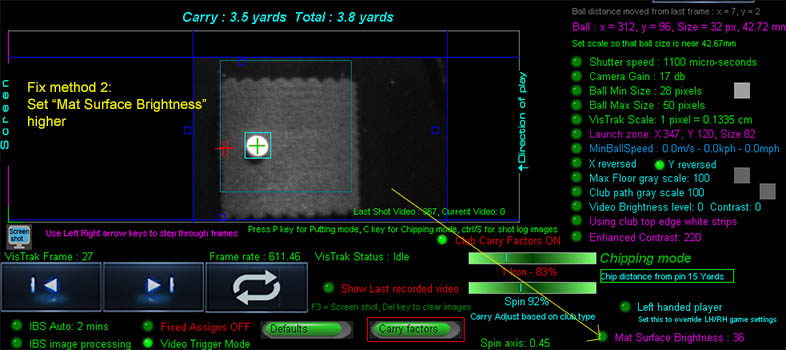 Fix: when setting the scan zone borders in the VisTrak Eagle camera, system didn't black out areas outside of scan zone when in video stream mode.
Mod: Incorrect scaling factor detection improved
---
December 4 11:45 am

- V 9.7.0.2 Alpha 12
Update for VisTrak EVS, KX3 and SCX systems
EVS/SCX/KX3: Improved ball spin dot pattern matching including dot pattern rotation with X and Y dot pattern shift.
EVS: Ability to detect spin dots on very small ball images by automatically re-sizing the ball image before processing.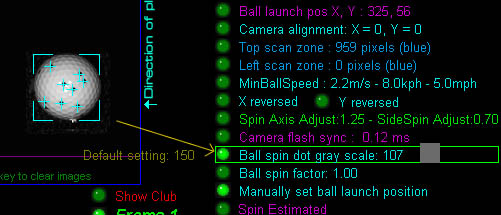 Spin dot gray scale
You can now manually adjust the spin dot gray scale.
While default is 150, depending on the brightness of the ball image, you may find that adjusting this gray scale will improve ball spin dot detection.
---
November 20 11:45 am

- V 9.7.0.0 Alpha 11
Update for VisTrak EVS and SCX systems
---

I'm pleased to announce that GSA Golf enclosure sales have now hit a new all time high.
Our latest model is a self standing black knit fabric enclosure.
Click above image to read more...
---
October 4 2:00 pm

- V 9.6.9.0 Alpha 9
Fix: The option "Use club loft as LA" not functioning with the VisTrak Eagle.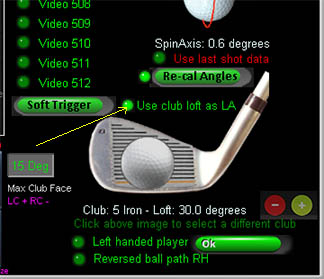 ---
October 3 12:00 am

- V 9.6.8.9 Alpha 9
KX2 and KX3 updates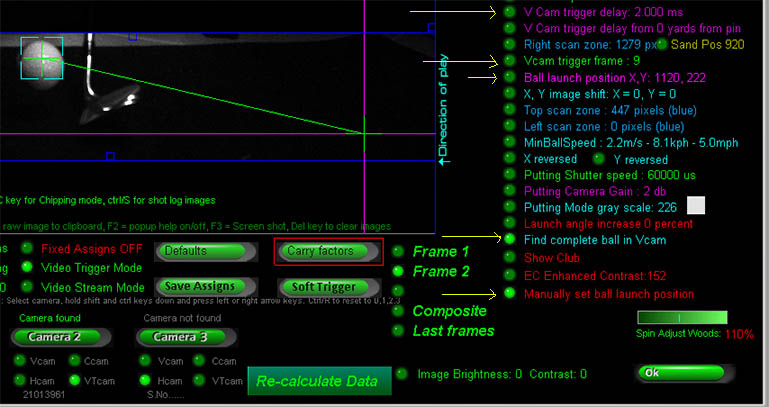 KX2 Vertical angle launch detection
The new KX2 vertical detection options are:
1: Find complete ball in Vcam
If ON, the complete ball will detected.
If OFF, only the front top edge of the ball will be detected
2: Manually set ball launch position
If ON, the ball LA will be measured from whatever the manual ball launch position is set to.
This is useful when the ball on the mat is not in the FOV of the camera before ball strike.
If OFF, then the ball on the mat before ball strike has to be in the FOV of the camera.
LA is then measured from this position to the position of the ball after ball strike
3: Vcam trigger delay
The number of milli-seconds the Vcam camera waits after the trigger signal so that the ball has time in flight to gain height off the ground
4. Vcam trigger frame
The number of frames to wait after the ball strike frame in the VisTrak Eagle before a Vcam trigger signal is set.
Set from 1 to 9.
---
July 21 3:00 pm
Ball logo spin rate testing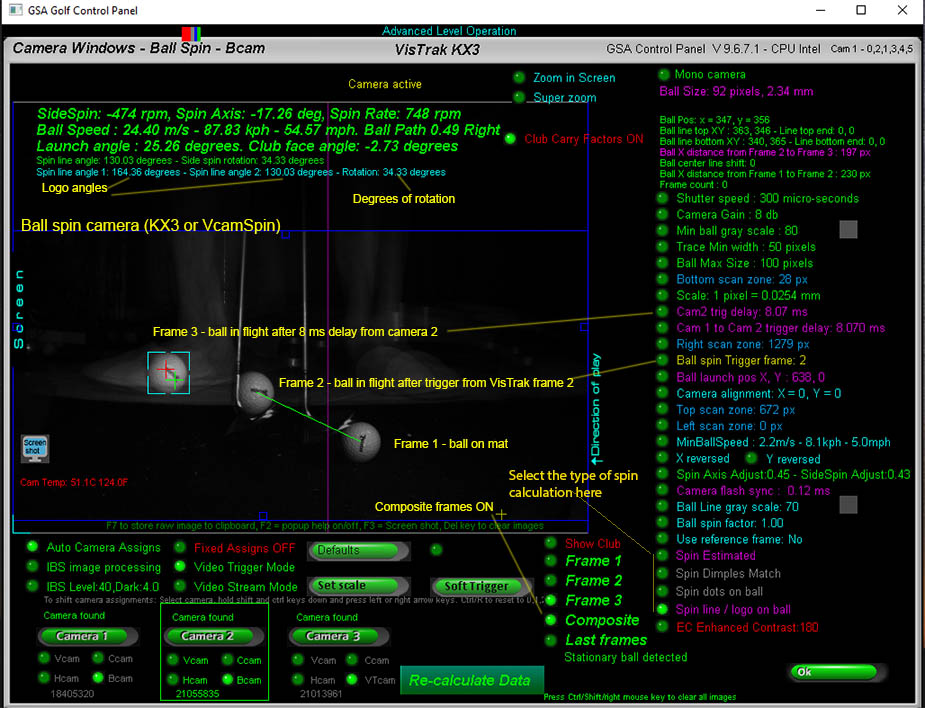 All in all, I'm quite pleased with the test results of using the ball's logo to measure ball spin today.
As long as the ball is not hit with a super wide open or closed face, the logo stays fairly centered and the system can detect the logo's angles in all the frames.
The above chip shot shows that the ball rotated 34.33 degrees within the time frame of 8 milliseconds.
Looks like I've made a mistake with the RPM calculations though as I expected the rpm to be a lot higher than 748 rpm with this sand wedge.
As all the ball logo angles are correct - as well as the calculated amount of rotation - it's probably a decimal point error as it looks like the result has been divided by 10.
July 21 7:20 am
Ball logo method of detecting ball spin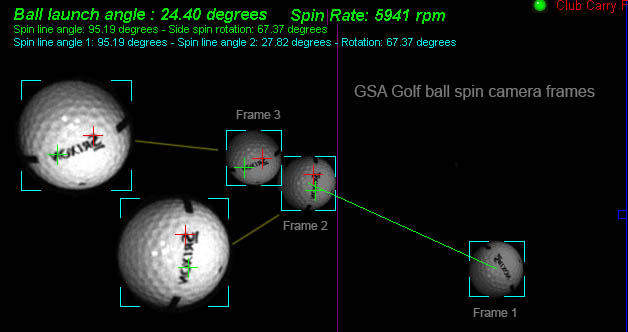 The above image shows the current state of the ball spin detection development using the ball's logo.
While the frames captured here show the logo nicely centered, this will not always be the case as side spin - imparted by an open or closed club face -
can easily cause the logo to shift way off center.
Extensive testing this week will reveal any short comings of this method.
---
July 20 4:00 pm
Ball spin detection: Spin dot ball VS ball logo methods
Much ball spin detection development has been done recently (and is still going on) but user feedback is indicating an adversity to using marked balls.
The obvious alternative - in this case - is to simply use the ball's logo as spin rotation reference points.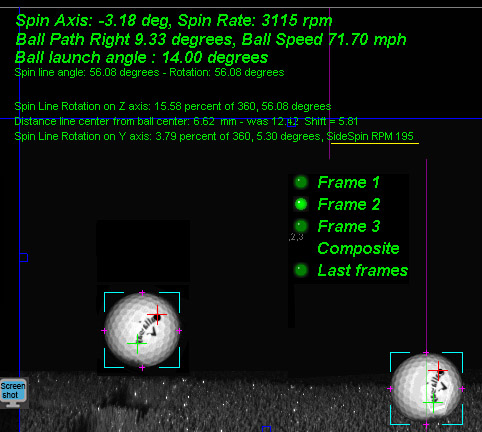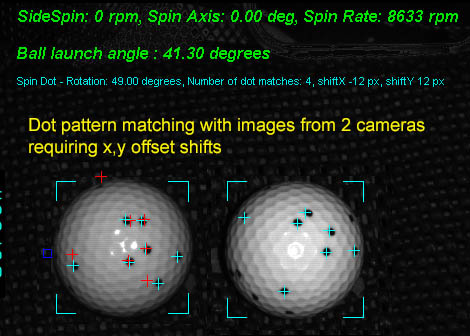 The only disadvantage of using the ball's logo to detect ball spin is that the user has to bend down and point the ball's logo towards the camera for every shot.
As this disadvantage doesn't seem to bother users of $20,000 radar tracking systems in the slightest
(i.e. to the best of our knowledge,
Trackman and Flight Scope systems require users to apply a metallic dot to their balls and additionally require the user to bend down and face the ball dot in a certain position
for every shot in order for the systems to detect correct ball spin)
then our ball logo method shouldn't be any bother either.
Our ball spin detection method using the ball's logo still requires a few minor tweaks but should be ready by the end of the week.
---
May 10 12:05 pm

- V 9.6.4.0 Alpha
Full panel post shot video overlay

For those that would prefer to see the VisTrak video full panel after a shot instead of the smaller window video,
you can now set this option ON in the setup window.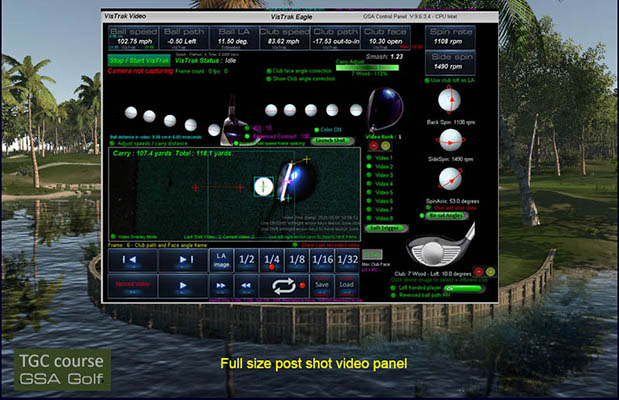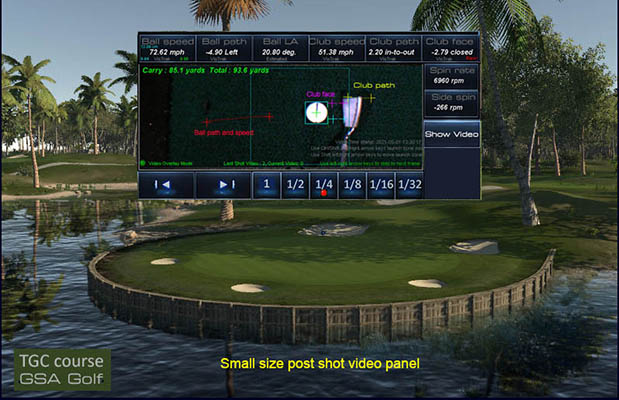 ---
January 19 9:35 am

- V 9.5.3.0 Alpha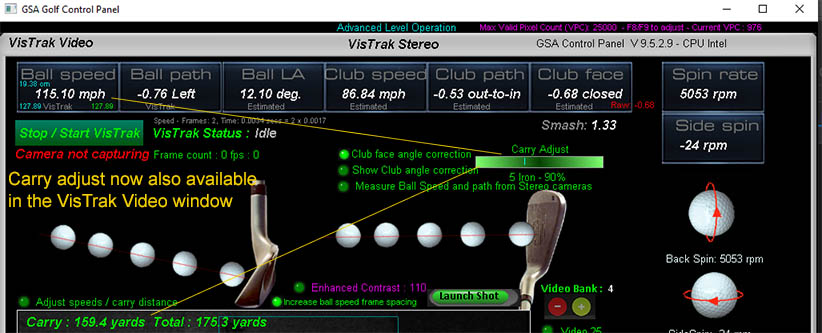 New: You can now adjust carry distances (i.e. ball speed) directly in the VisTrak Video window and see the results immediately.
---